A friend suggested that, since I was heading off to Florida, I should read at least one of the books by Carl Hiaasen. I'd never heard of Hiaasen, so I read the reviews and picked Stormy Weather. As I learned, Hiaasen is an op-ed columnist for the Miami Herald with a political philosophy that does not, shall we say, align on very many points with my own. Which means that ordinarily I'd be reading his works only to the extent of my practice of being aware of how the enemy thinks. Except for two things. First, he is a gifted writer and the book Stormy Weather is hilarious. Second, the principal theme that runs throughout his books is particularly relevant to this trip: through the irresistible influence of developers, tourists, and corrupt politicians, Florida has been destroyed by some weird combination of vulgarity, venality, greed, and lunacy.
As I mentioned, we didn't see any such thing in Cedar Key. We got a hint of the Hiaasen Complaint in Sarasota, mainly because of mile after mile of seemingly aimless traffic. But now, in Naples, we are confronted by the Hiaasen Complaint fully substantiated. It's hard to describe this subculture. In the outskirts of Naples, it's mile after mile of roads, sometimes seven lanes wide in each direction (that's right–seven!), lined on both sides with mall after mall, all of them overflowing with shoppers! Stopping at a COSTCO to reprovision a few staples, we found the store so overflowing that the checkout lines, no kidding, extended so far into the store that there were "merge lanes" in the product aisles! Any break to the malls? Yes, but only where they were interrupted by garish, gated communities with signs proclaiming, "Homes to $2 Million Plus."
Old town Naples, particularly the Fifth Avenue area, once one fights the traffic to get there, is chock-full of trendy restaurants and up-scale boutiques, neither of which is our style.
But then, there's "real Naples." "Real" in the sense of "unreal." As of June 2015, Naples has the highest per capita income of any city in America. Two-thirds of all American billionaires ("billionaires," with a "b") live in Naples. In the Port Royal area, homes go for $20 to $75 million, except that at the lower end of that range they're basically tear-downs. Really. Some bargains can be had across the river, such as at Aqualane, where the homes are in the $10 to $20 million range, although that area is removed from the beach and one has to drive (not that!) to get to a beach. No wonder the homes are so devalued. Location, location, location. And this isn't just a couple homes … we're talking about dozens of homes spread across multiple areas. And, even weirder, 80% of the owners in these areas spend less than 4 weeks per year in their homes.
So, what of the Hiaasen Complaint? One can certainly wag his finger at the populace here, full of disdain for those who don't share one's keen judgment and moral sensibility. I have to be somewhat careful about such moral superiority since I'm basically in the set being wagged at (as I expect Hiaasen is as well).  But putting aside all of that, the principal "appeal" of Naples just doesn't hold much appeal for us. The climate is wonderful, the surrounding natural areas are great, and the people have been uniformly friendly and outgoing. But Naples qua Naples is basically uninteresting and can be easily skipped.
Speaking of the surrounding areas, we did have a chance to visit the Audubon Corkscrew Swamp Sanctuary (due to the recommendation of a friend, the same friend actually). Wow. Easily in the same class as the Lower Suwanee NWR, and a wonderful side-trip in the Naples area. Unfortunately, it has been an unusually wet January in this area, so the swamp, which is normally drying out this time of year, is pretty much flooded, which has made the area not as conducive to wildlife and bird viewing as normal. But still, it took us hours to walk along the 2-1/4 mile boardwalk, and we enjoyed every minute of it. We'll be back.
And, of course, numerous Bald Cyprus: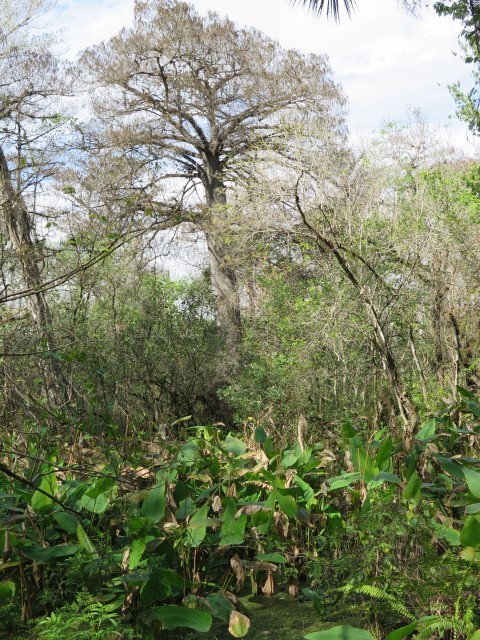 For all of its appeal, though, I cannot avoid commenting that the Audubon Society does manifest a tendency to the very philosophical defect that plagues most environmentalist thinking, namely the elevation of "nature" over people. For example, one series of displays shows the increasing number of people and the decreasing number of wading birds in south Florida, exponentially trending in opposing directions. Implied in the display is, "Look! This is terrible! People are going up and birds are going down!" So what? I thought. I wanted to collar some hapless Audubon volunteer with a confrontation, "OK … birds like south Florida and people like south Florida. What's the right balance? People have to eat, which means we need farmland. We need homes and paper products, both of which mean harvesting trees. How much and where? People enjoy a warm, temperate climate in the winter. What's your plan to meet that simple aspect of human welfare?" I didn't. I actually think of the Audubon Society as being on the more reasonable end of the environmentalist spectrum, but I found the content of their message long on doctrine and short on sensible, balanced messaging. Still, it's a great place to visit.
Otherwise, it's been a relaxing week. We've spent some time here enjoying this wonderful RV resort, which is about the nicest RV resort we've ever been to, certainly in the category of the RV resorts in Cashiers and Hilton Head, although our little ACE looks a little out of place.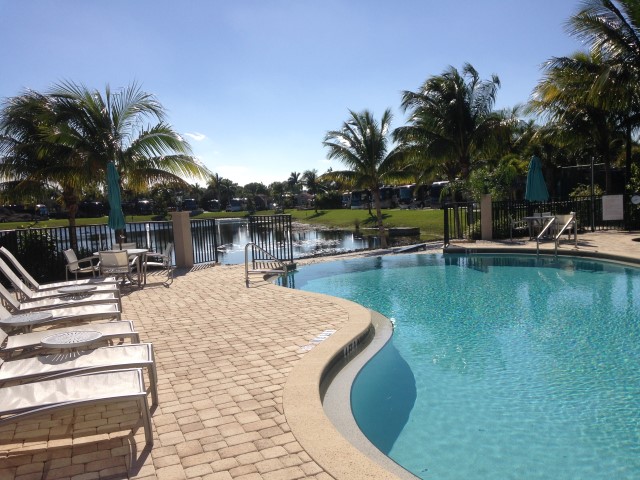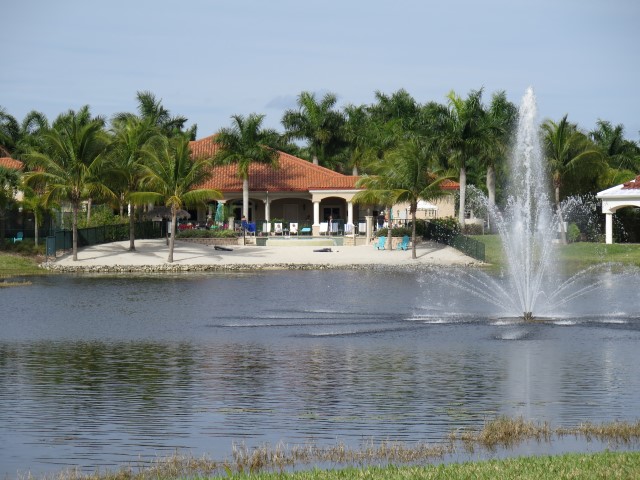 To their credit, no one really seems to mind that we're definitely the trailer trash of the neighborhood. There was a huge gathering for the Superbowl. There are community breakfasts every morning. One night we got together with a bunch of the residents for a "spirited" (read: "highly competitive") game of trivia. And one night a local guide came by and gave a fascinating talk on fishing in the Chokoloskee Island/Thousand Islands area of Florida. This resort is probably a little out of our budget for long-term stays, but this is definitely one of the better watering holes around and a great place to camp out while seeking warmer climes.