Wednesday (Feb 3). So, we're here at the Sun-n-Fun RV Resort in Sarasota. What can one say about this place? It's H-U-G-E. 600 sites (although many of them are park models), jammed together, all full hook-ups with cable TV, and it goes on for miles. It's got two pools, a three-story water slide, hot tubs, an exercise facility (with over 130 exercise programs), a steam room and sauna, an on-site restaurant and bar, and live entertainment almost every night. Plus, it has facilities for billiards, volleyball, Frisbee golf, mini-golf, pickleball, tennis, shuffleboard, horseshoes, bocce ball, lawn bowling, something called petanque, and something else called ga-ga ball, which seems to involve throwing a ball into an octagon with a mass of old geezers and letting them grapple for possession. It even has a track for racing radio-controlled model cars. It boasts over 150 activities, including biking; jogging; fishing in a private lake; poker; bingo; woodworking, lapidary, and stained glass shops; music ensembles; and numerous educational classes, including music lessons and computer operations; as well as a huge variety of special interest clubs (like quilting, music, and every other hobby one can think of). It even has its own ham radio club and club station, W4SNF. And, there are about a gazillion golf courses in the area. And, the resort is only a few minutes from downtown Sarasota, Siesta Key and other islands, and countless, beautiful beaches.  As one of the reviewers said, "If you're bored here, it's your own fault."
Our next-door neighbors, here from Kansas and partway through a six-month stint, and who have already booked next year's six-month stay, raved about the breadth of things to do. They also say that people here are the friendliest they've ever met. And this is no low-class trailer park. The rigs here are all high-end, very expensive RVs, with accessory vehicles to match. The whole place impresses me as something akin to a seniors' development, like Sun City or The Villages, but structured around high-end RVs.
Still, though, we're not sure this is our kind of place. This is our first experience with this kind of environment, and maybe this is what senior living in Florida is all about. So far, we like Cedar Key better. But still … For now, we're going to reserve judgment and see if this kind of an experience grows on us.
Thursday (Feb 4): I love circuses (circi?). I love the modern variety (like Cirque de Soliel), but I also love the old-fashioned kind, like the old Ringling Brothers & Barnum and Bailey variety I remember as a kid. I think the latter variety is pretty much passe, victims of PETA-induced silliness, OSHA-induced worker safety mandates, and for all I know, EPA-induced elephant poop regulations. Too bad. I guess circuses still exist, but the current "Legends" manifestation of the old circus show just seems to be missing something.
But today we went to The Ringling, where one finds the summer home of John & Mable Ringling, a circus museum, and an art museum, all now operated by Florida State University. Frankly, I wasn't expecting much from the Ringling mansion, Ca'd'Zan (which is Venetian for "House of John"). I've been to rich people's mansions before (like the Biltmore), and there's a limit to how many gold-plated toilet seats I can ogle before the wretched excess of it all makes me, well, wretch. But somehow this place was different.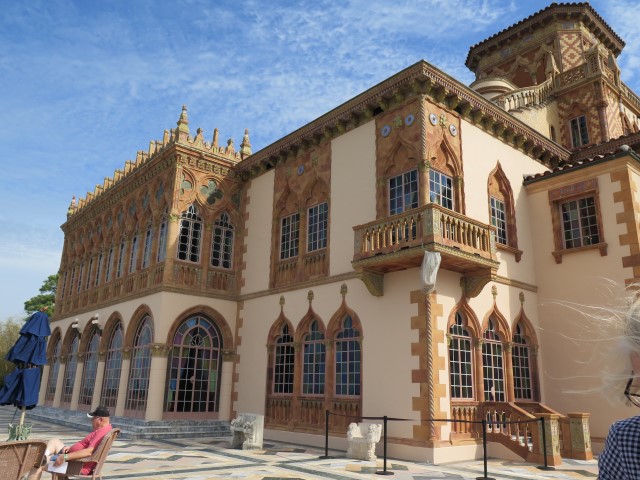 Why was Ca'd'Zan different? Odd as it may seem for a home built by someone who was a successor to P.T. Barnum, it actually seemed less obscene than places like the Biltmore. There's a way in which the ostentatious display of other mansions is, ironically, vulgar and showy. Ca'd'Zan feels like a place built not to show it to others, but because John and Mable actually liked the stuff they had and enjoyed being around it. I did find some confirmation of the concept (actually both Wendy and I noticed the same thing) in the appearance of the clientele on the tour: none of them wore jeans or T-shirts. They were all nicely dressed as if they were going to someone's home, not as if they were unemployed ranch hands who got an unexpected chance to gawk at the richies.
But the highlight was definitely the circus museum. And the highlight of the highlight was the Howard Brothers Circus Model, 44,000 pieces of hand-made animals, people, trains, and tents, showing exactly what happens when the circus comes to town. It took nearly 20 years to first construct the model and it's been growing and improving for 30 years since then. The process depicted in the model defies belief: over a hundred train cars, hundreds of draught horses to pull the wagons and provide the force to raise the tents, at least five venues including the Big Top that could seat 15,000 people, operations to deal with hundreds of show animals, additional facilities and operations to accommodate the crew and performers. It was in essence a small entertainment city that would show up, be constructed, operate, and then be taken down, all in a day. Amazing. And the model depicts it all, all in 3/4″ scale.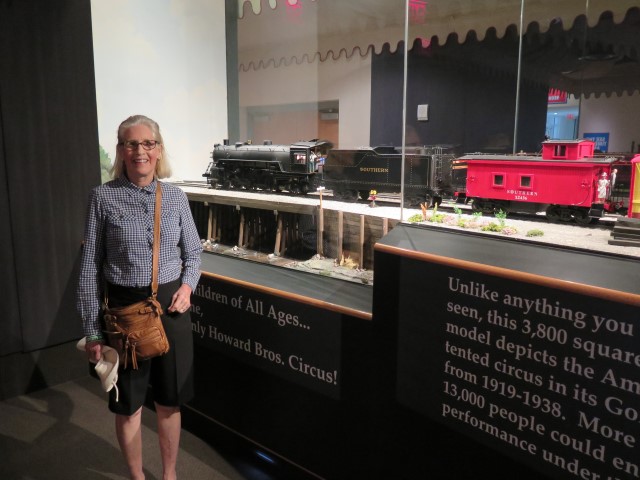 Friday (Feb 5): Off to the beach. We'd heard that the beaches at the Sarasota/Bradenton area are worth seeing. They are. Beautiful white sand, wide beaches, and free from crowds, even at the peak of the February snowbird season. We took the afternoon off and drove over to Longboat Key, north up to Bradenton, and then back. This is definitely a place for quality beach time.
Bottom Line: So, after three days here in Sarasota, what's the verdict? Sarasota is a great place, with lots to do and definitely worth another visit. Would we come back to Sun-n-Fun? That's a harder question. We both agree we weren't here long enough to fully explore the option. So, we're going to check out other places in south Florida and return to that question at the end of the trip.