OK, put a fork in it. We're done. We are officially "elderly." We got our toes into that status when we bought ACE and established ourselves as those kinds of little old people who creep along in their motorhome, with little rat-dogs sitting on our laps, backing up traffic for miles, and flipping the bird at frustrated motorists when they finally manage to pass us. And admittedly we took our senior discounts on Wednesdays, went to the 4 o'clock movies, and made sure we ate plenty of fiber. But we clung to a measure self-delusion because, in our minds at least, we didn't otherwise generally act like "old people." But that's ended. We're here in Branson. Really. Branson. We've come to the vacation spot of choice for those getting ready to inhale for the last time. Unlike Las Vegas (where there's a sign at the airport that reads, "You are now leaving Las Vegas. Time to forget what you did last night."), Branson is the place for people who forget what they did last night routinely.
And here's the weirder thing: we really, really enjoyed it. But first, a message from our sponsors.
[Political commentary /on]
A friend recently sent me an article about the red-state versus blue-state divide, and made the oft-noted observation that blue people are mainly concentrated along the coasts, hunkered down in cities, and living in a few areas (like the northeast and places where crystal superstitions abound), while the vast geographical portion of America is essentially red. We've all seen the map showing that, while red and blue populations are about equal, the blue area is only about 9% of the country.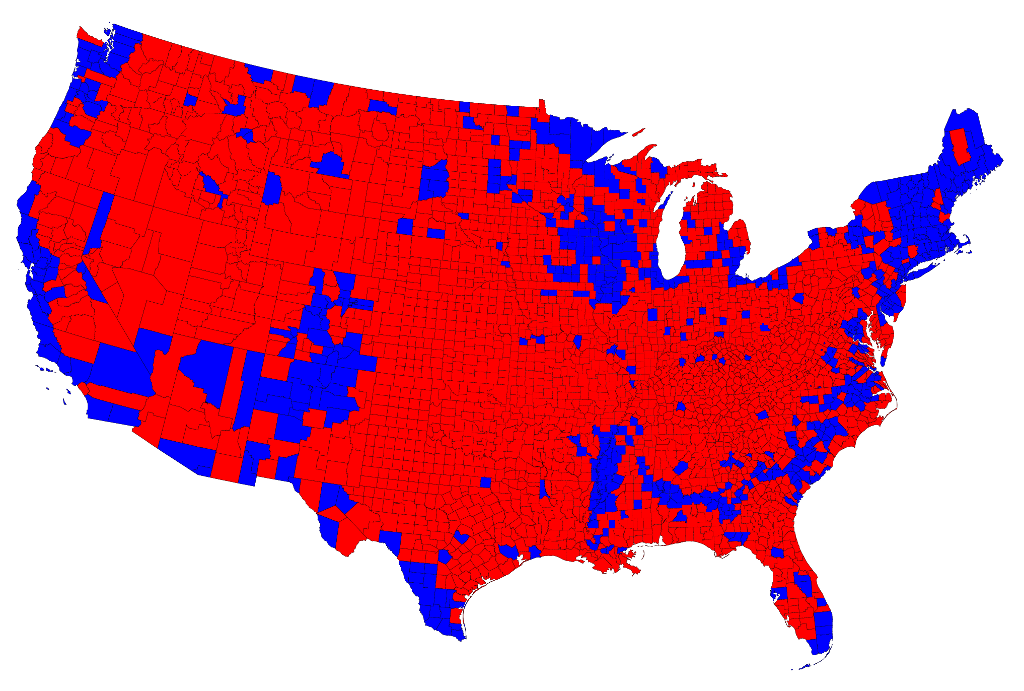 None of this new. What hit me on this trip, though, is that I now understand why, as we travel around in ACE, we keep meeting our kinds of peeps: the red area denotes not only the politically conservative area of America, it's almost our travel map! One doesn't take a motorhome into New York or San Francisco, for example, but across the rural and small-town areas of the country that, frankly, blue people hate. And Branson, as the archetype of red constituencies, is just the kind of place we love. Just as a few examples:
We went to a Christmas show on our first day here (I know, I know, it's early, but ignore that for now), and the show, in an auditorium filled with 700 tourists, began with the MC saying, "Before we begin, let's not lose sight of why we celebrate Christmas in the first place: the birth of our Lord and Savior, Jesus Christ…" (!)
Many of the events began with an overtly Christian blessing before the meal (!).
Every event we went to, every one, had a tribute to veterans. Usually the veterans were asked to stand, while the audience applauded.
Many of events also carried an overtly patriotic theme (!), including the Pledge of Allegiance, the National Anthem (often with a swipe at any "idiot" who takes a knee during the National Anthem) (!), America the Beautiful, or I'm Proud to Be An American. In most instances, the audience stood during the relevant pieces (!). Everyone always stood during renditions of The Battle Hymn of the Republic.
We stopped by College of the Ozarks (also discussed below), a small (1500 students), Christian liberal arts college. Not only is the college the location of the Missouri Vietnam War Veterans Memorial (!), all of the students work 15 hours per week on the campus (!), plus two 40-hour work weeks (!), and up to 12 weeks during the summer (!), in exchange for which they attend tuition free (!!). The college's vision is to produce graduates of "Christ-like character" who are, quote, "well-educated, hard-working, and patriotic." Try to imagine THAT plaque at any Ivy League university, or actually any university in a blue area.
And so it goes: as we travel around, and in Branson especially, we find ourselves in a near-constant immersion in orthodox Christian convictions, hard work, traditional core values, patriotism, and military service. Not exactly blue-state dispositions, and it explains a lot about why we like travel in general and why I'm moving to Branson.
[Political commentary /off]
OK, where was I? Oh yeah, Branson. So, we got here as part of an RV tour group. It's a long story, but we had a left-over deposit from the Alaska trip that we had to cancel, and decided that using it on a "rally" in Branson, a place we thought we would otherwise never go, made sense. So, now that I think about it, this trip started off doubly weird. Besides the fact that we ended up in Branson, the format was one of those things we all grew up hating: busloads of old people, waddling along en masse into and clogging up restaurants and show venues, all wearing name badges and sporting matching goofy tour-company hats. That's us.
I'm off track again. Where was I? Oh yeah, back to Branson. So our week here included all of the major old people/touristy/kitschy activities you'd expect from someone in the throes of rapid-onset elderly status.
The trip started off on Halloween with a dinner, costume party (oh pull-eeze), and dance. Except for the eating part, we don't do those things. Ever. Except we did. Proof positive of something. I'm not sure what. One indication, though, is that dinner and dancing started at 5:00 and ended at 9:00. And even worse, we didn't make it to 9:00.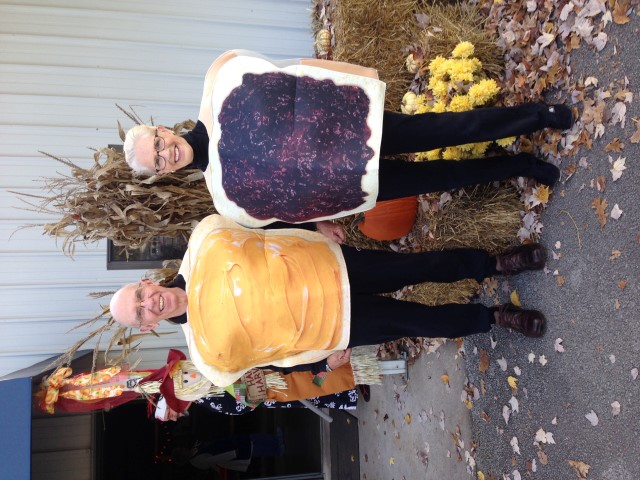 Tuesday

we did the Showboat Branson Belle, a recently constructed but otherwise authentic sternwheeler. That event provided our first suggestion that, so to speak, we're not in Kansas anymore. It began, as mentioned above, with a startlingly overt Christian message. But then, during the salute to veterans (in which they not only recognized veterans by branch, they also got the order of precedence right!), the MC announced that one of the artists was a veteran, and it turned out to be the stunningly attractive violinist who, after graduating from Julliard (!), enlisted in the Army (!), and was introduced to the audience as former Staff Sergeant Janice Martin (!). Excuse me? We're in a place where Julliard graduates, who aspire to a career in entertainment, first take time off to do their duty to serve their country?
That night it was off to show #2, the Presleys Country Christmas Jubilee. We didn't know what to expect–I thought it was going to be an Elvis impersonator. Wrong. The Presleys (no relation to Elvis) are a family of entertainers who have lived in the Ozarks in Missouri and Arkansas for, I don't know, hundreds of years and who put on one of the best and most popular variety shows in Branson. And besides being surprised by the gospel music sing-a-long going on upstairs before the show (!), this was our first exposure to another Branson tradition: the entertainers came by to greet our group, hang around and chat for a while, and thank us for coming. Overall: a great show. A.
Wednesday

started off with the College of the Ozarks, mentioned above. I won't go on and on about what an impressive school that was, but one more thing… The student guides we had (who were doing their mandatory work stints in the PR department) were both charming, articulate, and enthusiastic. They noted that CofO grads not only have zero debt when they graduate, they are highly sought after and essentially 100%-employed upon graduation because, in addition to a highly-rated education, they all have at least three years of actual work experience. Anyway, it's worthwhile plinking around on the school's website. As an experience, it got a grade of A+.
That night, it was the "Shepherd of the Hills – Christmas on the Trail Dinner." That was the only event during the week that Wendy and I really didn't care for. In fact, we thought that the dinner was bad, the entertainment was worse, and the "Trail of Lights" was even worse still. Our evaluation: F.
Thursday

started off with Clay Cooper's Ozark Mountain Christmas. After the Trail Dinner we weren't sure what to expect, but we were back to a truly outstanding performance, full of great music, lively performances, and (in my view) a charming and witty MC. (We both agree the musical performances got a grade of A, but Wendy thought he was a little rough on some members of the audience. For example, he asked one member of the audience his name. That guy kinda looked up with a blank stare and said nothing, to which Clay responded, "Your name is on that little tag you're wearing if that helps." I thought that was funny; Wendy didn't. Sheesh. Girls.) Overall (for me): A. (Wendy gave him a B+.)
Then off to the Dutton Family Christmas Show. It's hard to describe this show, or to convey what a remarkable performance we witnessed. The Duttons are a family of about 9 members who first gained fame as finalists on America's Got Talent, where even the nefarious Simon Cowell raved about their performance. The music for the show is mostly instrumentals played on violins, guitars, violas, banjos, bass guitars and violins, with occasional keyboards and drums thrown in, combined with a style of engagement with the audience that had people laughing, clapping, and rockin' out in their seats. Wow. A definite A++.
Then, that night, off to see The Haygoods, another performing family. After the Duttons, anything was bound to pale in comparison, but this show wasn't really our style. The music was excellent, with wonderful closely-spaced harmonies and masterful instrumentals, but the presentation was too rock-concert'ish for us (light effects, loud music, the rock-style double arm wave, etc.) We enjoyed it, but the grade was only a B+.
By Friday, we were starting to get a little worn out, so the group had the morning off, but then it was off to see The Six, yet another family show. What's with all of these musical families? They must be breeding in the Ozarks or something. Anyway, this is a group of six brothers (of ten brothers total) (!) (no sisters) (!) [Robert and Laura take note — if you keep trying for a girl, you're likely to end up with ten boys]. What distinguishes them is that they use no instruments. Really. The accompaniment of instrumental sounds is all done with their voices. We had heard wonderful things about the show, and it gets great reviews, but somehow it didn't quite measure up. Maybe our expectations were too high. In any event, only a grade of B.
Then off to Dolly Parton's Dixie Stampede. I can't believe I just wrote that, but it's true. A friend, when she learned we were headed off to Branson (and after being convinced that we weren't kidding) said, "At least please tell me you're not going to the Dixie Stampede." We did. The actual Dolly Parton extravaganza. The same Dolly Parton who once said, "It takes a lot of money to look this cheap…" And if going to the Dixie Stampede is weird, get a load of this: we loved it! It was a terrific performance, with great music, and wonderful food. We both came out saying we'd love to bring the grandkids to the show, but frankly I'd go back even without the little darlings. Grade: A+.
Finally, mercifully (it's hard having this much fun),

Saturday

was our last day. And it started off with a breakfast and show at the Blackwood Singers, Grammy-award-winning gospel singers. I guess I never realized this, but I love gospel music. I love the foot-stompin' Christian enthusiasm of the music, and the theology of the lyrics is just rock solid. Once again, we found ourselves in circumstances where we would have sworn the entertainment was not our style, and once again we came out of the performance having completely enjoyed ourselves. Grade: A.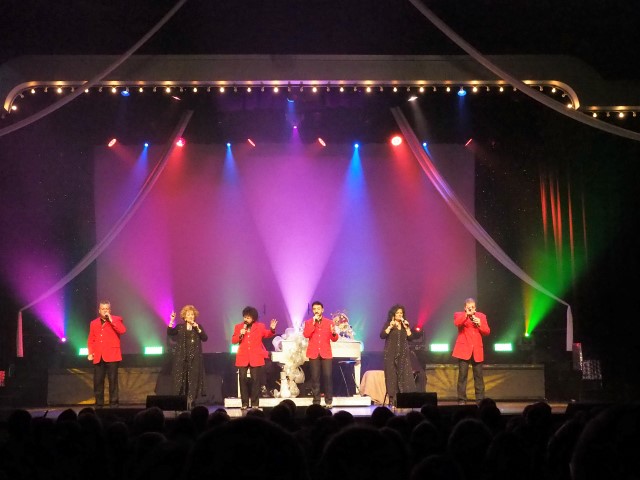 I know this is getting monotonous, but after lunch we headed over to a performance by George Dyer, which turned out to be our absolutely favorite event of the week. Dyer is a classically trained, formerly touring opera singer. His show is a mix of pop tunes (Andy Williams style), Broadway music, and popular arias. The pop tunes are OK, but the show music and arias are beyond words. Wendy is a big fan of Josh Groban, and Dyer is sort of like Groban on steroids. Just a stunning performance. Definitely our favorite: A++.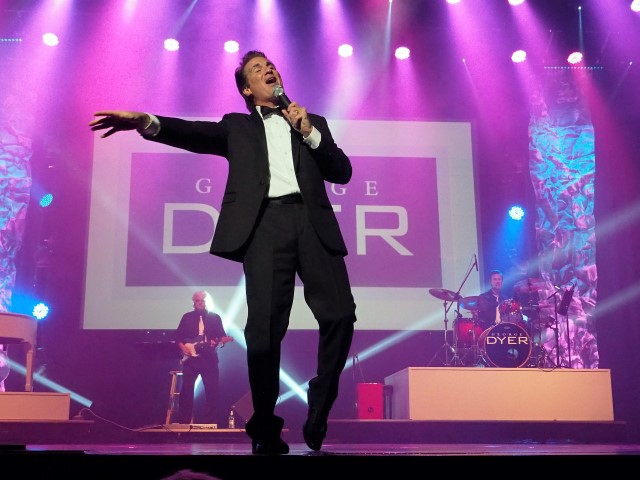 Finally, it was the "Christmas Wonderland." Eh. It was basically just dance numbers, with most of the vocals doing sort of a karaoke accompaniment to recorded music. The dancing was fine, fast-paced and creative, but after so many notable vocals and instrumentals, it was something of a letdown. I gave it only a grade of B-.
So, on balance, I'd say this was one of our best trips. Different, to be sure, than the grandeur of a trip through the western national parks, but a great way to spend a week. Think about it: of the 12 shows we saw, there 9 (!) A's, 2 B's, and only one bomb. In terms of a GPA, Branson is an honor candidate with a GPA of 3.9, which isn't bad for a week's worth of entertainment. If and when we ever have spare travel time, I'd certainly go back.