4-8 March 2015: After bailing out early on the Florida trip due to mechanical issues, we did two things: (1) spent some quality time assessing whether there were any other lessons learned from the experience, and (2) since we had to head home anyway, thinking of ways to make the most of ferrying ACE back to its home base.
As to the former point, one more lesson learned:
Lesson 7: Travel-short or stay-long whenever possible. When moving from one location to another, we tend to use the 3/300 Rule–no more than 300 miles per day and off the road by 3:00 pm. But under that regimen, it's 4:00 or later before we're set up, dogs walked, and chores tended to, which means it's really not practical to see the local sights. So, we've learned that if we are traveling to some point because there's something there we want to do, we either have to travel for a shorter duration (say 100-150 miles per day, arrival NLT 1:00), or stay one or more extra days.
So, applying those lessons, we picked up ACE on Wednesday around noon and drove a mere 40 miles to our next stop, where we resolved to stay for three days. The stop was The Great Outdoors RV Resort. Wow. This place has over 600 RV sites, and the sites that are for sale range in cost from $40,000 for a concrete pad, to over $800,000 for a residence with an RV "garage" that's nicer than my house! Add to that an onsite golf course, driving range, RV repair and supplies facility, chapel, two restaurants, cart rentals and repair, activities galore, and so on, and it's hard not to be satisfied. One night we just happened to wander in to a lecture on the resident alligator population, which was as good as anything we've seen done by National Park Rangers! Here we are, safely tucked away at our site.
And the next day we headed off to Kennedy Space Center where we picked up some of the things we missed during our breakdown period, including the 2-1/2 hour tour and lunch with astronaut Ed Gibson, who spent 84 days on Skylab. Just before going to KSC, I had read one of Chuck Woodbury's rvtravel.com columns in which he wondered if prolonged space travel would be a lot like being inside the RV for months on end. So I asked Ed Gibson: "I was reading a column that pointed out that a spacecraft like Skylab is not much bigger than the RVs that many of us travel around in, and I can't imagine spending 84 days inside my RV. Did you ever just want to be back on earth and just get out, walk around, and breathe fresh air?"
He replied, "Not for a minute. Being there in space, looking at the expanse of earth every day, surrounded by the depth of space, completely overcame any feeling of confinement. Really it was the opposite. Everything seemed so infinite in all directions … It was almost too big." Well, maybe, but to get there can you imagine sitting on top of a 6.2 million pound launch vehicle, with 5 engines developing 1.5 million pounds of thrust each?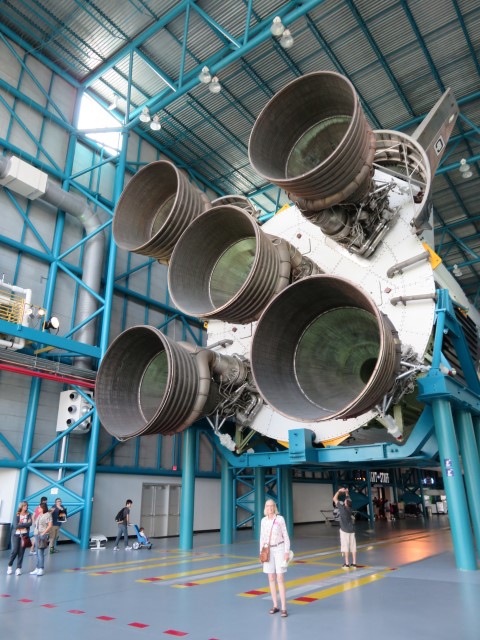 Oh well, I'm too old to make the trip now…
Speaking of being too old, on Friday I became officially a "senior citizen": that's right, 65 years old. So, we headed to the local seafood restaurant for a celebratory dinner. Ah … the golden years!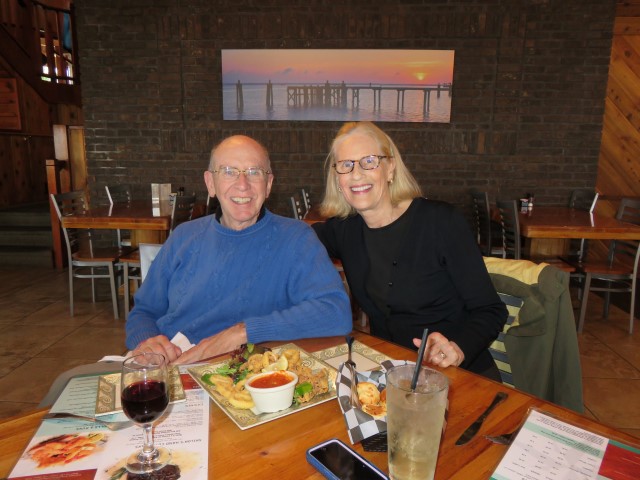 After that, we headed on back, with ACE now working fine, the KSC experience completed, and us ready for the next trip.