After leaving Grand Canyon National Park, the plan was we'd make a quick stop to see Petrified Forest National Park, bip on down the road to see Susan and Terry at their mountain place in Pine Top, and then head home. As we were driving through a construction zone, though, a passing truck kicked up a rock, which hit the windshield, knocked a nasty hole in the top, and created two cracks running down the windshield. Such things are quite common actually, just the necessary consequence of pushing a piece of glass that's four feet high and eight feet wide down the highway at freeway speeds. It's actually more common on an Alaska trip, but since Arizona roads seem slightly worse than the Alaska Highway, I expect broken windshields are a fact of life here too. In any event, the windshield repair place, as it turns out, was in the same town as our stop anyway. Woo hoo. See some rockish wood, get the windshield fixed, take a breather up in the mountains, and then point ourselves east, pedal-to-the-metal, and away we go.
Petrified Forest National Park was interesting. Actually it was fascinating. But having spent a month being blown away by sights of breathtaking beauty and drama, we're a pretty tough audience and petrified wood, even if otherwise worth seeing, just wasn't up to our current show-us-what-you-got standard.
Millions of years ago, this area was a dense pine forest. Of course, it was also down somewhere near Costa Rica and the African continent hadn't broken off from South America, and the whole planet was basically confused and disoriented, so having a pine forest here is the least weird thing about the geological history of this place. Anyway, as the trees died and fell over, mineral-rich groundwater permeated the logs and the logs' tissue got turned to rock.
So there are square miles of rock trees, sometimes even full logs, all over the place. And it's all interesting in a "isn't that weird?" kind of way. And there's also the usual interesting geological stuff:
We also got a good glimpse of a famous petroglyph display known as "Newspaper Rock":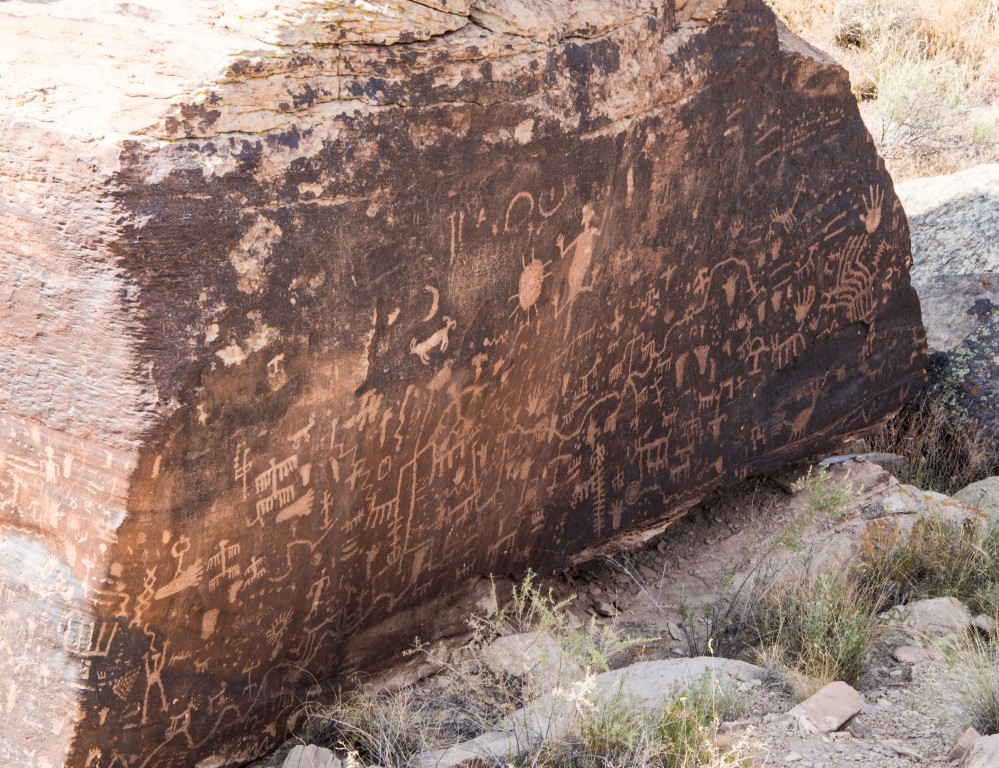 And the top of the park is the "Painted Desert," although given our current demands for dramatic scenery, we just pretty much drove through it.
So, after that, we spent a great day up in the mountains, had another wonderful Mexican dinner, and it's time to head home. The new windshield didn't come in, but the glass people said it's safe to drive as-is, so we've decided to drive home with a crack in it and we'll get it fixed later.
When Wendy and I got married, we resolved that someday we'd travel around the country and our first stop would be Grand Canyon National Park. Things didn't quite work out that way, and it took us way longer to get going on our travels than we planned, but we're finally well into fulfilling that dream. It'll be nice to be home, but we are so grateful for a trip like this. Over a dozen national parks and monuments, including places we always said we'd figure out a way to visit someday. And without a doubt, some of best examples of the incomprehensible beauty and grandeur of God's creation. What a trip!