After looking forward to a trip to Florida to escape "Polar Vortex 2" (or whatever it was driving the brutally cold temperatures in Atlanta), I must say that the trip didn't get off to a very good start.
First, my nifty-difty water compartment heater (a thermostatically controlled 110-volt drop light) failed–burned out bulb, I think–and the water lines at the water pump froze solid. Then, there was something weird with the toad's brake controller (which I've never gotten to work the way I like anyway). The controller was activating the toad's brakes way too hard, and holding them on for a couple seconds after I released ACE's brakes. So, after towing for about 50 miles and getting more and more worried about the way it was not working, we decided to detach the toad and have Wendy follow me down. Ugh.
Then, we finally made it to warm and sunny Florida, except it wasn't. While driving into Santa Rosa Beach we were struck by, no kidding, snow flurries. Right … snow flurries. It was actually warmer in Anchorage (47-degrees) than in Destin (44-degrees). What are we supposed to do, head north for the winter? Good grief.
Once at the campground, Rick and Mary were having their own issues: leaky water heater (and, of course, no suitable wrench to tighten it up), a frig that wouldn't run on AC, something weird about getting water to the kitchen faucet. Nothing major, but a surplus of petty annoyances.
But, such is the nature of RV life, and overall nothing happened that would put a damper on the weekend. So, we set up at Topsail Hill Preserve State Park (a 5-star RV resort that happens to be a state park) and went about enjoying the Florida panhandle.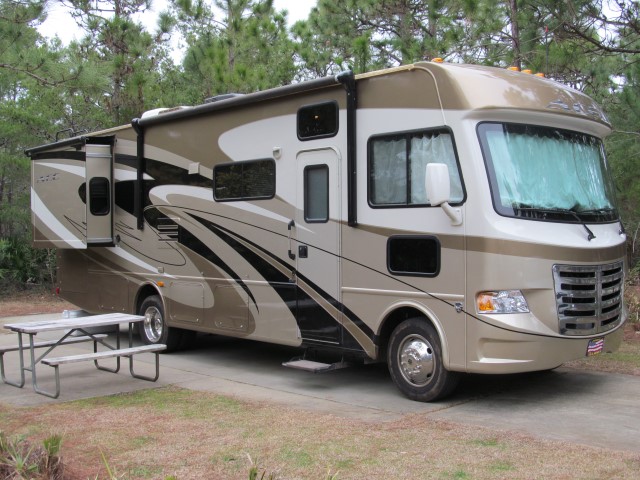 (Set up at the same site, number 134, and yes, those are the muddy tires from last week's adventures that I still haven't cleaned off. And this is the good side–the other side is worse.)
Saturday was a bit chilly for beachcombing, so we decided to drive along 30A and end up in Panama City where we could pick up a few items at the Camping World. We went through Seaside, which is not really my cup of tea. There's a good reason why The Truman Show was filmed there: it really is a neighborhood that looks more like a movie set than a community.
But Seaside was nothing compared to what awaited us in the newest community, still under construction, Alys Beach. It is difficult, no impossible, to find words to describe what a weird and, well, repulsive, place that "community" is. Imagine what would happen if developers were given free reign to do something more grandiose and more ostentatious and less restrained than Dubai.
This is not actually the Temple of the Most Exalted Priestess of Wretched Excess. It's just the pool.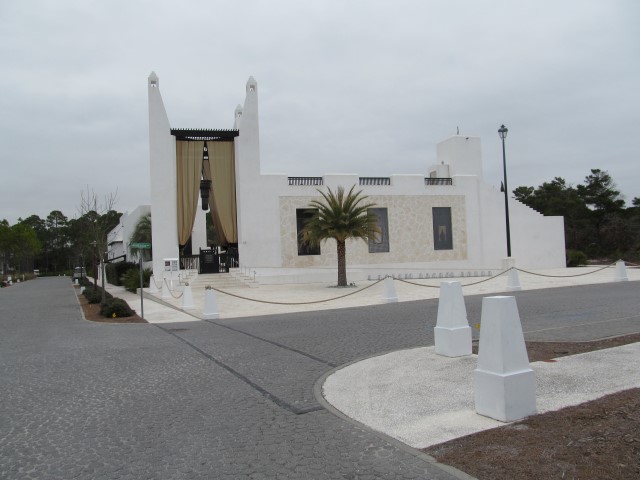 Interested? Good. For a mere $7.95 million, you can put yourself in "Aspri Villa" (blech), "a 5-Star villa resting in the ultimate emerald coast community."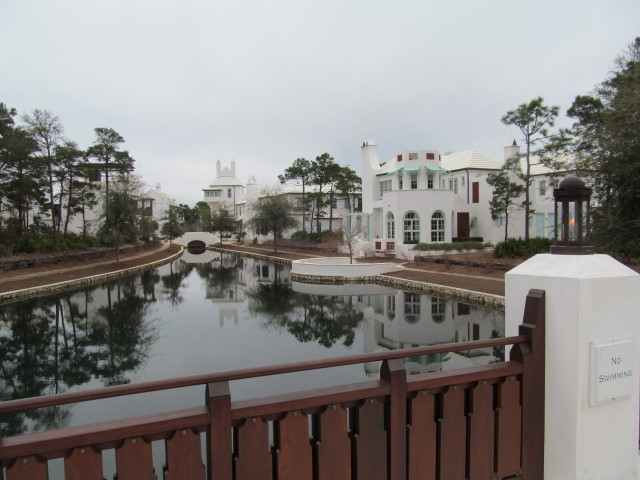 Oh well … they probably look at people like me, driving around in a motorhome (yuck), and are glad for the opportunity to escape the likes of us.
So we returned to the normal world, had lunch at a little beachfront place (probably only a "C" in the food department)…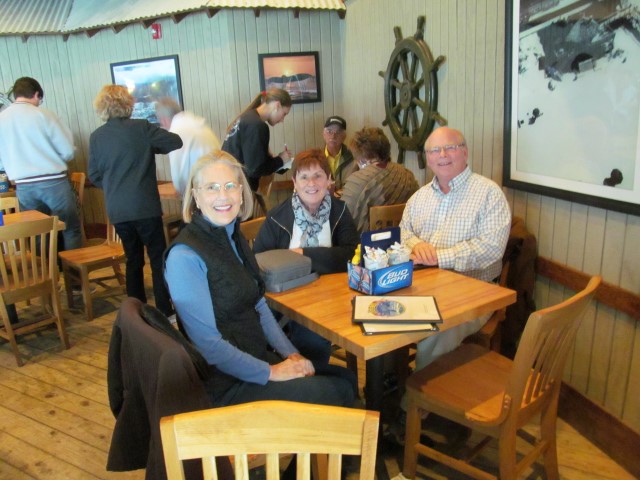 And then had a wonderful dinner of Shrimp Scampi that night…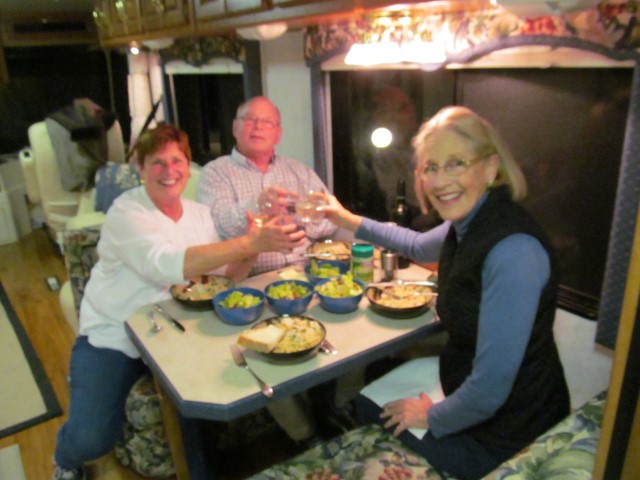 The next day, it was off to the Pensacola Naval Aviation Museum. But first, a digression… For a while now, I've been developing an inclination that one of the problems with our country [I have a long list, but this is an RV'ing blog] is the small fraction of the population who have ever served in the military. As of 2013, less than 10 percent of the population has ever served in the military. Even among our so-called "leaders," things are pretty dismal. In 1975, about 70 percent of Congress had served in the military; today, only about 20 percent (and it's headed downward, and few children of congressmen serve in the military). Of course, our President has never served, which may have in part led to the consequences described in Robert Gates' new book. So, when I go to a place like the Naval Aviation Museum, I'm both inspired but somewhat dismayed … I just can't shake a sense that we have far too many Americans who simply don't get what it means to be willing to make significant personal sacrifice for the good of the country.
[We now return you to your normal programming]
The museum itself, we were told, is the 3rd largest aviation museum in the United States, behind the National Air & Space Museum in Washington D.C. and the granddaddy of them all, the Air Force Museum in Dayton, OH. Not even in the running, but near the top on my list, is the Mighty 8th Air Force Museum in Savannah, GA. But the reason the Naval Aviation Museum is so special to me is because it has so many planes that my dad told me about as I was growing up.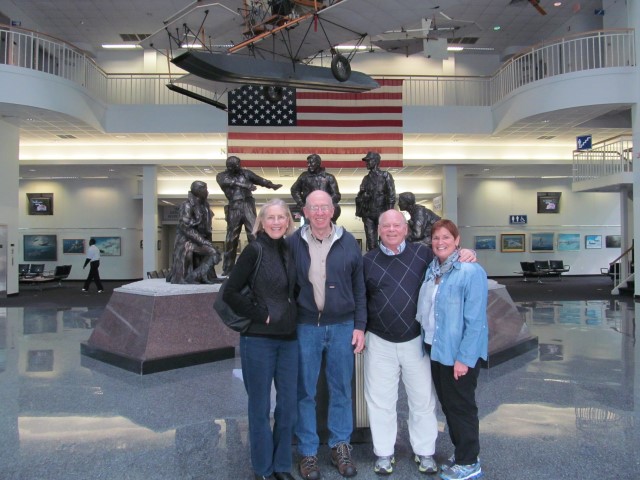 The F4F (forgive the weird paint job), which my dad told me was a bear to fly for several reasons, including a two-pitch prop and a manually cranked landing gear, one that if you tried to cheat by forcing the gear down by pulling a couple G's, would break your arm.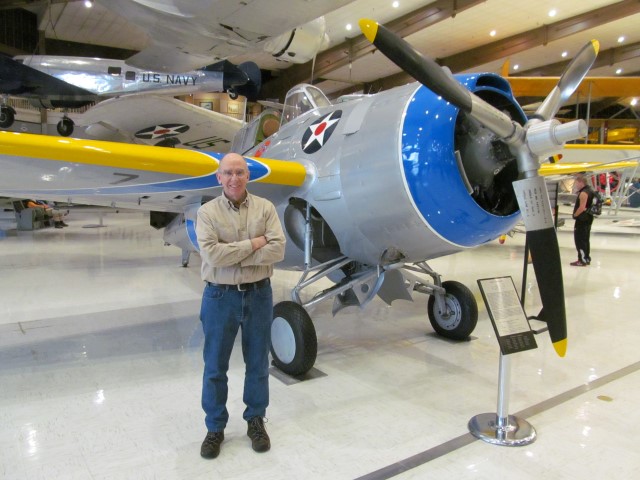 The F4U Corsair, AKA the "Ensign Killer" (before the technique for landing them on carriers was perfected). I remember my dad telling me that the 18-cylinder, 2000-HP engine had so much torque that a hard push on the throttle could roll the aircraft–definitely not a good thing on approach to a carrier!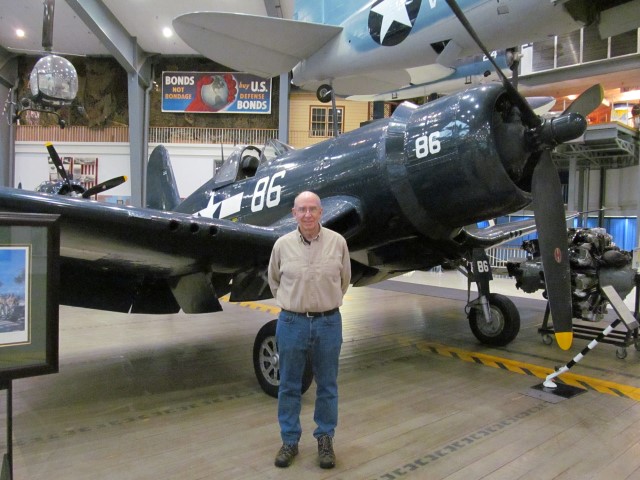 The F2H Banshee–my dad was a test pilot for this airplane when we lived in Pratt KS. (Actually, the aircraft pictured is the photo-reconnaissance version (note the extended nose), and my dad flew the regular version. At least it was a model of the regular version he kept in his office.)

The drive back was uneventful, but only because we managed to sneak in just ahead of an approaching snow and ice storm scheduled to hit south Georgia and the Florida panhandle. How fitting. Snow in, snow out.
Overall statistics for the trip:
Campground costs: $42/night
Museum costs: $0 (but made a $20 donation)
Total miles: 547
Fuel Mileage/Cost: 7.97 mpg / $221.28