Well, our descent from "camping" to "luxury motorhoming" has taken another major step forward, or downward, or upward, or something. This time we went to our first motorcoach "resort," the Hilton Head Island Motorcoach Resort. Four-hundred-plus full-hookup sites (with cable TV) , most of which are landscaped and equipped with outdoor furnishings. Plus a heated and cooled (no kidding) pool, tennis courts, recreation room, and a lake with lighted fountains. Oh, and it's about a mile from Coligny Beach and a ton of restaurants.
This was our second trip pulling the 2006 Toyota Highlander toad, and it worked fine. And it was very nice having wheels to get around.
Our "street," where essentially all of the motorhomes were in the 40-45′ range: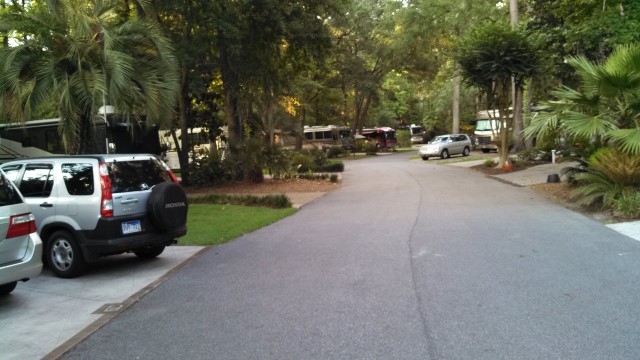 Little ACE fit in, but was obviously the dwarf of the neighborhood: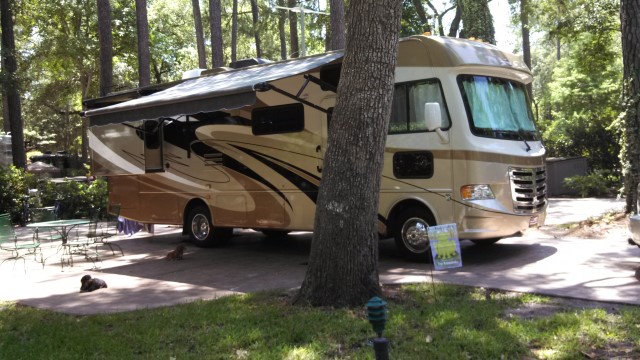 Still, it was a memorable trip. On Saturday morning, we played golf at Golden Bear Golf Club at Indigo Run. Very weird weather: low-80s, dry, and breezy. For the South Carolina coast in mid-June, it was very pleasant. That night, we had dinner at the Black Marlin Bayside Grill, and of course Wendy had her standard fried shrimp, I had a New York Strip with a side of crab legs, and we sat around for a while looking at the boats, daydreaming about doing the Great Loop someday. (That's my dream–Wendy thinks spending 6 months on a 30-foot boat would be a lot like being in prison, with the added prospect of drowning.) Then, next day, it was off to the beach to let Sally the wonder-water-dachshund play in the water: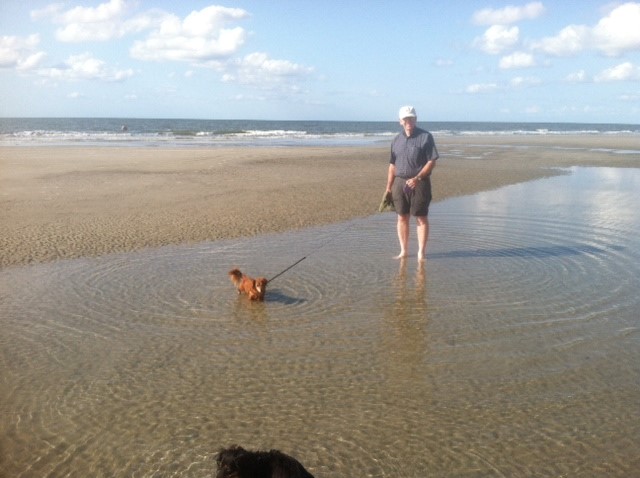 We didn't take advantage as much as we could have of the various activities that HHI has to offer because, um, well, it was the weekend of the U.S. Open and we spent a ridiculous amount of time sitting in ACE watching TV. I know, I know … shame on us … but, hey, it's the U.S. Open.
We decided we'll definitely be back. So, we are now officially old fogeys who drive around in a motorhome and stay at RV resorts. So much for camping…
Details for the trip:
Total miles: 607
Fuel economy: 7.77 mpg (versus an average of 8.43 when not pulling the toad)
Total camping expenses: $199.80
Golf: $39 x 2
Dinner at the Black Marlin Bayside Grill: $72.63+$14