Winter is upon us, so after properly preparing for our first long trip, it's time to head to warmer climes. It's a 10-leg trip, so here are the individual segments (with updates to follow as they occur):
Brunswick to Anastasia State Park, St. Augustine, FL
St. Augustine to Walt Disney World, Fort Wilderness, FL
Walt Disney World to Cape Canaveral, Jetty Park, FL
Cape Canaveral to C.B. Smith County Park, Miami (Pembroke Pines), FL
Miami to Key West (Summerland Key), FL
Key West to Flamingo Campground, Everglades National Park, FL
Everglades to Naples RV Resort, Naples, FL
Naples to Cedar Key RV Resort, FL
Cedar Key to Carrabelle Beach Outdoor Destinations, FL
And finally, after three weeks on the road, back to LaGrange.
It seems we spend a fair amount of time planning out various big trips we hope to make someday: a 2016 Grand Tour of the U.S. (80 days, 9700 miles, 19 National Parks and Monuments); an out-and-back trip to visit Robert at Joint Base Lewis McChord near Tacoma (6600 miles, taking 125 days, mainly because I've included a month in Washington, a week at the Rose Parade, and two months in Tucson); and of course our maybe-someday trip through Canada to Alaska and back.
But, truth be told, we've never really taken a trip longer than a week. Well, one: the trip we made to the White Mountains in New Hampshire back in the 1980s with the pop-up was two weeks. But basically all of our trips have been in the 3- to 5-day range. Until now.
We've mapped out and will soon start a 10-stop, 22-day, 2100-mile circumnavigation of Florida: down to Walt Disney World to meet up with the Little Darlings for 5 days, then down the east coast of Florida, out to the Keys, then the Everglades, then back up the West Coast.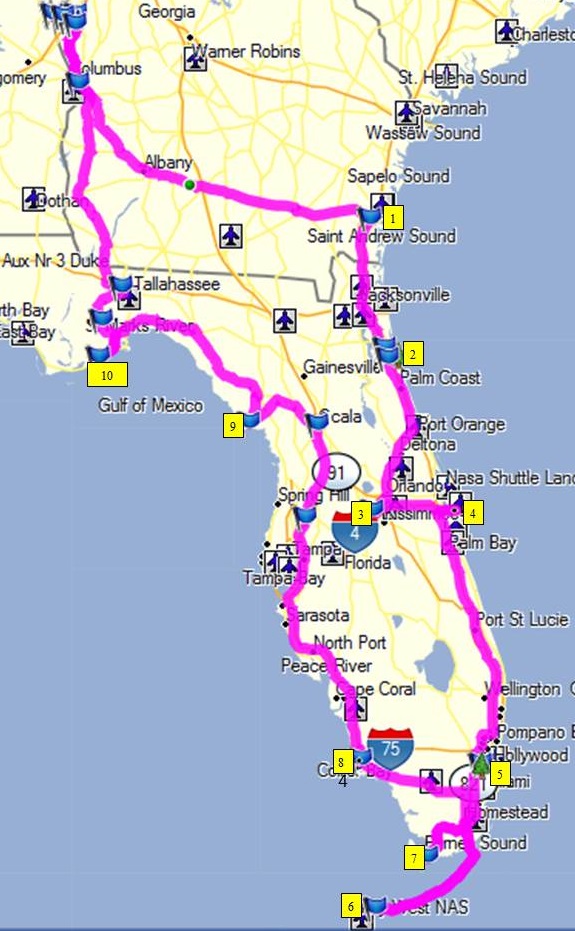 There is much that makes this trip exciting besides the fact that it's our first L-O-N-G trip, mainly that we're learning how to make a series of overnight-stops; what it's like to have to toad along with us at each of those; how to deal with the dogs and various onerous pet policies; how to handle restocking, maintenance, and chores; what a real budget should be for such trips; and how much sightseeing and touristy things we can really manage. We plan on coming back much smarter than we are now. But mainly we plan on being warm for a few weeks and having a great time.