When the kids were young, we had a Coleman pop-up. We didn't have a lot of spare money, so our regular get-aways were to pull the camper up the road to Lake Lanier and camp at one of the many Corps of Engineers campgrounds there. But once a year, at Thanksgiving, for our big vacation, we would haul the pop-up down to Orlando, and "camp" at Disney's "Fort Wilderness" campground.
It's impossible to describe what a completely wonderful experience those trips were. Of course, the kids loved Disney World, but actually they loved camping at Fort Wilderness just as much. In fact, we would always book one extra day so that the kids could just enjoy the campground.
Well, they're grown and now have their own LDs ("Little Darlings") and the plan is to start anew, this time with Nana and Grandpa hauling the camper (except this time it's a motorhome) with the LDs down to Fort Wilderness and Disney World. First step, though, a "scouting trip." (I thought that was going to be a fake excuse, but it turned out that a "scouting trip" was exactly what we needed. Life at WDW gets a lot easier if one knows the ropes.)
So, here's the route: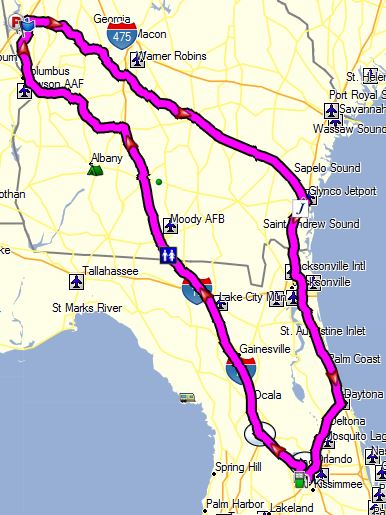 Wednesday, 20 February: LaGrange to Blythe Island Regional Park Campground (Brunswick, GA). Just an ordinary drive angling east across Georgia. But it was our first stay in a county campground. Ever. As many years as we've been camping (30+) neither Wendy nor I could ever remember staying in a county campground before. Anyway, it was basically fine. Dirt roads, dirt sites, a little narrow in places, but really pretty darn good. A short review of the facility is here.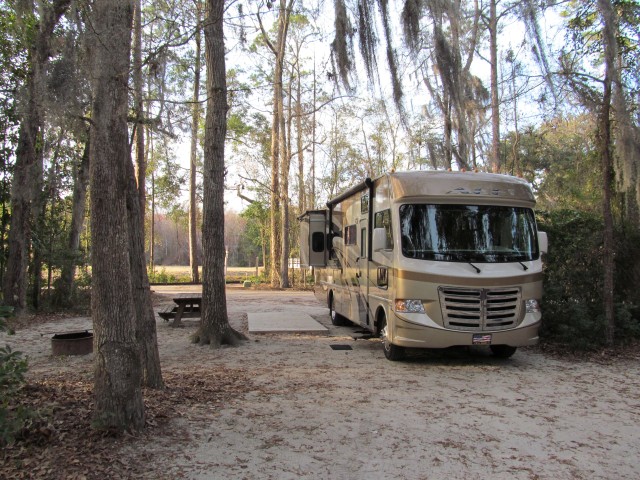 Thursday, 21 February: Blythe Island to Fort Wilderness. We were so excited that neither one of us could sleep, so we woke up early, unhooked, and were on the road by 07:45. Good grief–how old are we anyway?
And then we fell into even giddier excitement when we got to Fort Wilderness around 2:00 pm. After a quick and easy check-in, we were directed to our site (number 355). My recollection is that we always stayed at the "Preferred" sites (100-200-300 loops) because they are closest to the "Outpost," water taxis, marina, and other activities. The other options are tent camping sites, "Full Hookup" sites, and "Premium" sites, which are big-rig friendly. As we were driving in, I had a moment of angst as I realized that our prior trips had been in a pop-up camper and now I was arriving in a motorhome having declined to get a big-rig friendly site. Oops. I felt somewhat better as I saw all of the other motor homes parked in our loop, and then somewhat worse as I missed crashing into them only by an uncomfortable (for me) margin. But we eventually found our site, I successfully backed in (all of the sites at Fort Wilderness are back-in), and we got set up.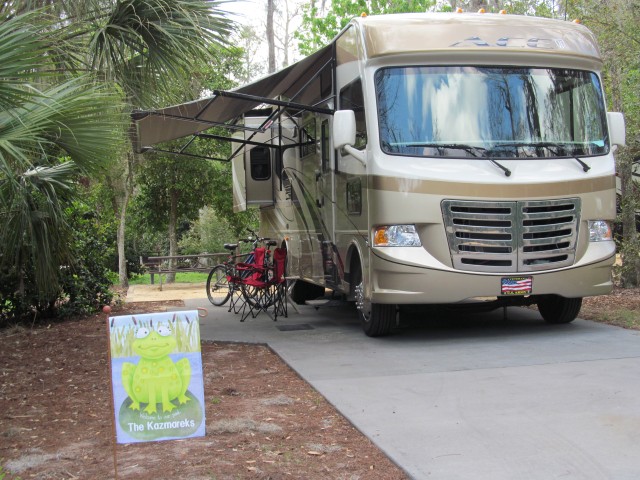 We spent a little time exploring the campground on bicycle (more about that in Sunday's report), and I quickly was reminded of what a wonderful, magical place this really is.
We then decided to take a motor launch over to the Wilderness Lodge resort for dinner. (Pause on that sentence for a while–how many campgrounds are there in the world where it's possible to utter a sentence about taking a motor launch to another resort for dinner?)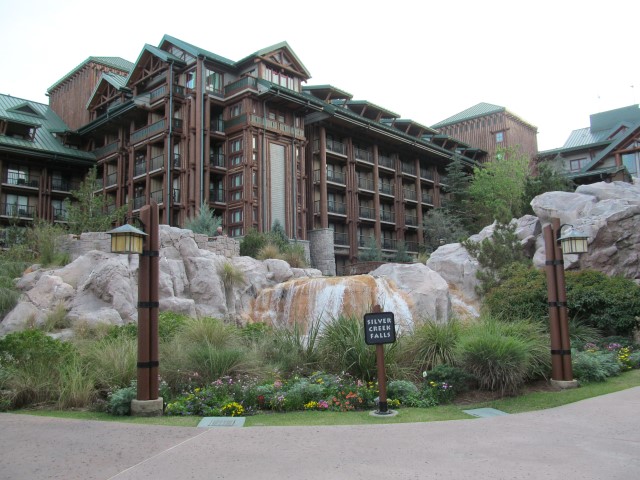 Like most things at Disney, it helps to do some early planning and to know how the system works. Fortunately, Fort Wilderness has its own concierge (another sentence worthy of pause) who made reservations for us at the Artist Point restaurant. I'm going to try to avoid a constant stream of effusive praise, but this one meal was in many ways a symbol of our whole Disney experience. The restaurant was beautiful, the service was perfect, but most of all the meal was extraordinary. Wendy ordered one of the house specialties: buffalo prepared using some method of searing the meat and high-pressure cooking and hitting the right temperature (64 degrees C) and, well, I'm not really sure. All I can say is that the meat was as tender, juicy, and flavorful as any filet I have ever had. Another sentence for pause: how many campgrounds are there where an on-premises restaurant serves up unforgettable gourmet meals?
Friday, 22 February: EPCOT. This blog post could certainly get unwieldy if I went on and on about what we did at EPCOT, replete with pictures and movies (which I have in more than ample number) (click here for the EPCOT photo album). We did the usual stuff: rides in the morning (Soarin' twice, Test Track twice (once just to get a video–see the photo album), Mission Space, plus a number of other random rides here and there) and then did World Showcase in the afternoon. All of which culminated that afternoon with a wonderful concert of patriotic music in celebration of Presidents' Day, a performance by Chinese acrobats doing feats that must have been fake because no humans can possibly do such things, and then dinner at a Moroccan restaurant, with a dinner show featuring a belly dancer (who also gave belly dancing lessons to the children in attendance).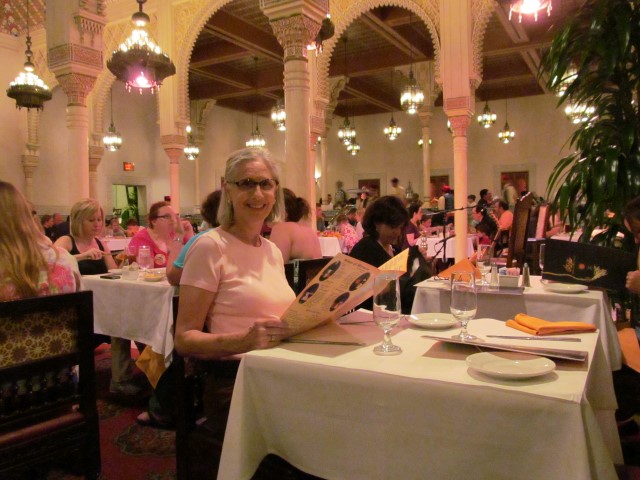 Saturday, 23 February: Magic Kingdom. What can one say? It truly is a magical place. Admittedly, it would have been better if we had several little darlings in tow (we're already planning that for next year). But even without the LDs, I enjoyed simply seeing what can be done by an organization that sets a goal to make something wonderful for children and then lets its imagination run free.
To be honest, I don't really get the princess thing. All of our granddaughters have gone off the princess deep end, and much of the Magic Kingdom experience is geared to LDs with princess fixations/OCD. And, of course, the princesses are only part of the "character encounter" experience that Disney offers. But I'm old and basically crotchety. If I jettison that disposition for a moment, I must admit there is simply nothing as magical as watching a child's eyes light up, literally sparkle, when Cinderella, really Cinderella, takes her by the hand. Or when Winnie the Pooh, Tigger, Eeyore, and the others invite all of the children at dinner to join in a musical march around the restaurant.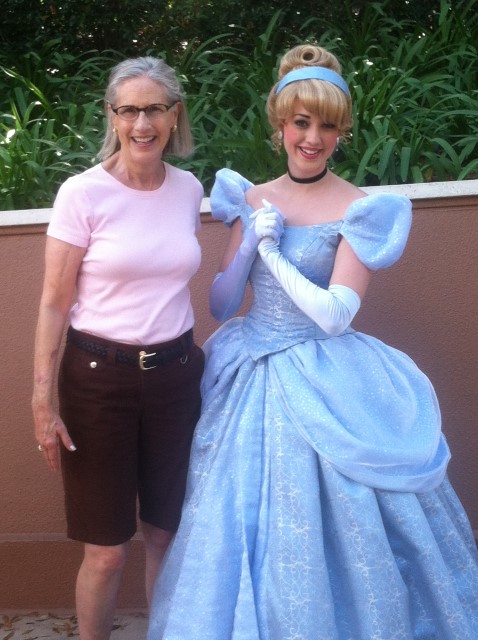 (I know, I know … but this is just one of numerous pictures that we had to take of Wendy with various princesses–I think this one is Cinderella–so we could e-mail it back to the granddaughters with something like, "Look who Nana met!")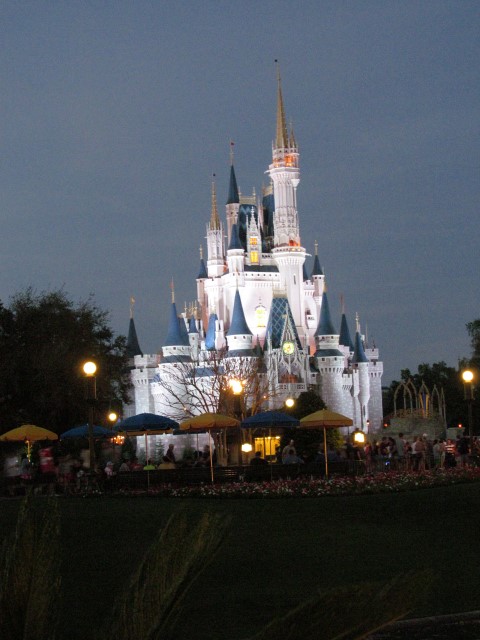 The rest of the Magic Kingdom photo album is here.
Sunday, 24 February: Fort Wilderness Campground. The original plan was to play golf, but the weather was a little cool and drizzly, so we decided to spend the day just touring around the Fort Wilderness campground. Incidentally, when we asked the concierge how to arrange for golf, we were told that (1) they would send a baggage cart to transport us and our golf clubs to the Settlement Depot, (2) from where Disney would provide complimentary taxi service to whatever golf course we desired. I'd say that is not a common campground experience.
I guess this is the point of this glowing review: after deciding not to play golf, we rode our bikes around and checked out the swimming pool, the water play area, the canoe and kayak rentals, the stables, the fishing ponds, the Hoop-Dee-Doo Review venue, the movie and campfire area (where Disney has a Chip 'n' Dale sing-a-long every night), the marina and boat rental area, and the bicycle and jogging paths, plus probably other areas I just don't remember. (See the Fort Wilderness map here.) (And see the Fort Wilderness photo album here.) I guess that's one last sentence that deserves pause: there are so many things to do (apart from the theme parks), that listing them strains memory and turns into a run-on sentence. For how many campgrounds on earth is that the problem?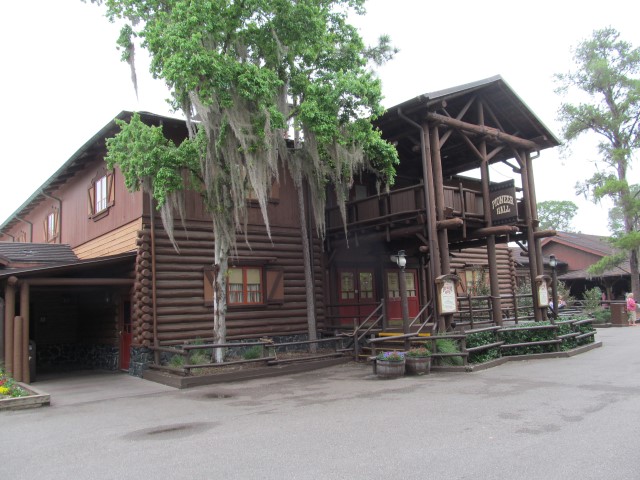 But eventually, the trip had to end, and we'd be leaving the next day…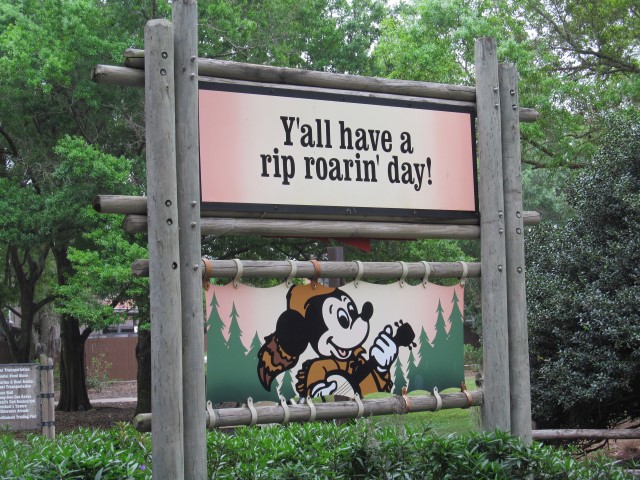 After dinner at the Trail's End Restaurant, we did take a motor launch over to the Contemporary Resort, then the monorail to the Grand Floridian Resort & Spa where we listened to a jazz orchestra for a while, then the monorail over the the Magic Kingdom were we watched the fireworks, and then a different motor launch back to the campground. (I know I said no more calling out sentences that demand pause, but let the preceding sentence rattle around for a while in the campground evaluation section of your brain.)

Monday, 25 February: Drive back to LaGrange. Our original thought was that we'd do a leisurely two-day trip back, stopping at Cedar Key for the afternoon and overnight, but the weather was turning nasty (cold, rain and thunderstorms, wind, flood warnings, and everything else short of locusts and falling frogs), so we just decided to beat feet home. A 439-mile trip; long, but doable.
Overall Evaluation: The Fort Wilderness/Disney World experience is definitely a 10 out of 10. Or maybe 11 out of 10. I simply cannot imagine any place on earth where every activity you experience reflects a passion for excellence, where every employee you encounter has no other goal than to make sure you're happy, and where the range of enjoyable options is essentially inexhaustible.
I spent some time reading online reviews of Fort Wilderness and almost all of them are as glowing as my own evaluation, but, much to my surprise, there were a number of people who gave it ratings of 7, or even 5. In reading their comments, though, I felt real sadness for them: carping that the sites were too small, the campground was crowded, there were too many dogs and children (sometimes treating them as a single category), everything was too expensive, and so on. If someone visits a magical place like Fort Wilderness and Disney World and comes away with memories of barking dogs, I wonder if there isn't something wrong deep down? Or, maybe it's this: I struck up a conversation with some random woman visiting the Magic Kingdom and she said, "Boy, I really love this place." I replied, "Yes, it's really a great place to be." And then she said something I'll never forget: "I guess if you're not happy here, there aren't a lot of places you'll ever be happy." My thoughts exactly.
Statistics for the trip:
Total miles: 978
Fuel economy: 7.62 to 9.74 mpg, average 8.58
Camping expenses: $112/night for Fort Wilderness, plus resort fees, meals, extras.