As described in our camping history, one of our very special camping traditions as the kids grew up was an annual Thanksgiving trip to the Fort Wilderness campground at Walt Disney World. At one level, of course, it's hard for a trip that combines camping and Walt Disney World not to be special. We'd always spend at least one day at the Magic Kingdom (which the kids loved), where we'd have Thanksgiving dinner at the Crystal Palace restaurant. Back in those days, Walt Disney World was essentially deserted on Thanksgiving day. (I understand that now it's one of the busiest of the year.) And we'd spend one day at Epcot (which they also loved). And we'd take a day or two doing nothing but hanging around the campground (which they may have loved the most), where we would ride bikes, play at the petting zoo, go to Hoop-Dee-Doo Review or the Chip-n-Dale chocolate chip pancake breakfast, drive the little racing boats, go to the evening movie and campfire, ride horses, play on the beach, and I can't remember what else. Given Disney's commitment to excellence, those family camping vacations could not possibly have been anything but incredible.
With that in mind, it should not be surprising that son number 1, who about a year ago joined the camping ranks with his own pop-up camper for his family, immediately set his sights on a camping trip to Fort Wilderness.
So, off we go! Cliff and the girls got an early start (his wife, very pregnant, staying home). (I've learned that men should never, ever refer to pregnancy as a "lame excuse.") We left a little behind him in ACE, and all of us met up at the half-way point, a Moody Air Force Base MWR campground in Lake Park, Georgia.
Next day, off to Disney. Cliff raced ahead and we took the girls in ACE, so that he could get there early, snag a couple adjacent sites, and otherwise get things set up for when we would arrive, about 30 minutes behind him.
I know I go on and on about Walt Disney World, but here's another thought. Fort Wilderness is basically, well, what a campground would be if it were designed and operated by Disney. Imagine the same guys who did the Magic Kingdom sitting around and one of them says, "Hey, I have an idea. Let's do a campground!" Imagine what a campground built to Magic Kingdom specs would be like! As you would expect, the "campground" (that word seems inadequate) is essentially an inexhaustible supply of activities, events, and facilities:
There are two pools, one of which consists of a big pool with a twisting high-speed water slide, a wading pool for toddlers, and a water play area with fountains and little slides for pre-schoolers. The larger pool has several life guards, who are conspicuously observant and diligent. A snack bar is adjacent to the pool. And during the day there are half a dozen games, contests, and other organized children activities.
There's a nightly sing-a-long musical show with Chip and Dale, followed by a campfire and s'mores roast, followed by a Disney movie shown on an outdoor screen.
There are archery events, horseback rides, carriage and hay wagon rides, and pony rides (on, of all things, Cinderella's actual ponies).
There's a nightly light show on the lake, followed by fireworks. And the marina at the lake also offers boat shuttles to various resorts, pontoon boat rentals, and rentals for little speed boats that older kids can drive themselves.
There's hiking and biking on a 2.5-mile trail that connects Fort Wilderness to the Disney Wilderness Lodge resort; fishing in several ponds; playgrounds galore; tennis courts; tetherball thingies; at least one dog park; separate paths for walking and biking; free shuttle buses that run every few minutes to ferry campers not only to all of the campground activities, but to the transportation area where other buses connect to the resorts.
There's an onsite restaurant and tavern, along with two dinner shows, the Hoop-Dee-Doo Revue and Mickey's Backyard BBQ.
And lots more that I can't even think of. And remember, this is a

campground

! I haven't even gotten to the theme parks yet.
On top of all of this, there is ample staff, all of whom are courteous and helpful. Even more, Disney refers to its employees as "cast members," and the designation is apt. The staff, even down to the cleaning crews, are part of the entertainment experience, and they know it, and they act like it.
So, enough of that. After setting up on the first day, we just hung around in the campground.
Next day, it was off to the Magic Kingdom.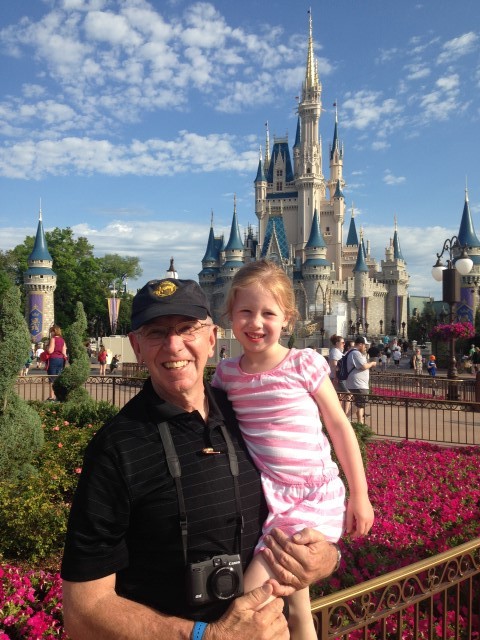 And the day after that was spent just enjoying the options at the campground the campground…
…before heading off to Mickey's Backyard BBQ. I've been through Disney experiences for almost 60 years (since I first visited Disneyland in 1958), and Mickey's Backyard BBQ is by far the best child-oriented Disney experience I've ever seen.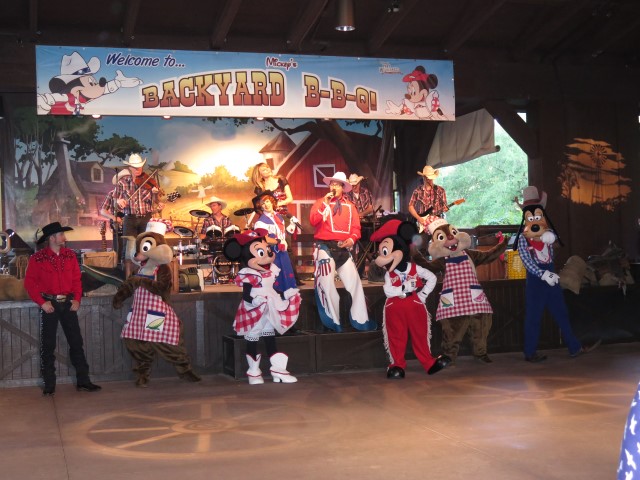 I think this video captures why the Disney experience in general, and the Ft. Wilderness experience in particular, and the Mickey's Backyard BBQ experience in even more particularity, seem to me to constitute the perfect experience for families. First of all, it just plain fun for the kids. They get to sing, and dance, and clap hands, and stomp around, and be silly, and let their imaginations run wild, and just generally be kids, all in a way that must be increasingly rare for them in today's over-structured, high-pressure world that they live in. Second, watching all of that is just unbounded amusement for the grownups. Really. In fact, if you don't find an experience like that to be fun, check your pulse–you're probably dead.
Finally, on our last full day, we did something that was just perfect for the occasion: nothing. We spent a large part of the day on the beach, where we had a picnic lunch and the girls spent hours filling up zip-lock bags with sand and pouring them out to create a, well, giant sand cone.
Well, we did do one thing. We took the girls on a pony ride, with Vivian on Rapunzel's pony and Ansley on one of Cinderella's ponies.
The album for this Disney trip can be found here: Disney 2016 Album.
So, we've already started planning the next trip, maybe even a "family reunion" at Ft. Wilderness. We've got another trip already scheduled in October, which may work out to get some of the family there, or maybe it waits until we're all in the same quadrant. Either way, we'll be back!
(P.S. My comments about "lame excuses" not withstanding, Summer did a great job planning our Magic Kingdom visit, getting the right FastPass+ tickets and staying up until all hours preparing, no kidding, a scheduling spreadsheet of what attractions to see at the Magic Kingdom. She was definitely on the trip in spirit!)