Just a few random, wrap-up thoughts after our 2020 trip to Grand Teton National Park, Yellowstone National Park, and Montana.
RVing During a Pandemic. Definitely, the only way to travel during a pandemic is in an RV. No hassles with restaurants, public bathrooms, common spaces, germ-laden surfaces, or any of the infinity of petty (but necessary) annoyances of trying to stay free of contagion-laden encounters. Except for missing out on some of the attractions of our typical tours (such as rangers talks, guided hikes, museums, visitor centers, and the like) (all of which, to be clear, we did miss), RV travel during a pandemic is essentially no different than any other RV travel expedition. We wondered before we left whether this trip would provide the essentials of what have always made our trips memorable, and the answer is a resounding yes.
Schedules. Because our trip turned solo at the last minute, and because the kinds of activities that normally populate our schedules were largely unavailable, for the first time we had a trip that presented day after day with nothing in particular to do. And surprisingly, that made it one of the best trips ever.
Normally, when one's time on a trip is limited, there's a weird sort of pressure to make the best of it, to make sure all of the essentials get done, to avoid "wasting" time. But this time, we were free to do things as they struck our fancy. If we passed a sign for a trail to a waterfall, we were free to break from plan, pull over, and do a spontaneous hike. When we thought wildlife might appear, we were free to sit for three (!) hours just to see what happened. When we visited a particularly photogenic scene, we had the flexibility to wait for a couple hours for just the right light.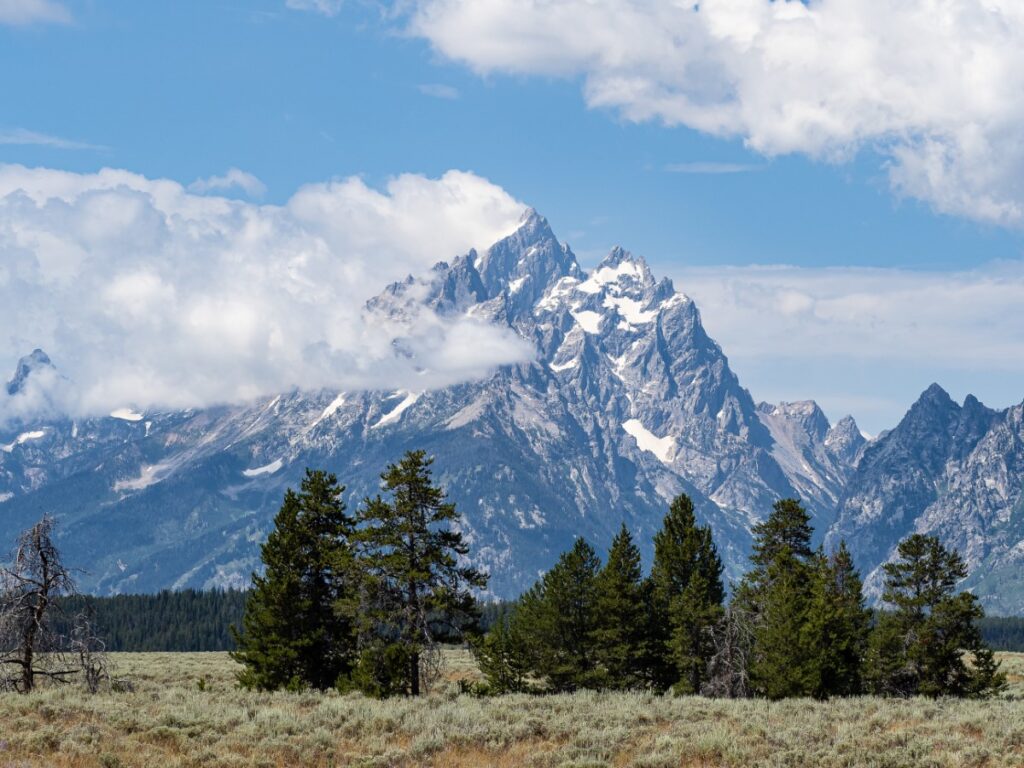 We don't expect this to be our M.O. going forward. We laughed at what it would have been like to sit in lawn chairs by the side of the road for three hours if we had a shrewdness of grandchildren with us. But, for this one trip, the serendipity of an unencumbered schedule made it memorably special.
Connectivity. We noticed something odd this year: the visitors map to Yellowstone has several colored blobs indicating those areas of the park where cell phone coverage is available. Even worse, it looked to us like the Park Service is laying fiber optic cable in Grand Teton NP. On both counts, I have grave forebodings about what future park experiences may hold.
I understand why a lack of connectivity can be a nuisance. In Grand Teton, there was only one area we found that had cell phone coverage (a pull-out down by Willow Flats), and only one other location (down by the marina store) that had WiFi internet access. So, to fire off an itinerary change to the family, phone ahead for campground reservations, or respond to some supposedly "urgent" need back in Atlanta, all required an inconvenient detour to some suitable spot and a break from park activities.
But that's the point. Immersing oneself in the splendor of the Grand Teton range is not about sending off emojis, updating your Facebook timeline, or firing off some blather in your TikTok app. It's not even about staying connected to the office. The essence of a visit to a national park is that it forces you to detach from the consuming trivialities imposed by modern technology, take a deep breath, and momentarily focus on things that transcend the mundane details of ordinary daily life.
I've written before about the tragic superficiality of people we've seen who come across some scene of breathtaking beauty, turn their backs on the magnificence of their surroundings, take the obligatory selfies, and then promptly leave, only to continue their never-ending stream of missed opportunities. I wonder now if that tragedy will be compounded by the Park Service striving to make the national parks places for connected experience.
Blue Meanies. For many years, I've pondered the connection between city living and an excessive proportion of nasty people. And it's not just one of my (many) (mostly random) theories: a friend's wife who is an epidemiologist at CDC has actually done academic research on how urban density is a causative factor in aggressive behavior. This also explains a phenomenon we observed: states that are dominated by cities, and hence those states that tend to be blue, also tend to display the urban manners of the citified people that populate them.
We had an interesting confirmation of this social phenomenon this year. From time to time, more often than one might think in national parks, one encounters people who are unexpectedly and unnecessarily rude and aggressive. The most common examples can be seen on the park roadways. Speed limits in the park are generally pretty low (often 45 mph, slower near lodging, popular attractions, or areas where wildlife congregate). Many people (including us) actually abide by these speed limits. Unfortunately, though, for certain kinds of people, a speed-limit-obeying vehicle is little more than a source of frustration and an opportunity for attack. These are the people who ride the bumper of the car in front of them, swerve out (often illegally) to blast by the offending speed-limit-obeying motorist, drive the wrong way through a traffic slow-down, and otherwise bring the ill-mannered demeanor of urban life to the wilds of Wyoming.
And here's what we noticed. These brutish assailants were almost always from blue states. Amazing. Most of the cars on the road were local (Wyoming and Utah mostly), but when some jerk crossed a double-line to drive at 70 mph in a 45 zone, blue state. And it was way too often to be a coincidence: New York, New Jersey, California, Washington. Blue meanies everywhere.
[For those too young to catch the allusion, the Blue Meanies were the brutish bad guys in the Beatles' movie Yellow Submarine and a metaphor for mean people everywhere.]
Harleys. Speaking of behavior that is strangely out of place, here's another one. Although I rode a motorcycle for 50 years, I never really understood the Harley Davidson crowd. The motorcycles themselves are not particularly functional (the performance riding course I took regularly would not even allow Harleys to participate), but the oddest thing is the fascination Harley people seem to have with removing the bikes' mufflers. Why? For the rider, what could possibly be the attraction of a deafening, mind-numbing roar inches from one's eardrums for hours on end, and how could anyone be indifferent to the annoyance that such a blast creates for anyone within a couple hundred yards of the offending tailpipes?
What brought on this detour into the oddities of the Harley Davidson subculture? Our time in the Lamar Valley of Yellowstone National Park this year coincided with this year's Sturgis motorcycle rally, an improbable gathering of, no kidding, 460,000 motorcycles (down this year, maybe due to COVID-19, by about 9% from last year), in the town of Sturgis, South Dakota. An unfortunate proportion of the Sturgis-gathering motorcycles are Harleys, and a doubly unfortunate proportion of the Harleys are ridden by the aforementioned muffler removers. And one more unfortunate circumstance: the Lamar Valley is the natural route between Sturgis and the rest of Yellowstone. What that meant was that the roadway through the Lamar Valley was subject to a never-ending roar of groups (sometimes 30 or more) of unmuffled motorcycles blasting their way through the otherwise tranquil expanse of the park.
There's a pretty funny video out there of a bison who attacked a woman who had gotten off her motorcycle and walked into a herd of buffalo to take pictures, with the animal adding insult to the woman's injuries by pulling the woman's pants right off of her. Really. Watch the video. It's funny in a Darwin Awards sort of way.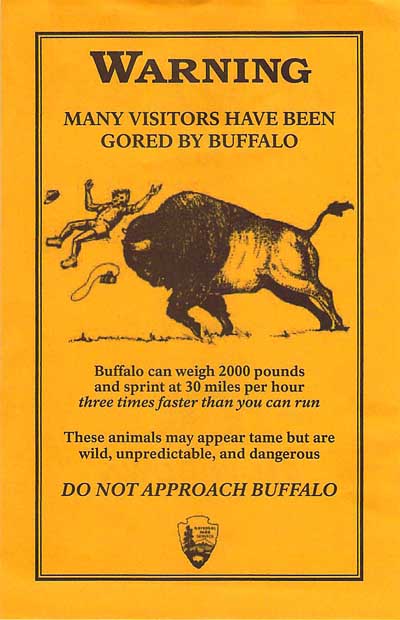 In any event, though, we were not so fortunate as to see any bikers pantsed by buffalo this year. Next year, maybe, but at the very least we'll remember to bring our ear plugs.
Overall. One of our best trips ever, enjoyable even in the midst of a disrupting social climate, and filled with new experiences. We are so glad we resisted the urge to bail out and once again reminded how blessed we are to live in such a beautiful country, and doubly blessed to be able to enjoy it.