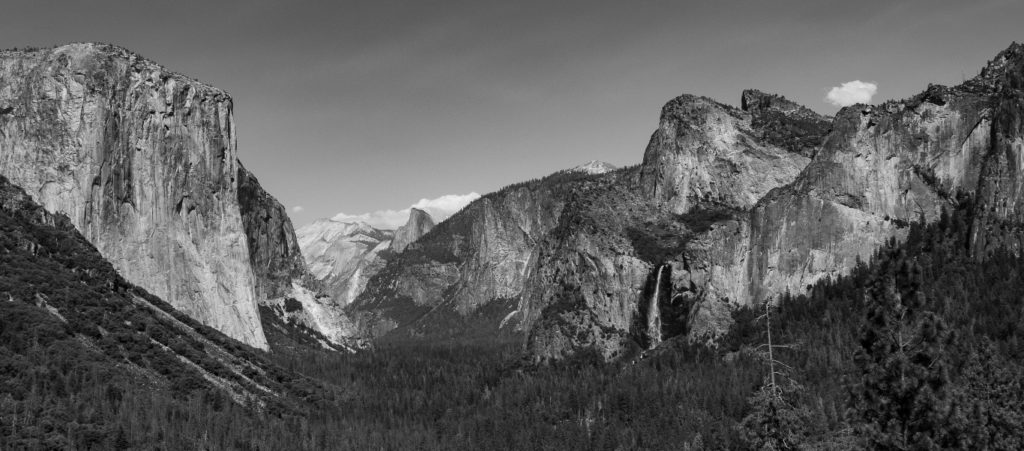 It's one of the most photographed vistas in the world: Yosemite valley, with El Capitan on the left, Bridalveil Falls on the right, and Half Dome off in the distance. And this picture, from the Tunnel View overlook, has been taken about 135 billion times. And the day we were there, the lighting was blech and there was nothing unique about the scene. So why take the shot? Because it is breathtaking. Not in the vernacular sense, but in the actual, literal sense that when looking over the valley from this vantage point, it is truly hard to keep keep breathing. We actually came here twice, and both times we watched groups, including a couple tour buses, show up, snap the obligatory photograph, or more likely take a selfie with the spectacular beauty of this place as a mere backdrop to what the visitors think is the most important aspect of this place, namely themselves, and then leave. But every now and then, something different would happen. A person would walk up, camera in hand, and then actually see what lay before him, stop breathing, put the camera down, pause to take in the majesty of this place, regain his breath, and then take the shot. People in the first group went home with another set of selfies; someone in the second group went home transformed.
And everyone knows this, but scenes like this abound everywhere.
Even the places that aren't really places are beautiful.
And for all this, there were two aspects of our Yosemite visit that were particularly memorable. Ever since the days when Wendy and I first met, we would go on picnics. I know it's incongruent in a way, but the small simplicity of a picnic lunch is particularly apropos in the grand beauty of a place like Yosemite. So, we packed a lunch of sandwiches and fruit, Wendy picked a place off the map called Tenaya Lake, and this is where we stopped mid-day.
The second was that the last time we were here in Yosemite was back in 1972 when we traveled cross-country to get married in Connecticut, staying in national parks the whole way. We slept in rubber-coated canvas tent (that we got with S&H Green Stamps) (don't worry if you have no idea what I'm talking about) that would drip condensation on us all night long: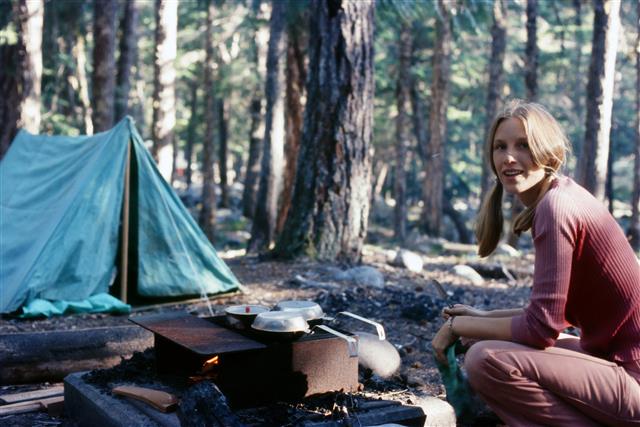 And one of our favorite campsites was in the Tuolumne Meadows campground, just past Tenaya Lake where we stopped for lunch. So, we went back. We tried to find our old campsite (no joy) but still, the memories of Yosemite flooded over us as we looked over the meadow.
What a great visit. Next stop, Lassen Volcanic National Park. I know that volcanoes along the Pacific Rim of Fire seem to be particularly active lately, so if this is the last post before we are consumed in a pyroclastic flow, good bye and thanks for all the fish.