There are two things worth noting about Sequoia National Park. The first is trees. Sequoia has them. Really big ones. In fact, the largest trees on the planet: Over 300 feet high; weighing as much as 2.7 million pounds; and up to 40 feet in diameter at the base. And they are really old, like over 3200 years old.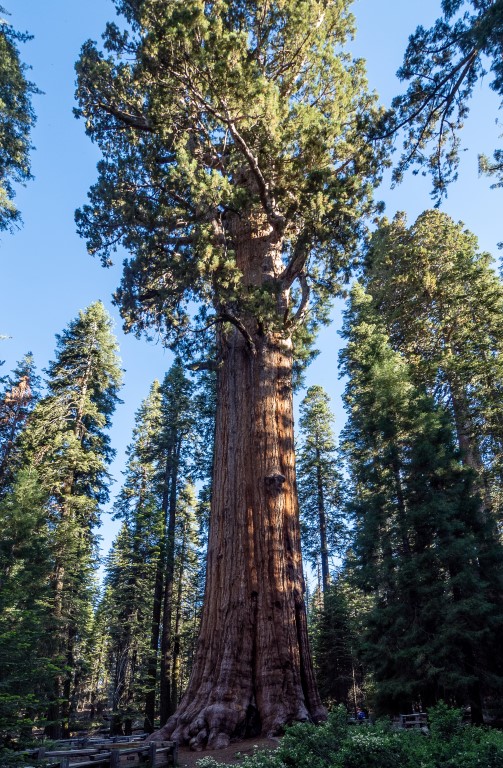 At left: The General Sherman Tree (Southerners… don't freak out. After all, they did win, so they get to name the trees.) The General Sherman Tree is considered to be the largest tree in the world, although "only" 275 feet tall (there's a coastal redwood that's 380 feet tall), and "only" 2300-2700 years old (there's a Bristlecone pine that is slightly more than 5000 years old). But its volume is an incredible 52,000 cubic feet, equivalent to 7.5 million board feet of lumber! And it adds the equivalent of a 60-foot "normal" tree every year.
Giant Sequoias grow only in a few little areas on the unglaciated, Western slopes of the Sierra Nevada mountains, between 5000 and 7000 feet, where a combination of soil (their seeds germinate best after a fire), moisture, and other factors are perfect. There are 75 groves of Sequoias, consisting of a few trees to several thousand.
It's hard (actually, impossible) to convey the scale of these trees in a photograph, though. As one of the rangers pointed out, a human stands in the same relation to one of these trees as a 1-1/2 inch mouse stands in relation to a human. Really. Look at the photograph above. The branches you see coming horizontally out of the General Sherman Tree are five feet in diameter. Even looking straight up, perspective simply causes the lines of the trunks to converge, without conveying the fact it's way up, really way up, to the tops disappearing in the reaches above one's head.
The second point about Sequoia National Park is the lesson it carries about conservation. In the late 19th century, these trees were being logged and it was apparent that, with a limited supply of these giants, confined to only a few places, it would only be a few years before they were gone. Led by John Muir, Congress was persuaded to preserve the area and Sequoia National Park was created on September 25, 1890. Sequoia was the second national park, thereby not only protecting itself, but showing that Yellowstone was not a once-for-all endeavor. The country was now embarked on a path to preserve for all times the treasures that our land had given us. Congress tripled the size of Sequoia National Park a week later, and then created General Grant National Park to preserve the Grant Grove. (Southerners–same caution; they won the war, for crying out loud. This park is their bragging place.) In 1940, Grant Grove was merged into the newly created Kings Canyon National Park, and in 1978 the Mineral King area was added. The park now comprises about 400,000 acres. The several thousand trees that exist now, and that will continue to exist for an unending line of future generations, owe their existence to these early conservation efforts.
As is often noted, the idea of a national park is a fundamentally democratic concept. It's a physical way of saying, "this is our land, for our enjoyment, and ours to pass on to our children … it doesn't belong to the few, it belongs to the people." One can watch the families and almost hear, "come here kids, look what your grandparents gave you." But there's also a spiritual dimension to standing before these wonderful trees. John Muir said something like "No cathedral built to God can equal these giants," which mostly misses the point, but there is in his remark the truth that one cannot contemplate these trees without casting one's mind to the one who made them, and therefore walking among these towering giants can be a form of worship. And, to be able to marvel at God's handiwork is part of what it means to be fully human. On both counts, conservation is a fundamentally religious exercise, whether people realize that's what they're doing or not.
Anyway, after the inspiring tour of Sequoia, we headed downhill, 5000 feet downhill to be precise, to explore Kings Canyon. Meh. Jointly administered with Sequoia, Kings Canyon is technically a separate national park, but for us it didn't carry the wallop as Sequoia.
The canyon itself was impressive in its own way…
…and there were some nice waterfalls along the way (Roaring River Falls and Grizzly Falls, respectively):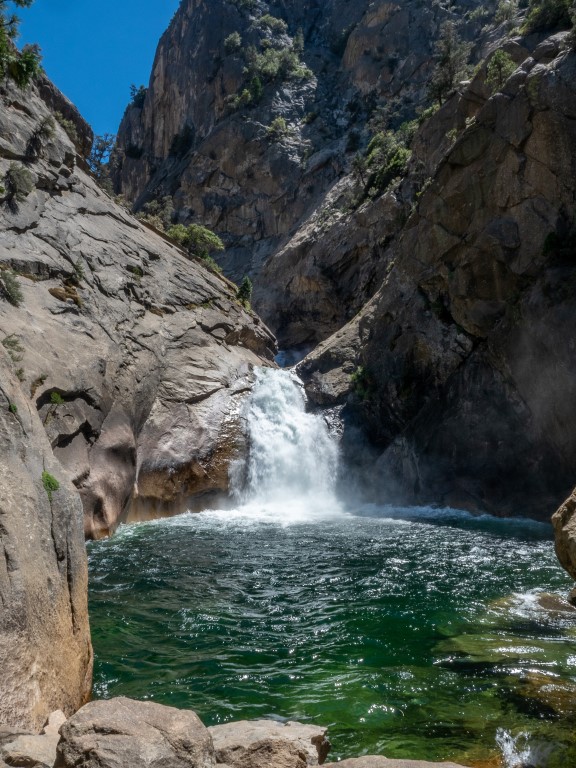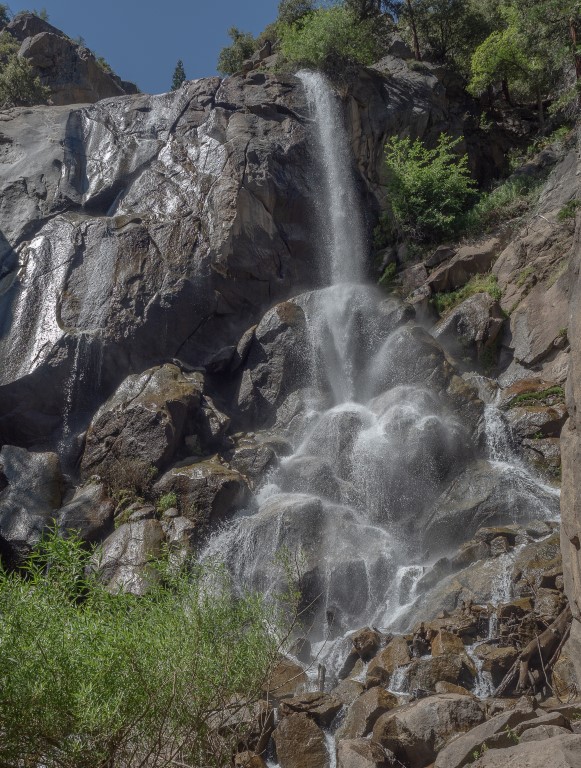 But we didn't really find Kings Canyon to be on the same level as Sequoia (emotionally or altitudinally). Sequoia is a special place, certainly one of our great national treasures. A giant Sequoia tree is part of the emblem of the National Park Service, and that befits the special significance of these wonderful creations.
Next stop, Yosemite.