The stop in Tucson was supposed to be a layover to get some work done on ACE, see Wendy's sister, Susan, and her husband, Terry, see a couple local sights, and basically gear up for the next phase of the trip. Ho-hum. No big deal. It turned out to be a wonderful and memorable stop, maybe even the best of the whole trip. Here's why. (There's so much to recount that this is going to take a while. Sorry.)
Things started off with Susan and Terry inviting us to attend their annual Cinco de Mayo party, held this year on Cuatro de Mayo, and attended by some sixty-odd friends and neighbors. (You can read "sixty-odd" with or without the hyphen and I think it works.) We had a great time, wonderful people, great food, and Margaritas made with some orange liqueur that, unfortunately, made them way too easy to drink.
In planning for the trip, we mentioned to Susan and Terry that, oh by the way, we really like Mexican food, so they arranged a series of dinners at Mexican restaurants, each one better than the one before. Mi Tierra, near Susan's home, was very good; Guadalajara in Oro Valley was, in my view, even better; but what topped el pastel was Elvira's (no, not named after either the Mistress of the Dark or the song by the Oak Ridge Boys) in downtown Tucson. That last stop was a gourmet restaurant, with a posh, modern décor, and with a menu featuring foods in Mexico City-style, including five different types of molé, with each of our dinners memorable for both their preparation and their presentation. What a treat.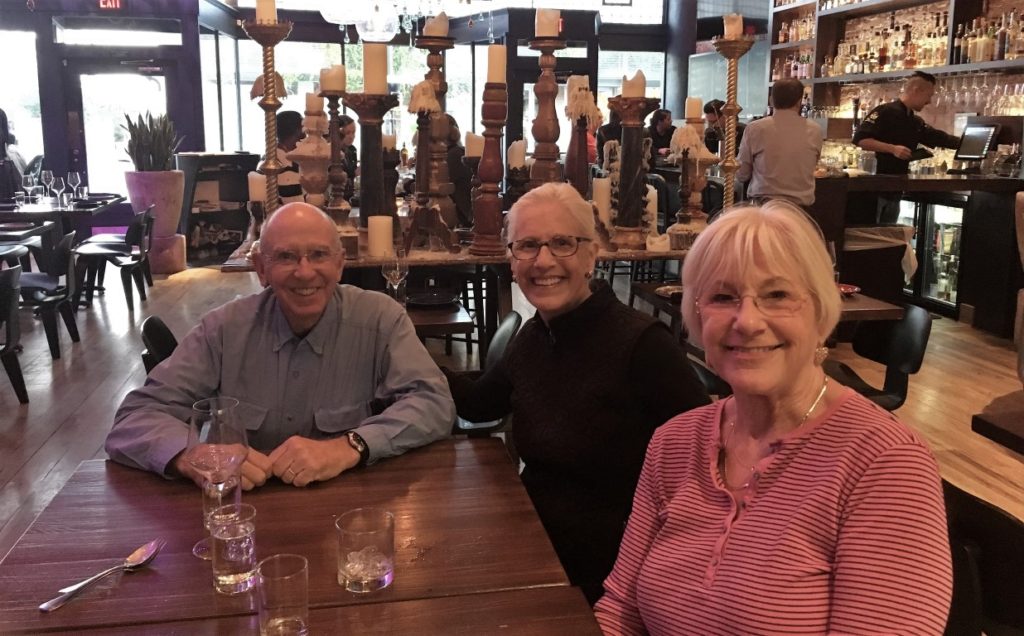 Susan also arranged a trip to "Biosphere 2." For those of you who don't remember it, the  original "biosphere" experiment was an attempt back in 1991 to seal up eight people in a huge, self-contained structure where they would live for two years, producing their own food, using plants to produce oxygen, recycling waste to grow the plants, blah blah blah. It was sort of like the grown-up version of those terrariums you made as a kid with the plants, the puddle of water, and a little frog (that promptly died and got dried out and your mom told you to get that stinking jar out of the house). That Biosphere experiment didn't work very well either (among other things, they ran out of oxygen) (oops), and the structure has since been converted to series of contained environments for large-scale earth science studies and environmental education. But the concept of a structure that permits self-sustaining human habitation is still there. Bingo. I loved the place. While the tour guide was blathering on about how the Biosphere facility can teach us about climate change and various other environmentalist boogie men, I kept looking at this place and wondering, "This is great! How can we build this thing on Mars?"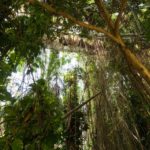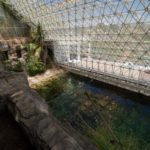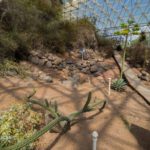 We also managed a day-long excursion to the Pima Air Museum, another world-class facility in (no offense to South Tucson) an unlikely location. The air museum is the third largest in the U.S. (behind the National Air & Space Museum and the Air Force Museum at Wright-Patterson) and not only has its own excellent collection of vintage aircraft, it also houses a separate museum for the 390th Bomb Group (complete with an intact B-17) and coordinates with the Davis-Monthan AFB "boneyard," where aircraft are sealed up and stored pending either reactivation or dismantling.
And, Susan took us to another unlikely, but completely wonderful, spot, Sabino Canyon. This is something unlike anything Wendy and I have seen before. Sabino Canyon is a deep canyon in the desert outside of Tucson that contains a perennial stream. What made it unique is that the U.S. Forest Service operates a tram that takes visitors up the 3.8-mile canyon on a guided tour, pointing out the geological and biological features of this unlikely stream in the middle of the desert. Then, visitors have the option of taking the tram back down or, as we did, enjoying a leisurely two-hour hike back to the visitors center.
The highlight of the week, by far, though, was a trip to the Arizona-Sonora Desert Museum. The "museum" is a combination of a botanical garden, wild animal park, zoo, and educational facility, all wrapped up in an authentic desert layout. One strolls about over several miles of trails and walkways, seeing the flora and fauna of the Sonora Desert as one might see it over years of backcountry hiking. Seriously. This is the second time we thought we were attending some little second-rate "local" museum (the first was our trip to Cody, Wyoming) only to be met a world-class facility that is as good as one can find anywhere.
In addition to a wonderful indoor exhibit of reptiles, insects, and an amazing assortment of little desert creatures that will sting, bite, or otherwise poison you, there's wide array of animals native to the Sonora Desert were on display in man-made but natural-looking habitations:
And there was an extensive cactus garden, with many of the species in full springtime bloom. [Click on the thumbnail photos to enlarge]
We did make a quick stop to Saguaro National Park, but given how excellent were both the Sonora Desert Museum and the Sabino Canyon excursion, the national park was actually something of a let-down. Think about that. How often can a national park be a let-down?
So that ended our "layover" in Tucson. Six days of non-stop eating and touring, excellent in every respect, all made possible by Wendy's wonderful sister.
Next stop: Mesa Verde National Park and southwest Colorado.