Wendy and I have driven through Montana probably a half-dozen times over the years, and every time we do, Wendy says, "Wow! This place is SO beautiful. Instead of just driving through, we should stop for a while and see Montana." So, having wrapped up Grand Teton National Park, we headed up to Livingston, Montana, for a week. Two of those days were spent in Yellowstone, but that gave us four days to see Montana. Hold that thought.
You know how sometimes you hear someone say something and you wonder, "Are you serious? What are you thinking? Are you actually that clueless?"
Now, back to seeing Montana. Yes, we actually are that clueless and no, I don't know what we were thinking. "Seeing" Montana in four days is nuts. Montana is almost 150,000 square miles in size. (Compare that to Georgia, which is about 60,000.) Montana is roughly 570 miles by 315 miles in length and breadth. It has 70,000 miles of paved roads, and an immeasurable number of dirt roads. So, what were we thinking that we could "see Montana" in four days?
Needless to say, we didn't "see" Montana. What we did see was one little sliver of the south-southwestern part of the state, specifically the Gallatin River canyon, and then the Madison River valley. Seriously. Two riversheds. And it took all day.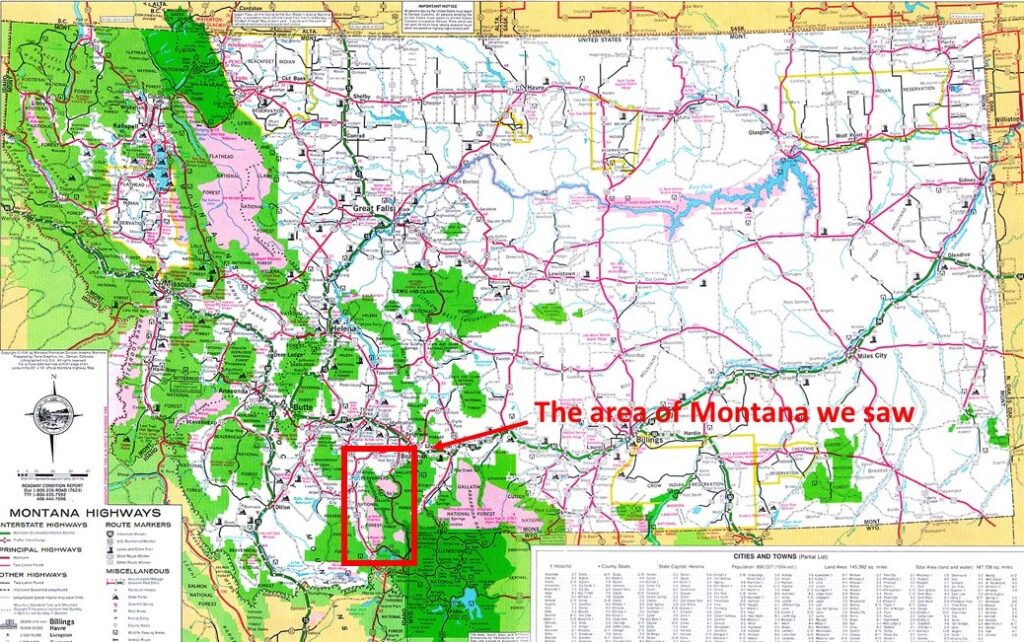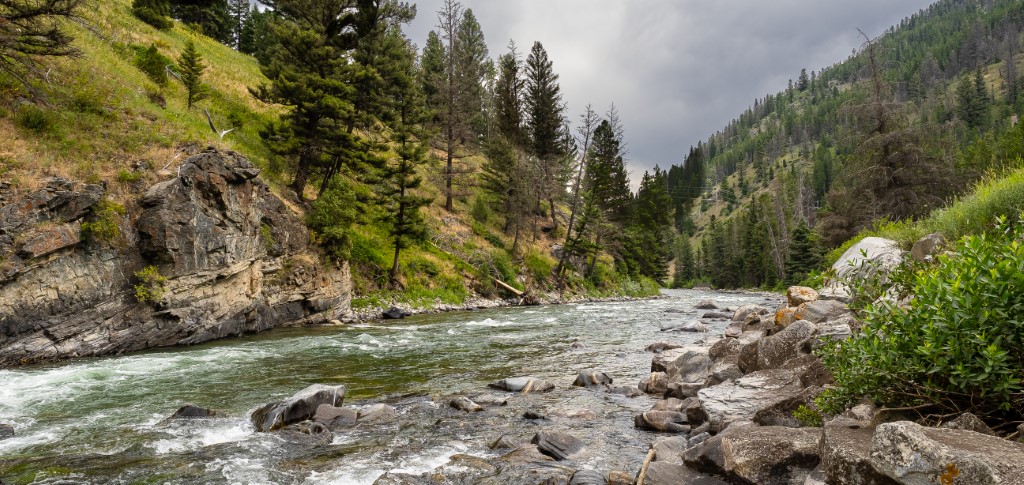 The Gallatin River canyon, though, provided us with a quality experience that overcame the shortfall in the quantity of Montana that we actually saw. As usual, we stopped for a picnic along the river's edge and then simply sat there for an hour, doing nothing but taking in the beauty of that particular place. Which was different than the beauty of the place a mile down the road, which was different than the beauty of the next mile, and so on, and so on, for a hundred miles. "The heavens declare the glory of God, and the sky above proclaims his handiwork." True indeed.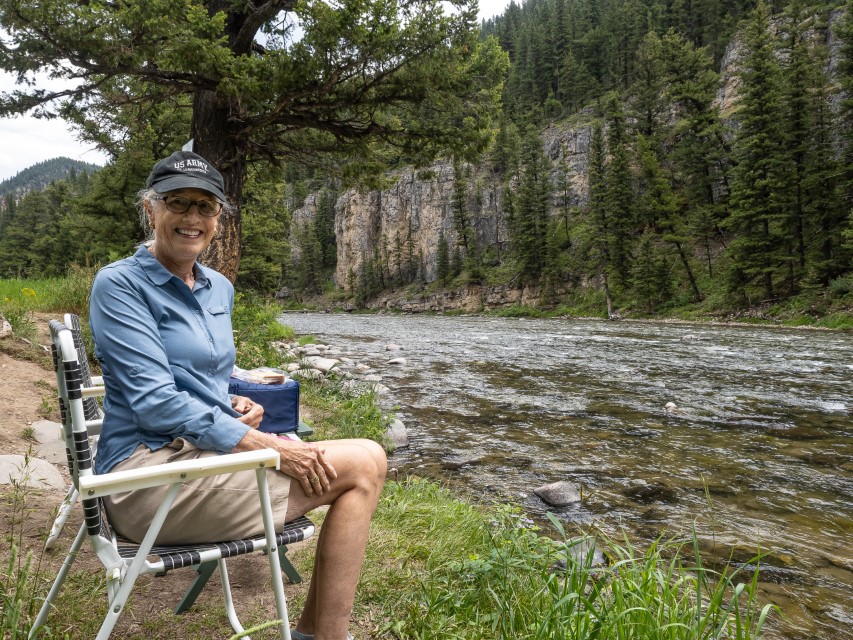 Here's something else that's great about Montana (and essentially every other western state). Almost 40% of Montana is "public lands." Actually, for the western third of the state, probably 80% is public land. It's hard for eastern people to appreciate what that means. But realize that every mile or two there's a fishing access point, a trailhead, a canoe launch point, a pullout, or a picnic area. Mile after mile of profound beauty, with nearly limitless access.
What this means is that to really "see" this little sliver of Montana that we explored, to hike the trails, spend time at a sample of the campgrounds, fish the streams, even head back to hunt the backcountry, would take years. Really. Years. One could never really "see" Montana, even the western third of Montana, is a lifetime. But it would be wonderful to try.
Halfway through the trip, we headed up to Big Sky, a resort area just west of Highway 191. Back in the early 1970s, several investors and developers (including Chet Huntley, the newscaster of the Huntley-Brinkley Report) began the development of the area, which now claims to be the largest ski resort in the country. It has a permanent population of almost 3000, and swells to several times that during the winter.
Big Sky is an area of unspeakably stunning beauty, billing itself as a place not only for skiing, but for hiking, fly fishing, mountain biking, camping, horseback riding, whitewater rafting, and hunting. I'm sure all that is true, although to look at it one might think it was developed mainly as a resort area where nice rich people could go to hang around other nice rich people. How nice? The guy with spotting scope in Yellowstone who set it up so Wendy and I could see the wolves? He lives in Big Sky. And how rich? The spotting scope that he let us look through was a $4000 20-60X Swarovski. Seriously. The cost of his spotting scope was more than the down payment on our first house. That's OK, though. He can probably afford it: a small, two-bedroom condo in Big Sky would go for somewhere between $400K and a couple million, and single family homes start at around $1 million and range upwards to you-don't-want-to-know.
And, of course, given the Big Sky clientele, everything about the area is perfect. All of the homes, businesses, sidewalks, even the trails, are immaculate. Following one spur-of-the-moment impulse, we did a short hike down to see a waterfall and, as you would expect, even an otherwise nondescript stream was perfect.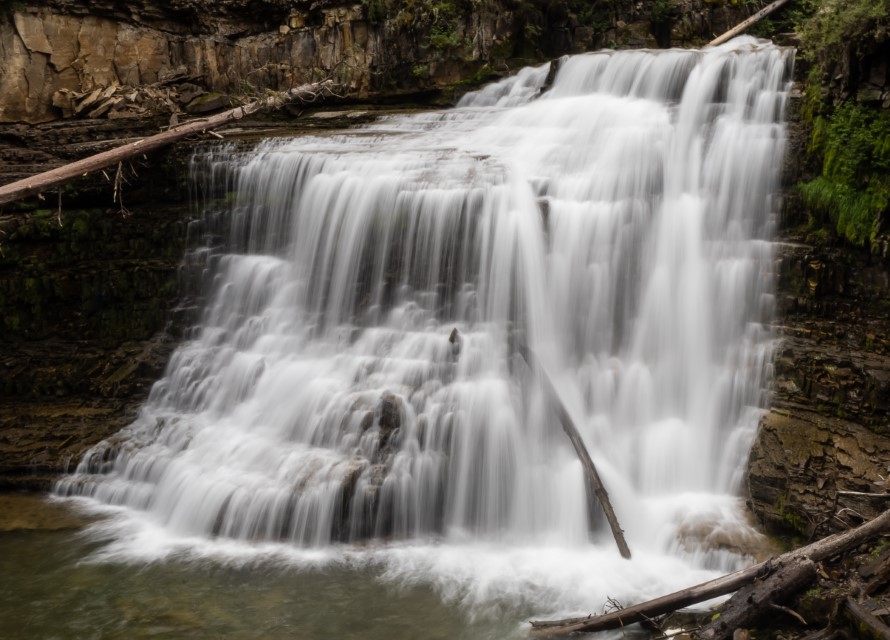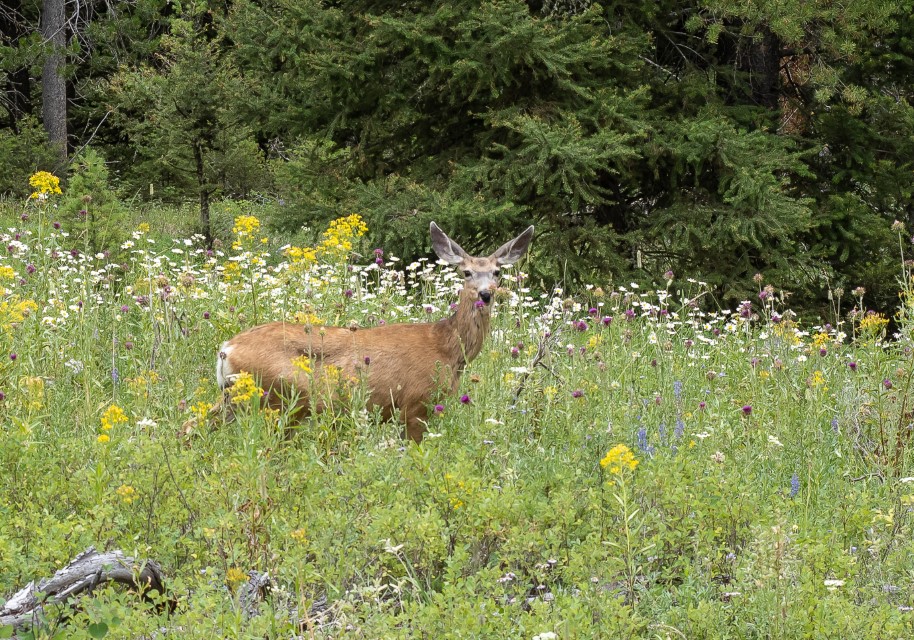 I'm not sure that Big Sky is the kind of place we'd ever like to live. Among other things, I expect one can only live a "resort" lifestyle for so long. But especially nowadays, when rancor, bitterness, ugliness, hatred, etc. etc. etc. all seem to be de rigueur, it might take us a pretty long time to grow weary of living in the company of nice rich people.
In any event, we left Livingston substantially short of our goal of "seeing" Montana, but now we have a new plan to "see" Montana. On some upcoming trip (maybe next year), we'll divvy up the western portion of Montana into a half-dozen areas and spend several days in each.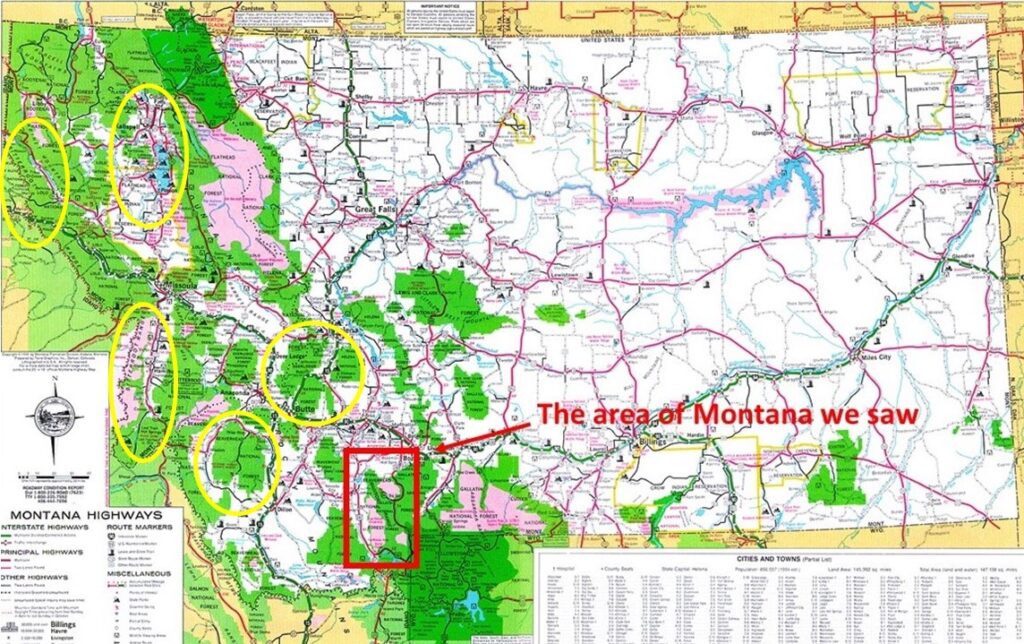 We'll see. But our prior impression was true. Montana is an unimaginably beautiful state and we can hardly wait to go back.