In an earlier concept for this trip, we were to meet Cliff and his family here, with all of them staying in a cabin, and with our RV serving both as our lodging and as the combined gathering and eating place for both families. The COVID situation pretty much killed that idea, and for a while we considered whether traveling to Grand Teton National Park on our own would be worth it. Oh well, we figured, we can either stay isolated in Atlanta, or we can stay isolated in our RV as it sits in a national park. Phrased that way, it seemed an easy call.
Not a slam dunk, though. Although the park is technically "open," it's more like open-ish. None of the lodges are open, none of the museums are open, the restaurant at Colter Bay is the only available eating place, and it's take-out only. Only a few of the amenities are operating (like the Jenny Lake ferry). Colter Bay has a grocery store, laundromat, showers, marina, and the like, but it's all limited and masked up. Everything else is lock-the-doors-Nellie closed.

And, for us, the biggest disappointment is that all of the ranger-guided hikes and evening ranger talks are cancelled. Over the course of forty years of RVing, staying regularly in national parks, we've probably attended hundreds of ranger-led activities, and yet the absence of them for this trip was almost enough to cause us to pull the plug.
Even still, it's the Grand Tetons, we had nine days reserved, and hiking, touring, and photography are all largely unaffected, so off we went. Let's face it. COVID or not, this is one spectacular place.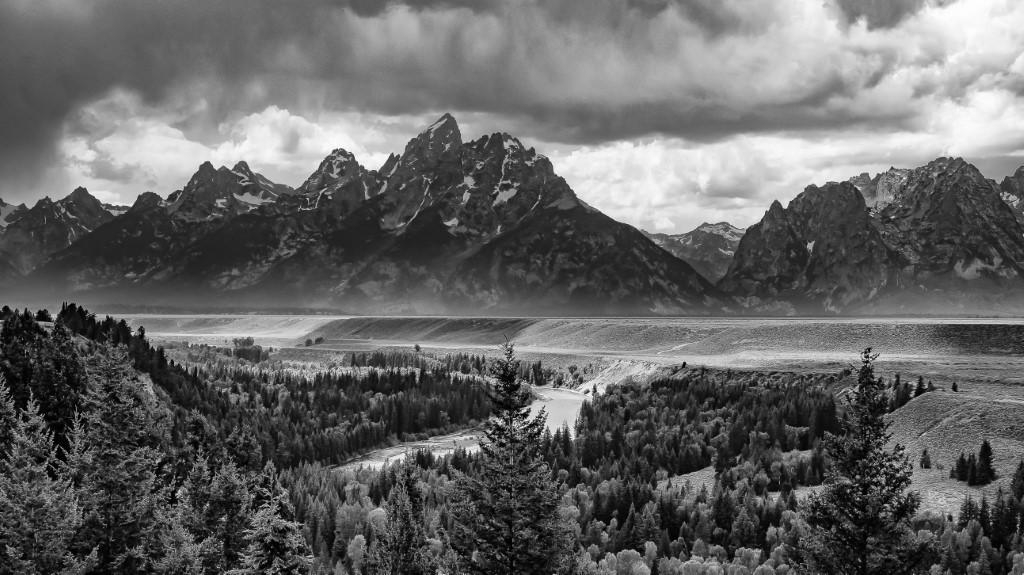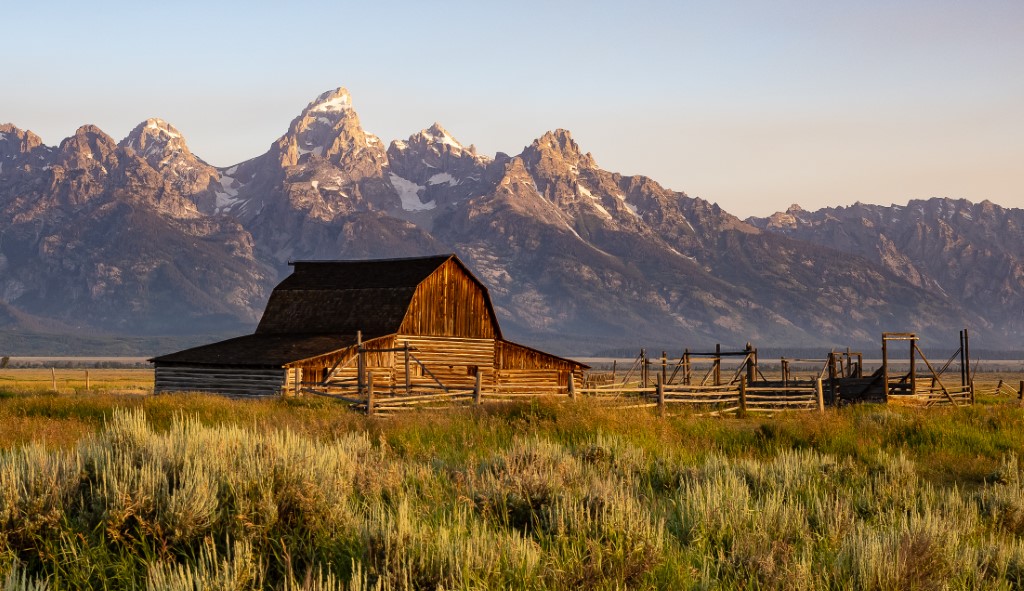 So, what follows are a few impressions from a trip in a distinctly unique time, which should be taken as a complement to our account from the last time we were here four years ago.
Crowds. To be sure, even though the park isn't fully operating, there are beaucoup people here. Some of them are staying in the campgrounds (which are all full), some are driving up from Jackson, some must be spontaneously generating from the pavement. In any event, they are all over the place.
But not exactly all over the place. There's a statistic that I can't recall exactly, but something like 95% of the people who visit national parks never go more than 100 yards from a paved surface. That matches our experience — venturing a tenth of a mile from any form of pavement means we were essentially alone in the woods. Every day, save one where it was cold and rainy all day and we stayed in the campground with friends, we ventured off into the woods with no other purpose in mind than to enjoy the sheer beauty of this place. And each such experience was mercifully free of crowds. Even free of crowds when it shouldn't have been free of crowds. For instance, there's a little dippy two-mile trail that leads off from the campground for a loop along the lakeshore. It's literally a matter of stepping out of the door for a one-hour walk. Even still, we saw only a couple people.
Here's another example. One day we hiked up to the top of Grand View Point. In all the years we've been coming here, this view, from the western side of the park, looking width-wise across the park to the mountain range on the other side, was new to us and completely unique. (As opposed to partially unique, which is what happens if something is one-of-a-kind but there's more than one, whatever that means.) This is the view: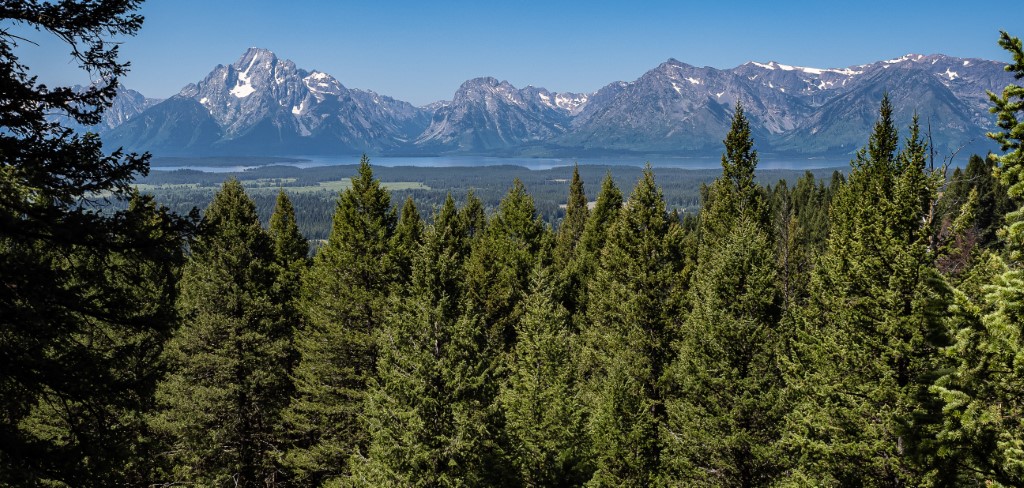 Priceless. Anyone who ventures into GTNP would surely seek out this trail just for the spirit-filling beauty of the place, right? Nope. How many people did we see over the course of three hours on the trail? Less than 10.
Wendy and I spent hours trying to figure out what could possibly account for the overflowing crowds along roadways, in turnouts, in parking lots, and generally hanging out in Colter Bay, while simultaneously there are few people just a fraction of a mile away. We haven't settled on the definitive explanation. One possibility occurs to me: ever since the turn of the 20th century, simulations of reality have been displacing reality itself. In the current visually overloaded era, everyone knows what the Grand Tetons look like, and in some ways the reality of the location is just another version of what's more accessible virtually. So for many people, the purpose of being in the park is not so much to experience the park itself as it is to document one's presence in the park. Why spend hours walking the woods to do that? That would explain the M.O. we often see: people show up at some scenic overlook, jump out of the car (leaving the engine running), turn their backs on the scene, snap a few selfies with the view in the background, and then jump back in the car and drive away. For Wendy and me, the process of slogging away to get to a scenic vantage point yields a qualitatively different experience than the effect of any virtual substitute. Perhaps for many, though, there is no meaningful difference. Whatever the explanation, "crowds" in national parks, except at designated selfie locations, is largely a myth.
Well, almost. For most of our time here, we thought we'd do something a little different and explore the lesser-known, western side of the park. So, we spent 5 days hiking around in areas where we'd never been before. But, our favorite locations, and some of the most scenic, and hence most popular, are on the eastern side of the park, right along the base of the mountains. So, we decided to spend our last couple days revisiting those locations.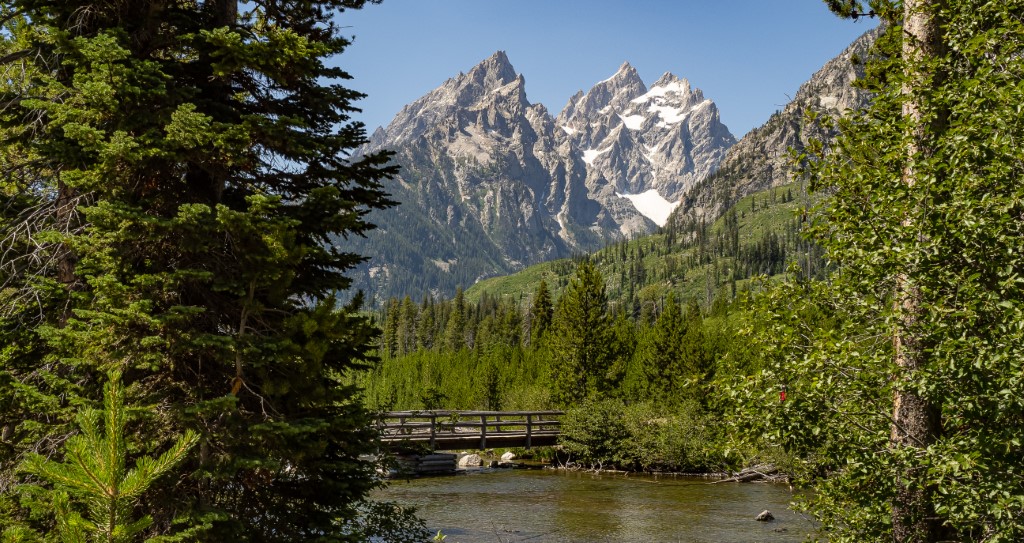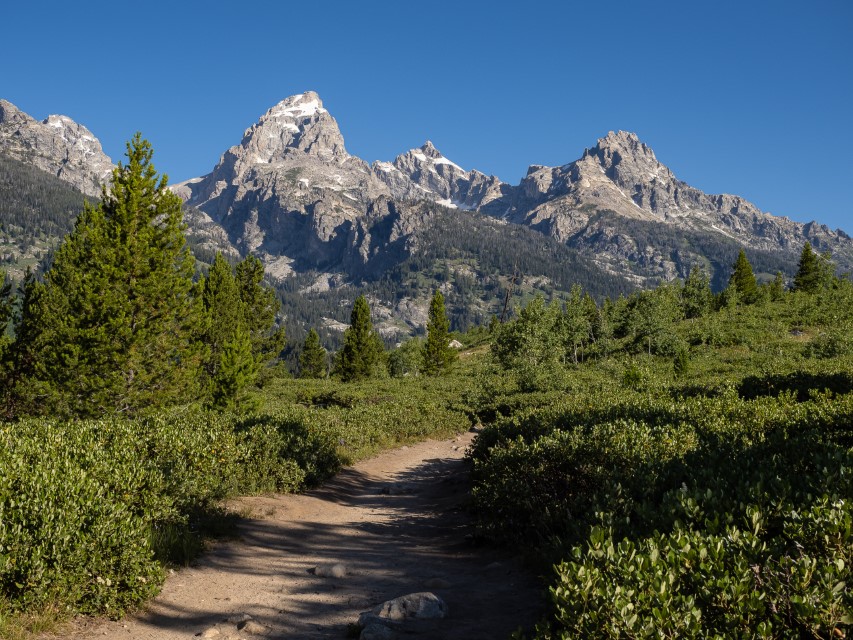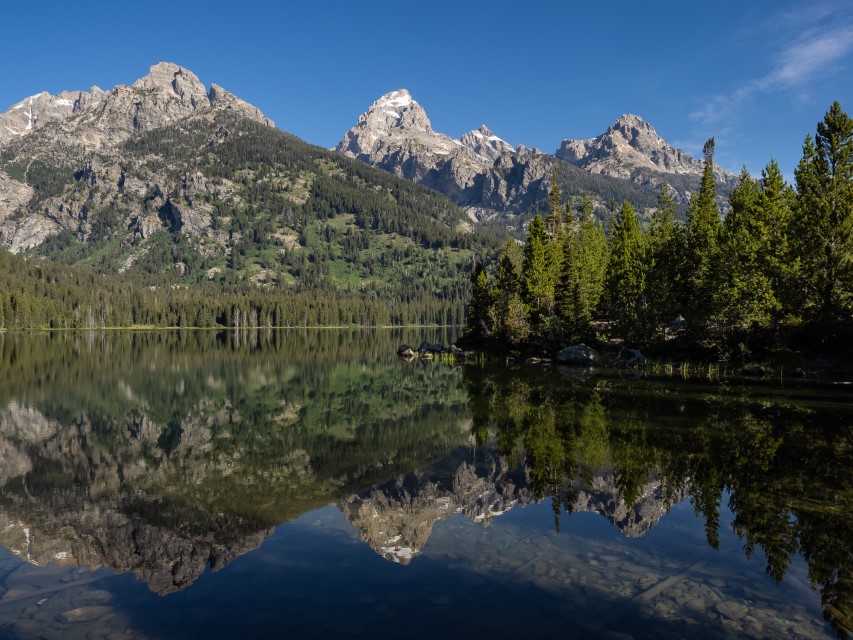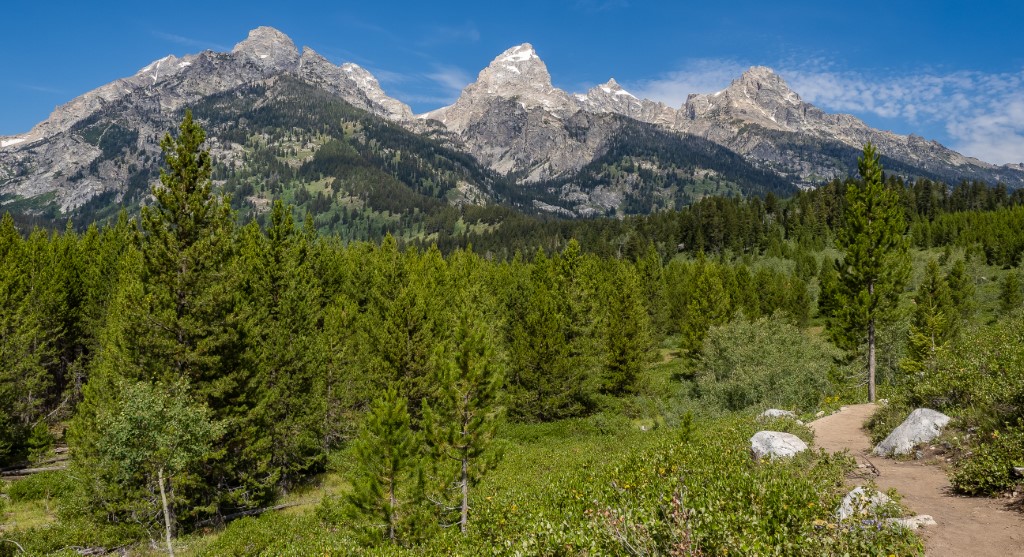 These locations are something of "tourist spots," so they can get crowded. For example, the short hike from the ferry dock to Inspiration Point can be pretty much elbow-to-elbow people. On our hikes to Taggart and Brantley Lakes, shown above, another "tourist" hike, we were on the trail at 7:45 but even still we probably saw 20 to 30 people over the course of five miles. Not a lot, but not exactly isolated either.
Until we were almost back to the starting point, and then things got weird. Really weird. Like nee-nee-nee-nee weird. At 11:30 am, 1.1 miles from the parking lot, at the Taggart-Brantley Lakes trail junction, we noticed people were streaming up from the parking lot. Streaming. Like a stream. No, more like a river. One group after another. Some huge groups, like 20 people in one group. Eventually we started counting the people streaming by us and we got to 162! What this must mean is that, on those occasions when people actually get out into the woods, they all go to the same places and move in herds.
And another weird thing. In a COVID era, there's an etiquette to hiking. People step off the trail as they pass each other, trying to create a proper six-foot social distance, and most people pull up their masks over their face for that moment just as an additional precaution and to show proper sensibility and courtesy. Not during the aforementioned weird interval. No pretense of stepping off the trail to maintain distance, and mask discipline was pretty much gone. It's like, in all of the vast expanse of the Grand Tetons, there was one little trail section dedicated as a hiking area for morons, and that section happened to be the last segment of our morning hike.
And since I'm on a roll about weirdness, here's another one. One of the groups we passed consisted of about 20 Asians. Asians always wear masks, right? It's sort of a cultural thing. They wear masks in a non-COVID era. But not this group. What kind of a world is it where Wendy and Skip wear masks and Asians don't? Maybe we stumbled into a parallel universe where everything is the same except cultural norms for masks has been reversed?
OK, one more. One of the groups we passed consisted of a half-dozen twenty-something, garishly tatooed dipsticks. Not only were we subjected to a loud, constant blather as they walked along, one of them had discordant, tinny music blaring out from her iPhone. Seriously? The Grand Tetons is the place you go to socialize with your friends and listen to music? Please shoot me.
Anyway, that last 30-minute stretch was unlike any hiking experience we've ever had. We can only conclude that we happened to stumble upon the time and place established by the Park Service as the portal through which weirdness enters our universe.
Bears. GTNP is definitely bear country. There are bear warning posters all over the place. And every now and then, one hears of some hapless hiker who gets mauled by a bear. So, that presents a question: venture into the back country, bear territory, or not? The approach Wendy and I take is that, if one says I'll never go anywhere if there's a chance of getting eaten by a bear, then one will never go anywhere in the park. That's not an option. So, instead, we educate ourselves about bears the best we can, hike sensibly (using good technique and being alert, especially where there's a chance of surprising a bear), equip ourselves with bear spray, and then venture forth. If one of us gets mauled by a bear, so be it. There are things in life worse than getting eaten by a bear. (Although frankly, none come to mind.)
Which is a good theory, except for our hike around Christian Lake. The trail worked its way through twists and turns, with high brush on either side, and we kept seeing bear sign on the trail. Seriously. On the trail, like stepping over bear poop as we walked along. And, plus that, no other people. None. We found ourselves totally alone in thick brush. We kept wondering whether we were being as smart as we think we are. The next day, we got our answer: in talking to a ranger, he mentioned that the Park Service doesn't recommend people hike in that area except in groups, and seeing signs of bear activity in that area would have made him "nervous." Oops. I wonder if we were in a different but equally distinct designated moron area?
Campgrounds. OK, so we call this "camping," but it's really not. Our RV has a large-screen TV with satellite television, we have a full-size bedroom, and separate bath and shower, and a fully equipped kitchen. Our "camping" spot provides water, power, and sewer service. But even still, RVing constitutes a mode of travel that is more rustic and less luxurious than staying in the resort hotel down the street. And it has a different feel. A campground is a qualitatively difference experience than a hotel lobby. Especially for kids. Children are free to run around unsupervised, make noise, ride bikes, whack trees with sticks, and do whatever kids do when they're free from the constraints of civilized living (a form of liberation that produces consequences adults can only begin to imagine).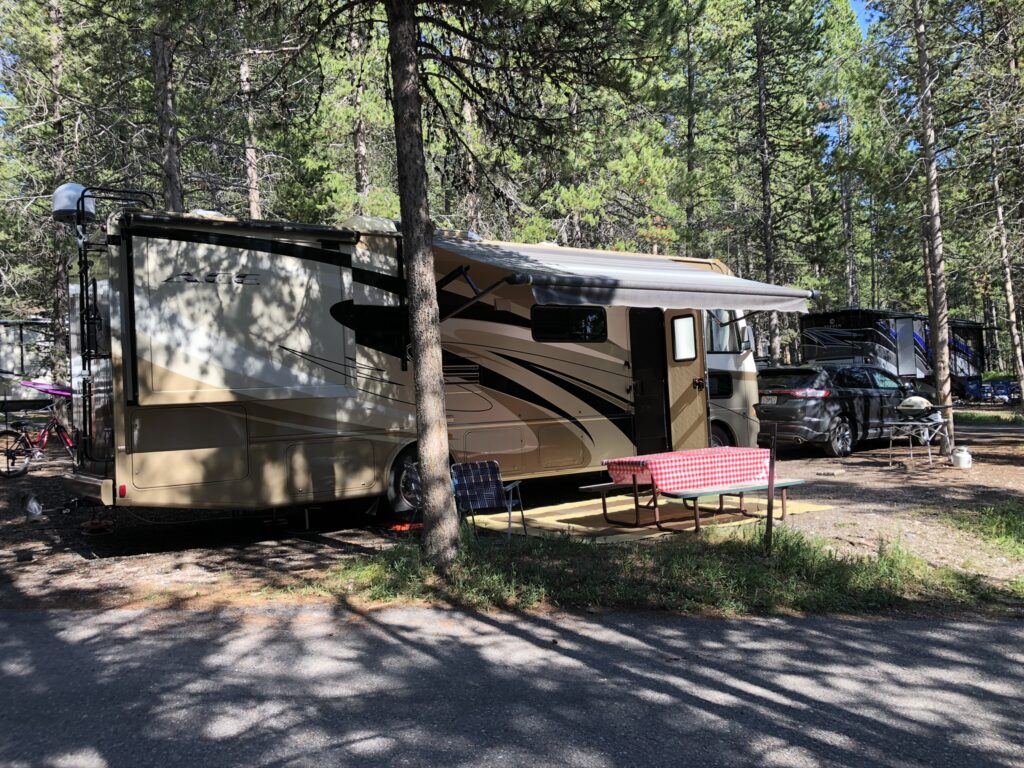 So, "camping" provides a sort of cultural norm that ought to prevail even in an "RV park" like this. And generally that's true. But not always. At one point in this trip, we were subjected to some bozo who set up his RV, and then opened up his outside television so that he could set his son up with a loud, very loud, military combat video game. Seriously. We were 50 feet away from someone who thinks that the Grand Teton experience mostly involves the sound of machine gun fire. And even worse, he was instilling in his son that version of the "outdoor" experience. Suffering that was bad enough, but then it was made worse listening to this cretin encourage his son by yelling out, "You got him! You got him!" He topped off that bit of depravity by saying, "This is great! It's just like being in a movie theater!" I was seriously considering whether I should call DFACS and have the child removed from his custody, or simply write a blog post and move on. Wendy thinks DFACS is unlikely to respond, so here you are. In any event, he was gone the next morning. Unbelievable. This miscreant pulled into a campground in Grand Teton National Park, encouraged his son to spend their time here playing video games, never walked down the path to see what lay before him, and then left.
Other memorable moments at campgrounds abound, but most of them are heart-warming, or at least funny. Campgrounds are uniformly family locations, and there are kids all over the place. Yesterday, we heard one father admonish his ten-year-old son, "There's nothing funny about being rude." He's obviously got a lot to learn. Being rude can be pretty darn funny, especially to a ten-year old boy. But somehow, even the rudeness of little boys seems a little less bothersome here than in other places. There are several family reuinions going on, and one sees a dozen lawn chairs assembled around a grill, with grownups and kids laughing it up. What a wonderful place for a family to assemble. I know there are people who find five-star resort hotels, like the Jenny Lake Lodge, the preferable accommodation, and there are people who find resort cities, like Jackson (which is sort of like Aspen with a buffalo motif), the preferred locale, but I can't imagine any place I'd rather be for a Grand Teton visit than this campground.
We're already making plans to come back next summer.