We weren't sure what to expect from Olympic National Park. Neither one of us had ever been here before, and the place is not only huge (over a million acres), it has three separate and largely disconnected areas: the Olympic mountain range accessible only from the eastern side, a temperate rain forest on the western side of the mountains, and a shoreline area running for nearly 60 miles on the Pacific coast.
We had booked four full days for our stay in Port Angeles, but at least one of those was reserved for a trip to Victoria, British Columbia. Once we started to map out that option, though, it was clear it wouldn't work. It's 3 hours on a ferry to-and-fro, with a limited ferry schedule, and with the necessity of clearing immigration on both sides. And we'd need a car and/or a tour bus. And, contrary to my expectations, the dogs are still alive, meaning we'd either need to find care for them in Port Angeles or take them with us. Plus, the weather remained oppressive. Good grief. Where's global warming when you need it? So, bag Victoria. The good news about taking Victoria off the list, though, is that it gave us an extra day for the Olympic peninsula.
First day: off to the mountain side of the national park. Starting out, the weather was, it figures, cloudy, cold, damp, and windy. As we headed towards Hurricane Ridge, the view looked mostly like this:
And then, patches of blue sky began to appear above us, revealing that the damnable cloud layer was confined to lower elevations, leaving us with an entirely different view.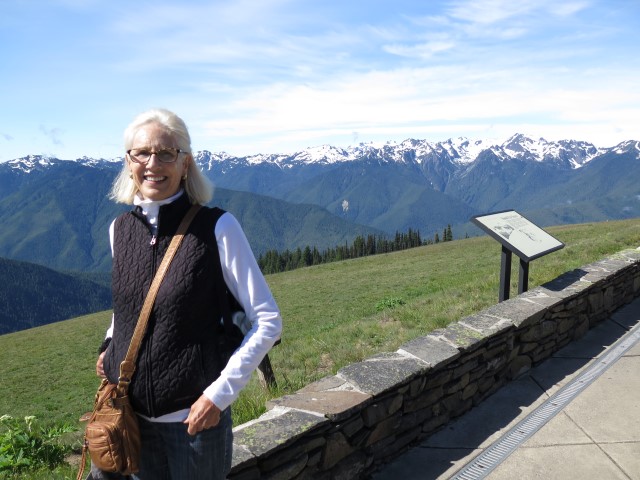 What a strange and wonderful physical presence. A range of glacier-covered mountains, rising to 8000 feet, but right on the other side of those dramatic peaks, not more than a few miles west, is the Pacific Ocean, which, unless something is seriously wrong, must be at sea level. It is that formidable barrier created by the Olympic mountains abutting the Pacific Ocean that creates both the alpine environment here on the eastern side, and the drenching rain forest (over 140 inches per year) over yonder on the west.
After hiking the area and having a picnic lunch against the backdrop of those mountains, we had one of those experiences that seems to characterize our travels. We decided to take a recommended scenic drive to Cape Flattery, the point furthest northwest in the continental United States. However, the "scenic" drive wasn't. It was mile after mile of boring, twisty roads in poor condition which, even though it paralleled the Straits of Juan de Fuca, gave us nothing to see for hours but ordinary trees, bushes, and dirt. And then it got worse. We entered the Makah Indian Reservation, which was (forgive me for what I'm about to say) typical of the Indian reservations we encounter, best summarized by the quote from the film Little Big Man, when Jack Crabb says, "At first sight of an Indian camp, what you think is, 'I see their dump. Where's their camp?'" And then, at the Cape Flattery parking area, we were subjected to the most repulsive, nauseating "pit toilets" we've ever encountered. "Why," we thought, "did we ever commit to this infernal side trip?"
Things got a little better as we took the trail towards Cape Flattery, except that I had to carry Sally because she doesn't like steps and boardwalks, and it is surprising how firmly that little brat-dog can dig in her heels when she's decided she's not moving another inch. How can an eight-pound dog create 50 pounds of drag? In any event, we eventually emerged from the dense woodland and gasped at what unfolded before our eyes: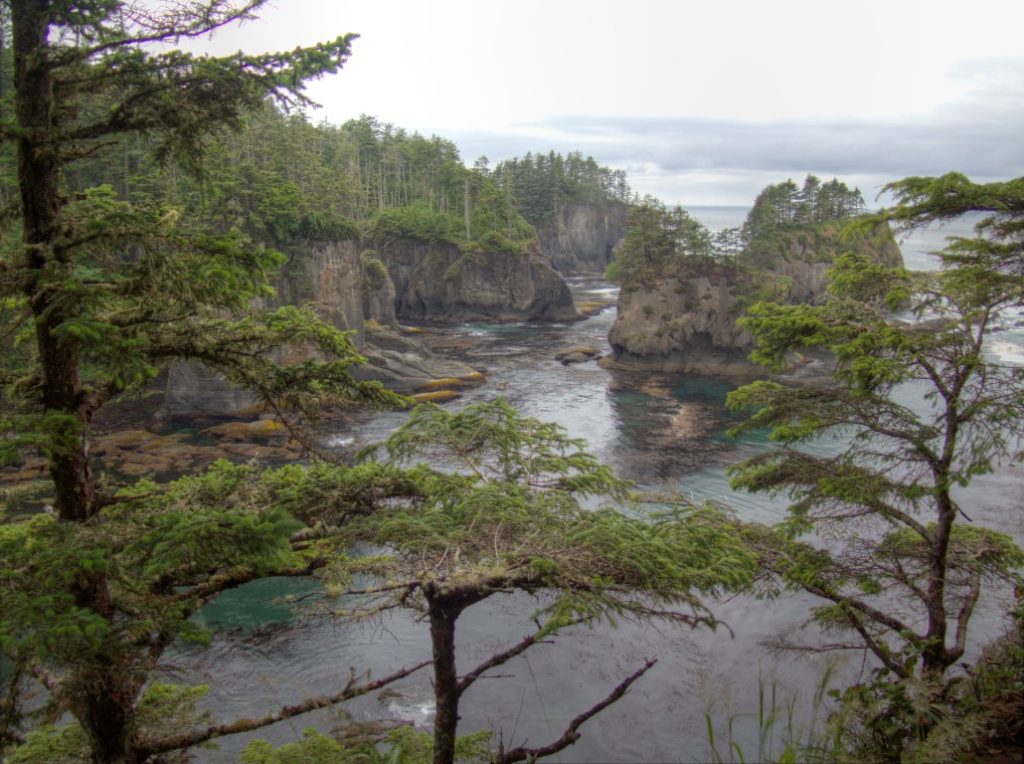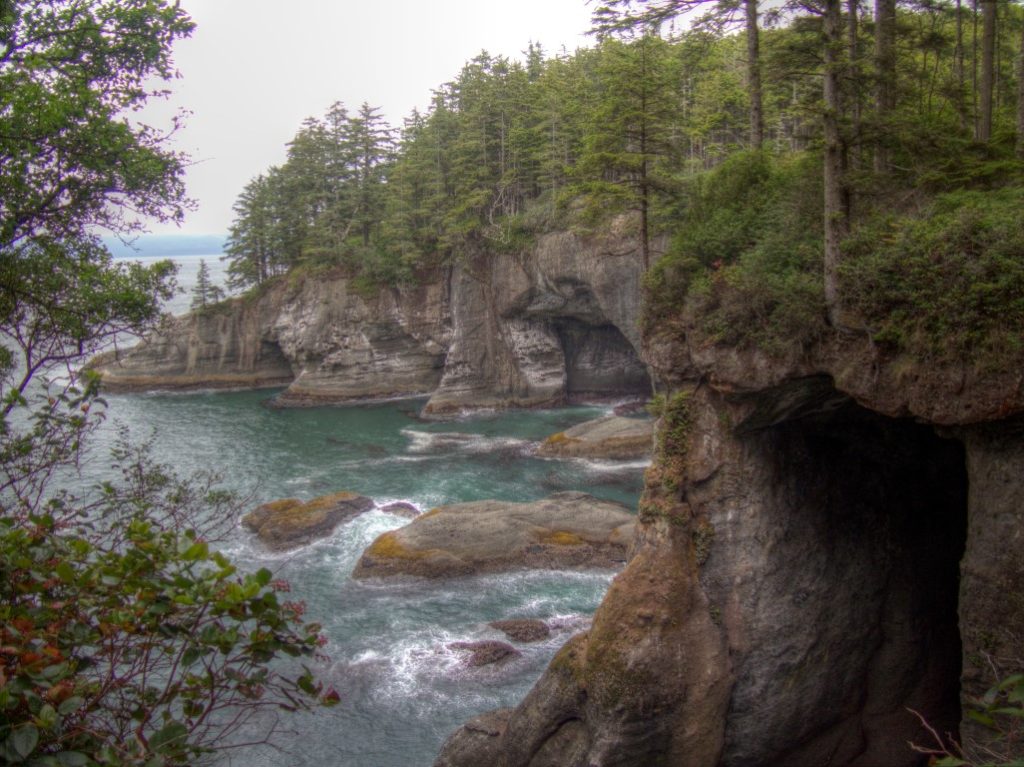 These little web-postable photographs can only vaguely suggest the dramatic beauty of the coastline that appeared before us (someday I'll post links to high resolution versions of the same pictures), but even in low-res format, perhaps the effect is apparent. Of all the coastlines we have ever seen, ranging from Big Sur to Maine, this was by far the most stunning. The vista was literally breathtaking in the sense that it was so unspeakably beautiful it was actually hard to breathe. The whole excursion to the Olympic peninsula was now worth it.
After that experience, the rest of our touring the Olympic peninsula was bound to be something of a letdown. Second day: off to the western side. The Hoh rain forest was interesting in the sense that every square inch of space, horizontally and vertically (which can be 200 to 300 feet straight up for Douglas firs) is covered with a mat of moss, lichen, ferns, and epiphytes, leading to a beautiful, although somewhat creepy, environment.
And then we went off to Rialto beach, part of the third unit of the park, which was to my way of thinking (especially in comparison to Cape Flattery) completely forgettable.
Third day was touring around some other areas of the park, including Crescent Lake and a short hike to a charming little waterfall, Marymere Falls: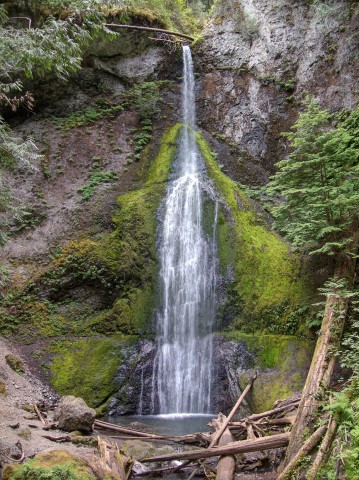 And then, after returning to camp and spending the afternoon tending to a few chores, we decided to start the westward trip a day early. The weather here is expected to be typical for the next four days, which is to say miserable, and we thought it would be fun to add a side trip up the Columbia River gorge. So, we've redone the route a bit, heading south before heading west. I'm not sure we'll make it. Our revised route takes us over the Hood Canal floating bridge, which sank in a wind storm in 1979, and the Tacoma Narrows Bridge, which disintegrated in a wind storm in the 1940s. There's actually a Youtube channel dedicated to "Washington Bridge Disasters." So, add to our memoir this thought that we may never get out of here alive. Assuming we survive the planned route to I-5, though, further posts will follow.