Having been humbled and inspired by Mt. Rushmore, we took the next day to explore the surrounding area, learning once again that sometimes the things we don't plan work out better than we ever could have planned. Go figure.
We left the campground and headed into Keystone, then through the Black Hills National Forest, over the Iron Mountain Road section of the Peter Norbeck Scenic Highway (Route 16A). From there, into Custer State Park, taking the "Wildlife Loop" road, down into Wind Cave National Park. Then back up to the Needles Highway section of the Peter Norbeck Scenic Highway (Route 87), and then back to the campground. Overall, it took us about 8-1/2 hours to travel almost exactly 100 miles. The route was basically one recommended by some random guy we met at some now-forgotten campground, which means it was anyone's guess as to how this road trip would work out.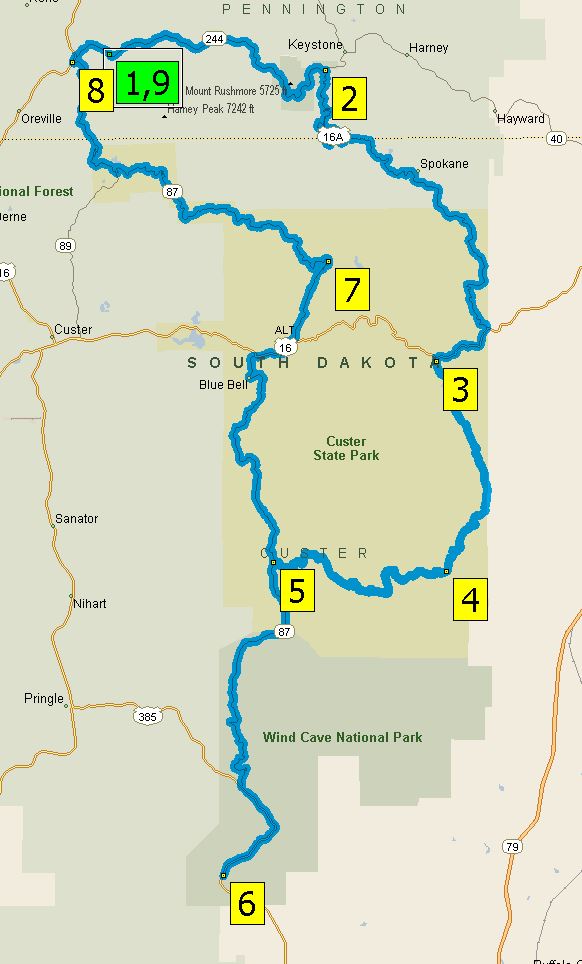 But "work out" it did. We got an idea we were in for a treat when the signs at the start of the Iron Mountain Road cautioned:
Narrow Winding Road
Very Narrow-Low Bridges and Tunnels
Trucks and Trailers Prohibited,
stopping just short of saying "Ignore These Warnings and Die." And what followed was one spectacular vista after another. And, and this cannot possibly be a design accident, each of the narrow tunnels, no more than eight feet wide and ten feet high, pointed at and perfectly framed Mt. Rushmore. We found ourselves back to a world where things like this just don't happen in real life.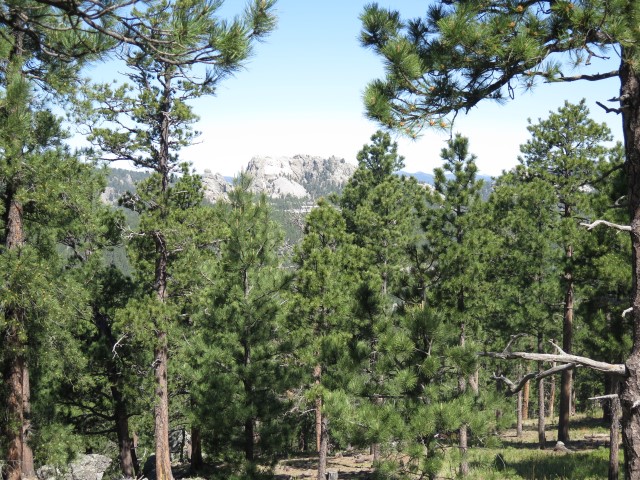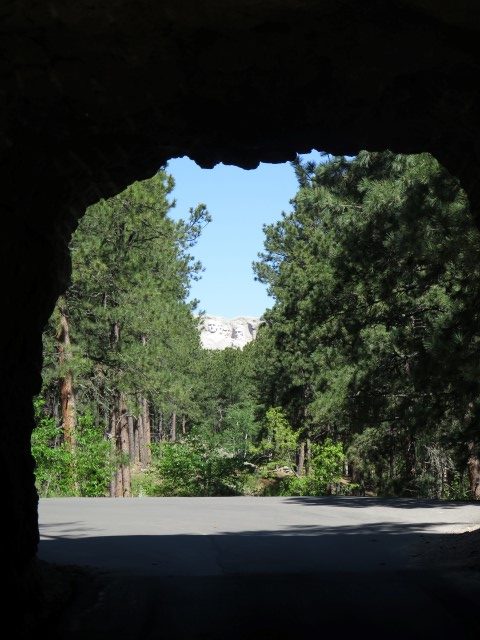 Then we entered Custer State Park and, after paying the $20 entry fee, turned onto the Wildlife Loop. Although we love watching wildlife, and can do so for hours, we generally are not wildlife gawkers. In fact, the long lines of traffic jams in Yellowstone, with hundreds of cars stopped to look at a buffalo, are just not the way we like to spend our time. But Custer State Park was different. Wildlife was everywhere–bison, pronghorn, and deer–but without long lines of stopped cars and with all of the wildlife roaming freely in their natural settings.
Then it was down to Wind Cave National Park. More buffalo. Lots of 'em. Ho hum. Although we did have one exciting moment when a herd of buffalo on the road in front of us got spooked by an oncoming car, turned around, and stampeded by us. Snorting and darting left and right on either side of our car. That was memorable. As to the National Park itself, it was not much to see, at least above ground. Supposedly it's a long and complicated cave system, one of the longest in the world, but it's closed to the public except for a few short tours, none of which did we have time to do. So we stopped for a picnic lunch and headed out.
Next was the Needles Highway.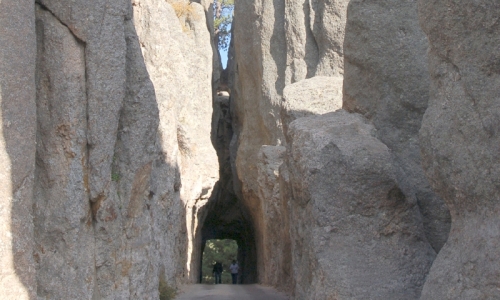 Seriously? This is a road? They said it was eight feet wide, but Wendy's little Toyota sure didn't feel like it had room to spare. And on either side of the road was this…
…mile after mile of it. Tight, twisting turns, pull-outs for awe-inspiring vistas, and with the occasional impossible tunnel thrown it for good measure.
So, back to that random guy from some forgotten campground: thank you. The recommendation was perfect, something that easily compares with any of the national parks in Wyoming. And that ended our stay in the Black Hills.
And what of the campground itself? It's hard to rate. On the one hand it's in the middle of some spectacular terrain, only minutes from Mt. Rushmore and miles of spectacular motor-touring. The facilities are excellent and the staff is helpful. But, there was something wrong with the place. It was too much like Panama City beach, with putt-putt miniature golf, trampolines, water slides, ATV rentals, and even tie-dye t-shirt crafts. In some cases, things like that might add to the enjoyment, but here, amidst everything else there is to see and do, such things, as Wendy pointed out, somehow subtract from the experience. Would we stay here again? I doubt it. Especially if we had the Little Darlings along with us, we'd find something more compatible with area. I would hate for anyone to leave this area with memories of putt-putt golf.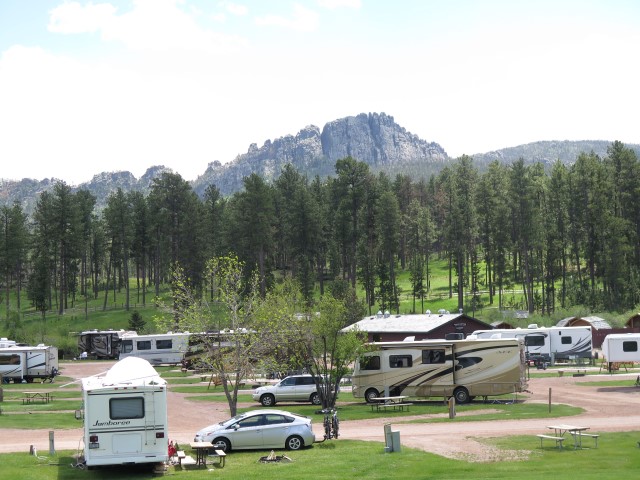 Next stop: Devils Tower.