We're here, and all I can say is that this place is fake. Really, it's not an actual, natural, environment. It's a fabrication done by some anonymous author who thought it would be fun to make a weird and synthetic landscape. Even the National Geographic guidebook to national parks says the same thing, describing the sights presented by the Badlands as "theatrical." Exactly. Like the matte for a 1950s, grade-B, science fiction film, like maybe Amazon Women From Venus or something.
Imagine a 100-mile long block of rock, consisting of layers of sedimentary deposits and volcanic ash, eroded at breakneck pace (at least by geological standards), up to one inch per year, over a very short period of time (500,000 years), leaving hundreds of thousands of fantastic ridges, cliffs, pinnacles, and gullies. The Badlands starts suddenly on the plains, so suddenly that explorers to the north didn't even know it existed, and disappears just as suddenly. And the geological process is so rapid that in another 100,000 to 500,000 years it will all be gone.
So, after setting up at the Cedar Pass campground, we traipsed off to the visitor center, learned about this strange and awe-some place (hyphenated to convey the actual meaning), and then spent the afternoon exploring the area.
That night it was off to the evening ranger program on archeology in the grasslands, and then, still trying to adjust to the mountain time zone, and still exhausted from driving the profile-equivalent of a billboard for 250 miles in winds at 20 mph, gusting to 30, we collapsed, happy as ever to be in such a strange and wonderful place.
The next day started with two hikes, although hiking in Badlands is based on a different concept. The park is entirely open; people are free to walk wherever they want, climb whatever rocks they can, and generally explore without rules or limits. Not being so adventurous, though, we stuck to a few of only about a half-dozen marked trails. The first hike, the "Notch Trail," was recommended by Robert, about 0.8 miles each way, although there was an obstacle to be surmounted first: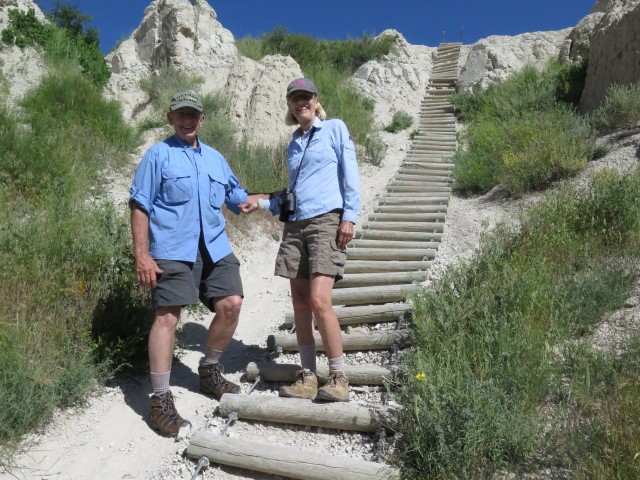 But it ended with a spectacular view, through "the notch," to the White River valley below:

Then it was a 4.1-mile hike out into the grasslands, although even on that footpath, we found ourselves meandering through what might be called "badlands in the making": rapidly eroding terrain creating deep gullies.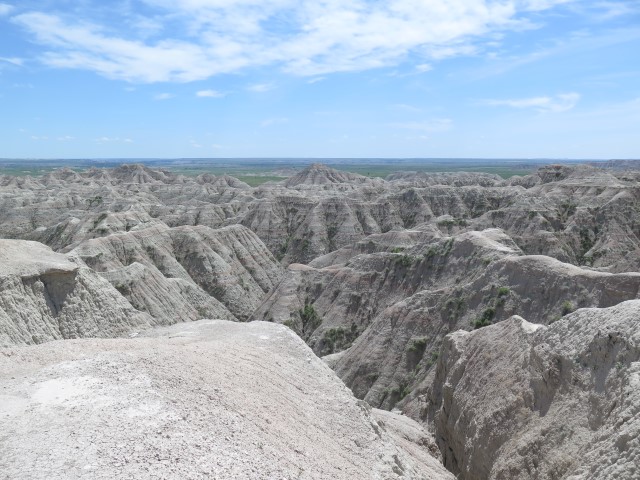 Then, after lunch, it was a driving tour around the rest of the park, where we saw bison, pronghorn antelope, bighorn sheep, and, of course, countless prairie dog towns.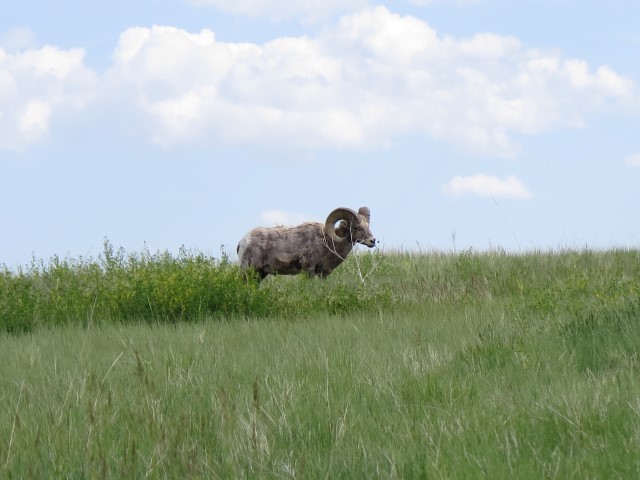 Then, just to confirm the theatricality of the whole experience, as we left the park and found ourselves stopped at a road constructions site, someone (either the Park Superintendent or God, I'm not sure which), arranged for a small group of bison to pose in a nice lineup at the entrance sign.

So that ends the Badlands portion of the trip. But first, one small digression. Once again we are struck by the nature of the camping population: lots of young couples camping in tents, families in pop-ups (including one with FOUR boys all aged five or under, which is way too many boys by anyone's reckoning), tourists in rented Class C's, and old farts like us in motorhomes, ranging from smallish (like ours) to full-sized luxury units. Everyone is out, hiking and exploring the area, being captivated by the ranger talks, and chatting with nearby campers, comparing experiences. It's a whole subculture, mostly of families. We recently watched the Ken Burns National Parks series, and one recurring theme of that series struck a chord with us: time and again, the commentators remarked that they came to love the outdoors because their parents or grandparents took them camping, and they've taken their children, and now the grandchildren are going too. So, looking around us we don't see so much of a campground as the continuation of a legacy, and it warms our hearts.
Tomorrow we're off to Mount Rushmore. Further posts to follow.