1 February: Floride, nous sommes arrivés! And, just as we hoped, the temperature hit 77-degrees, with crystal blue skies. What a welcome!
Anastasia State Park is very nice. So nice, in fact, that we decided to bag the trip to St. Augustine and instead just enjoy the warm weather and peaceful surroundings. All set up at Site 65: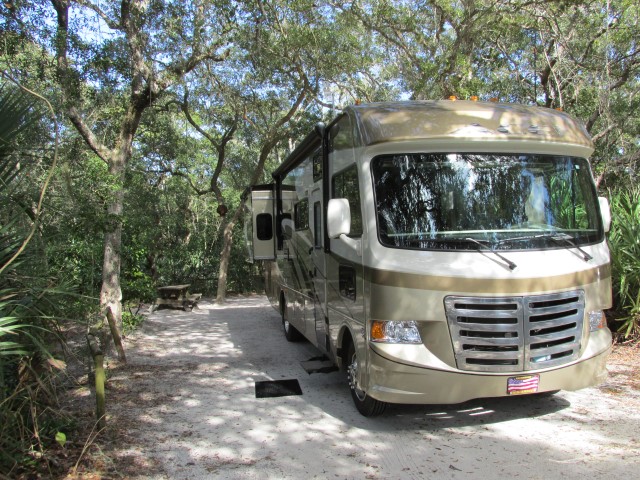 (Which confirms something we suspected at the very beginning. I certainly wouldn't want to try this campground with anything longer than ACE. In fact, we saw lots of small trailers, and a few Class C's, but no other motorhomes. And I think for good reason … it was a challenge getting in here.)
We went for a walk on a nature trail through the hammock:
And down to the dunes:
Before preparing a feast and settling down to watch the Super Bowl,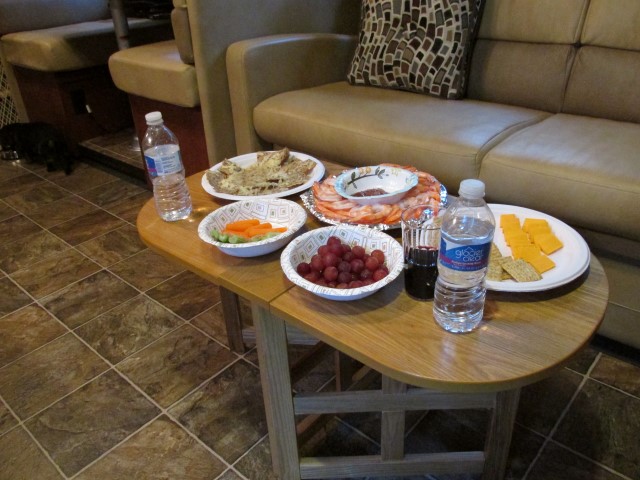 Unfortunately, we could get all of the Jacksonville over-the-air stations except for NBC. Not to worry, though, I logged on to the NBC website and we watched over our broadband connection (sucking data, but heck, it's the Super Bowl). So we watched through the 3rd Quarter before turning in for the night, confident that Seattle had won. Oops.
Tomorrow, off to Disney World and Fort Wilderness!
Fuel in Brunswick: 38.1 gal @ $1.909 (7.85 mpg–about right when pulling the toad)
Distance traveled: 112 miles
Campsite cost: $28.00
Brunswick to Anastasia State Park, St. Augustine, FL
St. Augustine to Walt Disney World, Fort Wilderness, FL
Walt Disney World to Cape Canaveral, Jetty Park, FL
Cape Canaveral to C.B. Smith County Park, Miami (Pembroke Pines), FL
Miami to Key West (Summerland Key), FL
Key West to Flamingo Campground, Everglades National Park, FL
Everglades to Naples RV Resort, Naples, FL
Naples to Cedar Key RV Resort, FL
Cedar Key to Carrabelle Beach Outdoor Destinations, FL