31 January: We're off! Today was just a get-out-of-Dodge day, heading to a point where our Florida stops are within reach, but it was exciting to be on the road. As noted above (Prelude), besides seeking out warmer climes, and getting to spend a few days with the Little Darlings at Disney World, a principal purpose of this adventure is to learn how to do long trips. And yesterday was certainly, um, a "learning day."
First, I had adopted a 3/300 rule that I read about somewhere: travel no more than 300 miles and get off the road by 3:00 pm every day. This trip was actually 320 miles (not too much of an infraction), but we didn't get off the road until 4:30 pm. Way too long a day! Why? According to my trip-logging GPS, our moving time was 6:07 (51.8 mph), which is exactly what I expected since I travel at 60 +/- mph, but we chose the non-freeway diagonal down to Brunswick, and with lots of 55 mph zones, small towns, traffic lights, and so on, the average would never get much above 50. What I did not work into the equation was 2;30 of "stopped time." Lunch in Tifton (in a Wal-Mart parking lot) (necessary to do some shopping–see below), dog stops, a long gas stop screwing around with the radio (see below), and so on. Lesson 1: We don't go as fast as we think we do, and for "making miles" days, stick to the fastest possible route.
Second, given that we have checklists up the wazoo, it's amazing how many things we didn't have with us. Nothing major, and mostly the kinds of things that everyone has around the house, but typically aren't in an RV. Like a big piece of cardboard to block out the doggie window. Hence the stop at the Wal-Mart in Tifton. Our oft-repeated conversation opener became, "You know what we didn't bring?" Lesson 2: The model for what we need on a long road trip is how we live at home, not how we "camp."
Third, our newly installed Alpine radio is detestable. The first one didn't work at all and had to be returned to the factory (a 6-week process), and then the replacement revealed a string of operating quirks that would challenge Bill Gates (like that fact that it hates Apple products), and finally the new one doesn't seem to work anyway. All of which we discovered sitting at a gas station, trying to get the blasted thing to work. Lesson 3: Learn how to use the on-board "features," or decide they're unusable, but either way do so before hitting the road.
But, in the grand scheme of things, we are well-equipped, getting along very well, these are all just nits. We've dreamed about being able to tour the country since we were a couple of 20-something hippies, camping in National Parks en route to Connecticut to get married. And now, we're on the road, we're excited about and already made of list of things we'll do at the next stop (St. Augustine), the rest of the trip is before us, and we couldn't be happier.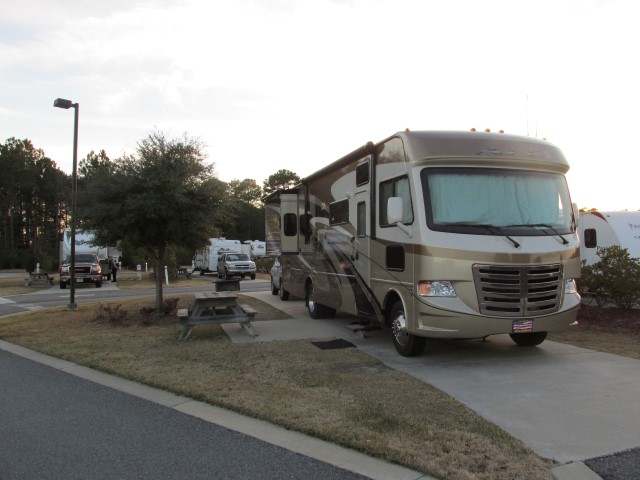 Coastal Georgia RV Resort (Brunswick, GA): Site #307. Nice facilities, clean restrooms, easy access to/from I-95 (but with a lot of road noise). Fine for an overnight stop, and maybe longer if part of a club gathering or using this as a base to explore Brunswick or Jekyll Island.
Cost: $37.20/night
Total Miles: 321 / Total Travel Time: 8:37
Fuel cost: None (we didn't fill up, but we did by gas for $1.87 in LaGrange)
LaGrange to Coastal RV Resort, Brunswick, GA
Brunswick to Anastasia State Park, St. Augustine, FL
St. Augustine to Walt Disney World, Fort Wilderness, FL
Walt Disney World to Cape Canaveral, Jetty Park, FL
Cape Canaveral to C.B. Smith County Park, Miami (Pembroke Pines), FL
Miami to Key West (Summerland Key), FL
Key West to Flamingo Campground, Everglades National Park, FL
Everglades to Naples RV Resort, Naples, FL
Naples to Cedar Key RV Resort, FL
Cedar Key to Carrabelle Beach Outdoor Destinations, FL