First things first: the campground was a dump. Now on to better things…
On Friday, we made a pair of inspiring stops. First we went by the Valiant Warbirds Museum. It has a very nice collection of warbird aircraft, such as this F4F (one of the aircraft that my dad flew in World War II).
But what made the museum particularly memorable was three aircraft in particular. The first was this B-25 Mitchell, memorable because one of the original pilots, Jimmy Doolittle's co-pilot in fact, COL Richard E. Cole, is still alive and is a regular attendee at the annual air show here. He's 101 years old, but still mentally acute and physically fine (at least for a man of his age).
For those not familiar with Doolittle's raid on Tokyo (and who haven't seen 30 Seconds Over Tokyo), after the Japanese attack on Pearl Harbor, along with a long string of Japanese victories in the South Pacific, when American morale was unbearably low, President Roosevelt decided that the American military needed to do something to give Americans cause for hope. The proposal was an improbable idea of launching bombers off of a carrier, flying to Japan to inflict tactically minor but psychologically devastating damage.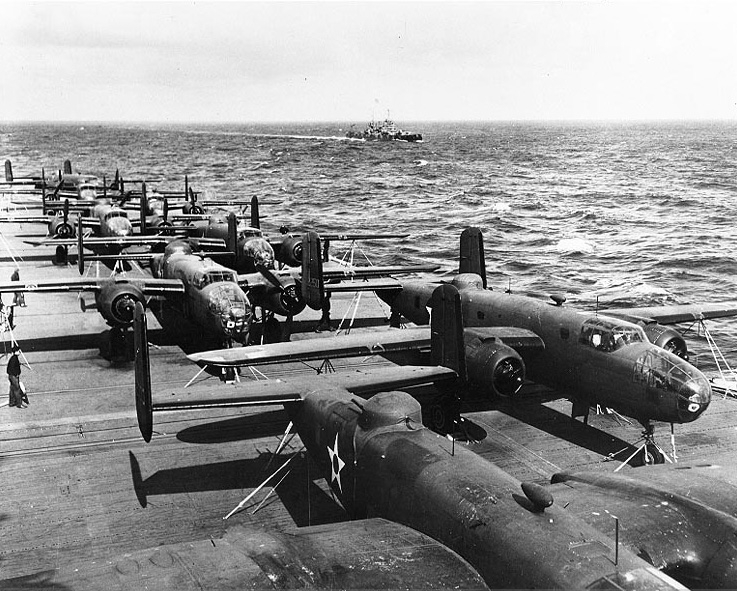 The attack was planned and led by Jimmy Doolittle, a famous military test pilot, civilian aviator, and aeronautical engineer. In April 1942, sixteen B-25 Mitchell bombers under his command were launched without fighter escort from the USS Hornet, each with a crew of five men and carrying four 500-pound bombs, three with conventional explosives and one incendiary. Doolittle was in the lead bomber and had only 450 feet of deck in front of him. The plan called for the B-25s to bomb military targets in Japan, and to continue westward to land in China. Unfortunately, Hornet was detected by a Japanese picket boat and the bombers had to launch 200 miles before the planned launch point. After flying 650 miles at wave-top level, the bombers struck 10 military and industrial targets in Tokyo, two in Yokohama, and one each four other cities. Fifteen aircraft reached China, but all crashed, while the 16th landed in the Soviet Union. All but three of the 80 crew members initially survived the mission. Eight airmen were captured by the Japanese in China; three of those were later executed. The B-25 that landed in the Soviet Union was confiscated and its crew imprisoned for more than a year.
The second was this F-16, a special aircraft because it is the actual aircraft, one of two, on constant patrol over the skies of New York on September 11, 2001.
And finally, my favorite. This C-47 actually flew in the D-Day invasion, flying two missions to drop paratroopers from the 82nd Airborne, and then a third mission to tow a glider to Normandy. The initial drops consisted of soldiers from the 505th, 507th, and 508th Parachute Infantry Regiments. All of the paratroopers on D-Day suffered badly, but the 82nd was particularly hard hit. Forty-six percent of the 82 Airborne soldiers dropped in on D-Day were killed, wounded, or missing. Major General Ridgway's post-battle report stated, "… 33 days of action without relief, without replacements. Every mission accomplished. No ground gained was ever relinquished."
I hate to sound sappy, but after walking around this place, and hearing these stories, and seeing these aircraft, Wendy and I were both emotionally depleted, both of us sensing that we really were standing on holy ground. Between the stories of Doolittle's raid and D-day, it proved the truth of Eisenhower's comment that there is no force on earth like that of a democracy enraged.
Then it was off to the Law Enforcement Memorial and Museum. The Memorial honors over 9000 police officers who have been killed in the line of duty. The current rate is that a police officer is killed every two days, and 2016 was a particularly tragic year, with 21 deaths in ambush-style shootings alone. I guess such is to be expected when government officials at the very highest level curry political favor by identifying police as the enemy and by declaring that ruthless punks and thugs are martyrs. This memorial honors those who bear the consequences of such political pandering, such as the five police officers killed in Dallas last year, shot down by a thug who said he was upset about the recent police shootings and wanted to kill white people, especially white officers.
We did pause for a moment to honor Officer Mark Cross, the son of our good friends in Atlanta, who was gunned down by drug-dealing gang-bangers on April 23, 2005. He is survived by his wife and two children.
Again, we found ourselves standing on holy ground. It's hard to describe the emotional impact of spending a day immersed in the bravery and self-sacrifice of such great Americans.
And we finally got to see a launch. We tried to see a launch back in 2015, when the launch was scrubbed due to something about "down range tracking." Then we tried again on Thursday, but the launch was scrubbed due to something involving "nozzle thrust thingies." But on Friday, we finally got to see the SpaceX Falcon9 rocket take off, even if it did quickly disappear into the clouds.
On edit: Good grief. How could I forget to post this? We also went to the Kennedy Space Center. Although we had been here before, this time was a special treat. We went to the Space Shuttle Atlantis exhibit. It's hard to describe what one sees and experiences without spoiling the surprise of anyone who may go there in the future, but after walking through a lobby where there is shown a 360-degree film about the history of the Space Shuttle program, the wall in front turns translucent and there, right before us, tilted on one side, is Atlantis itself. The whole room broke into applause. And Atlantis is huge: about the same size as an Airbus 320, 125 feet long, with a wingspan of 78 feet, and weighing as much as 220,000 pounds at takeoff. Which is why it is lifted off under the power of two solid rocket boosters plus a main engine fueled by liquid hydrogen and liquid oxygen, developing in total an earth-shaking 7 million (that's million) pounds of thrust. The screen then raises and reveals this:
As you would expect, a portion of the Atlantis display recounted the Challenger and Columbia tragedies, and honored the crewmen on those flights, but the display really wasn't about the cost of exploration, it was about the glory of exploration, the human need to go new places and learn new things, and the indomitable human spirit that allows to achieve the impossible. By this point, Wendy and I were really getting tired of being inspired!
Besides all of that, we also found time for a tour of the Merritt Island National Wildlife Refuge, made all the more memorable by the appearance if this little guy, swimming around in the middle of a salt marsh. Go figure.
On edit: Oops, I left off a couple interesting photos. First, this one of a Painted Bunting, a bird I've always wanted to see but never have.
And, of course, one of these:
Next stop: Lake Okeechobee. We're not sure exactly what to expect. Everyone keeps telling us to expect "experiences" with alligators and water moccasins.