We love Cedar Key. In fact, last year this was probably our favorite spot in the Florida tour. But twixt then and now, on September 2, 2016 to be precise, Hurricane Hermine made landfall at St. Marks as a Category 1 hurricane, with the eastern-side winds (the worst of the storm) making a direct hit on Cedar Key. The Weather Channel and other news coverage showed poor little Cedar Key being pummeled by waves and wind, with one scene, broadcast again and again, showing an entire dock breaking free and crashing into the shoreline. We were nervous as we left Topsail Hill Preserve and headed for Cedar Key. What would we find?
Nothing. Really. Except for the telltale color of a few new roofs, one would be hard pressed to detect any evidence of a hurricane.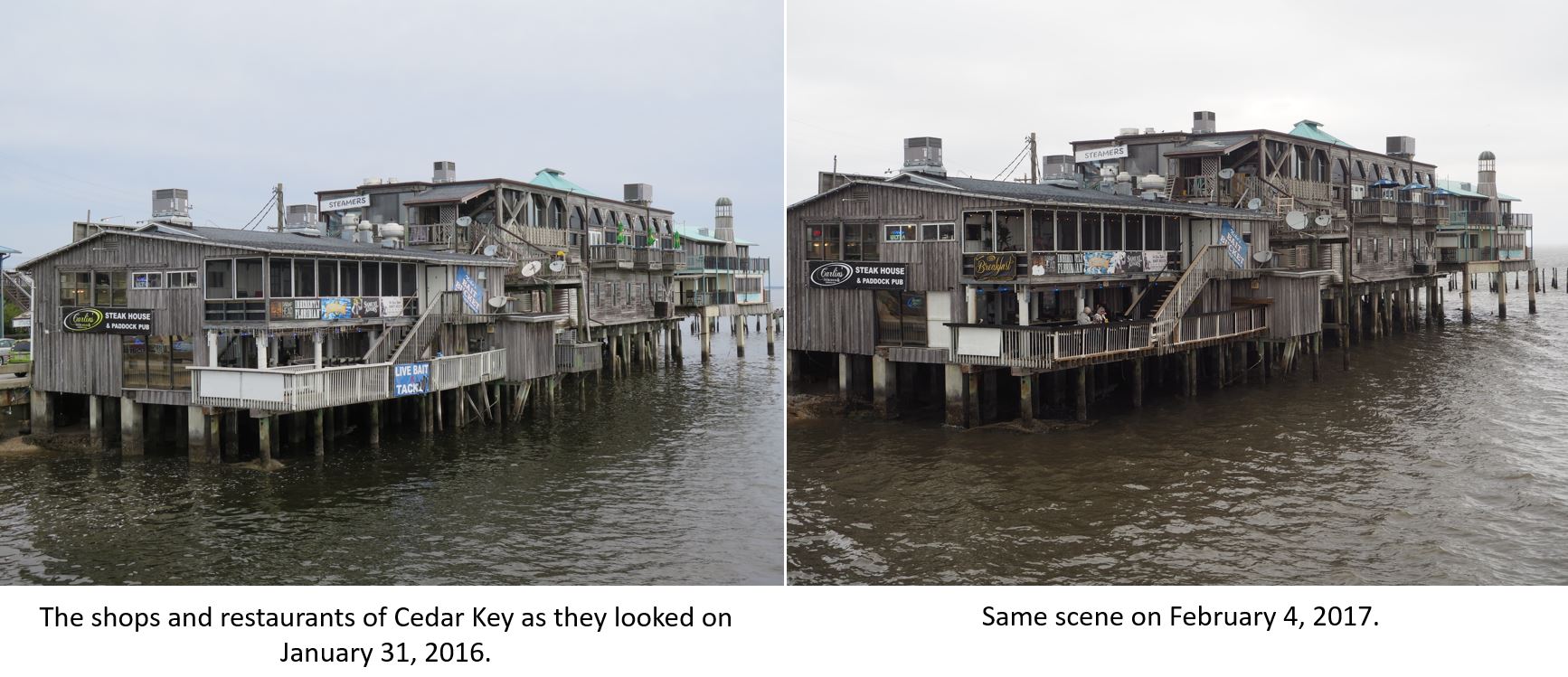 So, what gives? Where's all the death, damage, and destruction that we saw on TV? A waitress in one of the burger stops said that everything was patched up and businesses were operating and back to normal in eight days! Apparently, Florida has about a gazillion contractors who descend on hurricane-hit areas within days and start the rebuilding process (which was mostly minor patch-up here and there). And Cedar Key was doubly benefited in that Hermine hit a few days before the annual "Pirate Festival," which as near as I can tell, involves thousands of nearby residents showing up in pirate costumes for a week of drinking, carousing, and saying "a-a-a-r-g-h" to each other, except that a large percentage of them work in building trades and they figured, I guess, that as long as they were there anyway, they might as well earn some drinking money.
Besides that, as the locals explained it, the damage wasn't that bad anyway. We struck up a conversation with one of the guys who runs a local fishing charter, and who shed more light on the absence of any catastrophic destruction, something we should have known. Apparently the news folks, desperate for dramatic footage, would walk around, stand in a few inches of water, and zoom in on the water to make it look light an sea of wind and tsunamis. One guy even leaned sideways as he broadcast to make it look like he was struggling to fight the force of the winds and stay upright. The guy said he watched the broadcaster, wondering "what is this idiot doing?"
The explanation, of course, is that we were watching news stories. As Ken Myers points out, they don't call them stories for no reason. The model for news coverage is not teaching, but fiction. That is, all of the elements that make for a great novel also make for great "news" and therefore drive the coverage: drama, tension, suspense, tragedy, and heroism. And like fiction, a connection to the truth is not an essential element. A degree of verisimilitude helps, but only to provide a backdrop of plausibility. And this is "real news." "Fake news" is even worse. No wonder we're all so stupid.
There was some damage in Cedar Key, to be sure, which is what one would expect from a 5.8-foot storm surge and an incredible 22.8 inches of rain! For example, one hotel had the ground floor flooded (but only in the area where it negligently failed to extend the sea wall), a falling-down building, not even open for business when we were here last year, fell down some more during the storm. Some railings and terraces had to be replaced and, of course, many of the roofs went bye-bye. As we drove around in the residential areas one day, we did notice a few, maybe a half-dozen, trees that had been snapped off near the top. Overall, much less damage than we feared based on the sensational coverage we had seen.
So, since everything survived just fine, what we do in Cedar Key? Everything we loved about this place last time. Toured around in the nature areas, ate at world famous Tony's Seafood, and enjoyed the warm weather (mid-70s and sunny with light, trade-wind-like breezes).
So, Cedar Key remains one of our favorite places and a sure stop on every future winter trip to Florida. Next stop on this trip: Orlando for a ham radio thingie, then off to Disney World.