In 2002, my younger son (Robert) and I went on a hunting trip to Bullock County, Alabama, while he was home on Christmas leave from West Point. As it turned out, the hunting lodge burned down, but that's another story. As we were driving along touring the area, we happened upon a guy in camo walking along the side of the road with a rifle slung over his shoulder. I stopped and asked, "Need a lift?" and he replied, "Boy, that would be great." As we were driving along, we mentioned that we were visiting on a hunting trip and he asked, "You wouldn't by any chance want to come back hunting next month, would you?"
It turns out that the hunting possibility he mentioned occurred because the local school, the Conecuh Springs Christian School, had a great idea for a fundraiser: the local landowners would take you to their absolutely favorite, private property hunting spots, if and only if you made a suitable donation to the school. I started going on these trips back then, and have pretty much gone every year since. In 2011, my older son (Cliff) came with me; in 2012, both sons came.
This year, though, had an extra attraction. The local hotel, which was pretty, um, "minimal" anyway, had a change of ownership and the hunt sponsor was suggesting that we might want to consider alternative housing arrangements. As it turns out, a local hunting lodge was available, but the lodge also had RV hookups! Hunting and RVing! What could be better? We booked our reservations at the Greenway Sportsman's Club [Edit: Removed broken link] and off we went.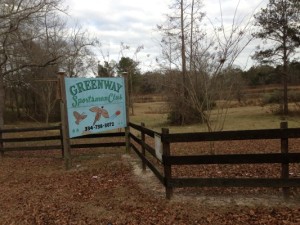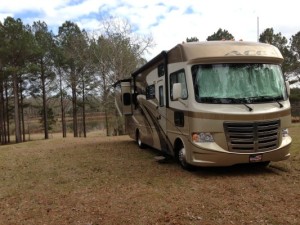 The RV area was basically OK: just a grassy area, but with full hook-ups (including cable TV!), although the weather was cold enough that we stuck to power only and relied on the onboard water supply.
There had been a lot of rain lately, making the ground somewhat soft, and I had some difficulty finding a level spot, and the leveling boards kinda sunk in the soil, and the automatic stabilizers wouldn't deploy. Hmmm. But we eventually got a satisfactory setup, enough to use the bedroom slideout at least, and ACE provided a great base camp for the hunting trip.
As usual, meals were provided by the school in the school cafeteria. Thursday night was fried catfish, Friday night was steak, and Saturday night was BBQ, with each meal accompanied by an unbelievable assortment of home-made desserts!
The hunting, as usual, was perfect. Cliff and I took 5 deer over the course of 2-1/2 days, but easily could have taken more. At one point, no kidding, I had roughly 24 deer in front of me.
Me, with a H-U-G-E doe taken one afternoon.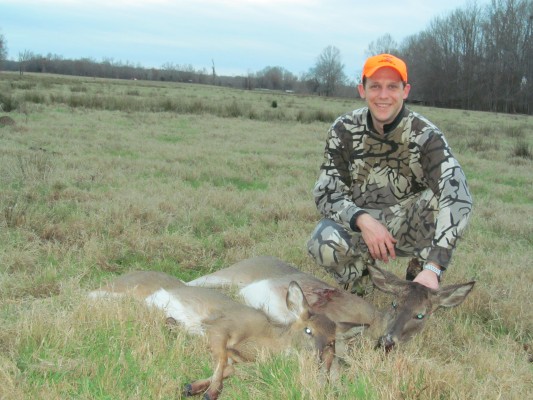 Cliff, with two doe taken the next day within two minutes of each other.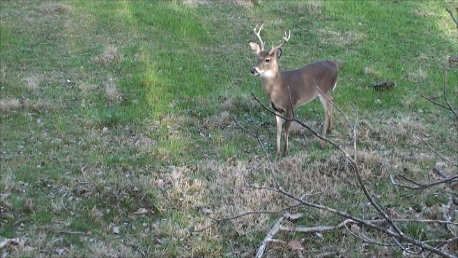 Cliff let this guy walk, figuring he needs at least one more year to grow into the buck he deserves to be.
Like all good things, though, the trip eventually ended, the chapter closes, and it's back to the real world. Not to worry, though, we already placed our deposit and we'll be back next year. More pictures of the trip can be found here.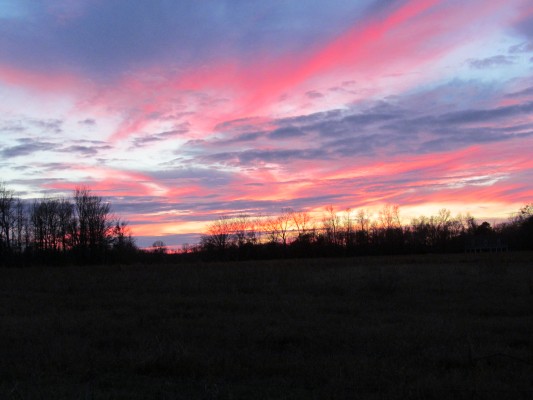 Statistics for the trip:
Camping fees: $75 ($25 per night, CSCS special rate)
Total miles: 177
Fuel used: 22.84 gal
Mileage: 7.75 MPG