Add one more notch to the stock of our RV adventures: NASCAR. Yup, four days at Atlanta Motor Speedway for a 400-mile NASCAR cup event, along with a boatload of other activities. It'll actually take me a couple posts to get the full story out, so this is installment number one. First, some background.
At one point, NASCAR was the most popular spectator sport in the U.S., with event viewership numbers consistently over 10 million, eclipsing MLB, NFL, and NBA in the number of viewers per weekly event. And the same was true for in-person attendance. NASCAR's major venues were all routinely sold out, with tracks such as Bristol (capacity 160,000!), sold out for 55 events in a row!
But beginning in the early 2000s, things started to level off, and then precipitously decline. By 2015, ratings were down in nearly all the races, and in more than half they were the lowest they'd been since the 1990s. And viewership and attendance continue to decline. By 2021, ratings were often sinking to new lows across all events.
Our experience confirms the analysis. In chatting with track workers, we were repeatedly told that both the camping areas and track attendance were only a fraction of what they were a couple decades ago.

There are lots of reasons offered for the decline. All major sports are seeing declines in viewership (except for soccer, which, as everyone knows, is not actually a sport, at least for real Americans). NASCAR's ever-changing rules and championship rankings have put off many fans. The NASCAR in-person experience, which used to be something like a midway with souvenir haulers, has been taken over by corporate retail operations. But mostly it's that various cultural changes are making high-power stock car racing just less appealing, especially to young people.
Having said all that, though, our experience at NASCAR was completely wonderful. Much (most) of that was due to the link-up with the Keep Your Daydream crew (more on that in the next post), but even the NASCAR experience itself was enjoyable beyond anything we expected. This may be one-time been-there/done-that experience, but for an event in that category, we have no complaints.
Just to be clear, though, even though this is an RV blog, bringing the motorhome to Atlanta Motor Speedway is not "camping" by any sane definition. It's more like tailgating in a parking lot for four days.
The weekend began with a charity run around the track in Nana's little Ford Edge. For a $50 donation, we were allowed to take the car onto the track's 1.54-mile quad-oval with 24-degree banked turns. There was a souped-up Camaro pace car leading us, which kept speeds to a "respectable" range, although most cars were nowhere near keeping up with even that modest pace. I mostly did keep up with the pace car, having fallen back by only a couple hundred yards by the end of the 4.5-mile "race." My top speed was somewhere around 95 on the straightaways, which was about as fast as our little car seemed happy about, and slowed to 80-85 in the turns, which is where the car felt a little squirrely and I was too chicken (I know I'm mixing taxonomic groups) to push it. Only afterwards, after watching a race, did I learn I was my driving strategy was backwards. I was driving low in the straights and going up in the corners–it should have been the opposite. Darn. I'm sure I would have given the pace car a run for this money and set the Ford Edge track record had I known the proper driving technique.
Then the NASCAR races started. Saturday was the first race, the Infinity-Series 250-mile race. The Infinity series, we learned, is supposed to be the "minor league" for NASCAR, featuring up-and-coming drivers who aspire to the big-league "NASCAR Cup" series. The cars are built to different specs that make them slightly slower, but for some weird reason, NASCAR lets the big-time drivers join the race where, at least here, the big names (Kyle Busch in this case) often win. The race was unbelievably exciting, even though it fueled the animosity NASCAR fans direct at Busch. Bush and his teammate, Daniel Hemric, had been neck and neck for most of the race. With just 7 laps to go, Busch "bumped" Hemric, who was leading at the time, sending Hemric into the wall and giving Busch the win. Both drivers say the "bump" was accidental, and Busch apologized over the team radio after the contact, then again after capturing the checkered flag — going so far as to call the victory "somber." "People would say I did it on purpose, but what do I need to do it on purpose for," Busch said in a post-race interview. "Kid's going for his first win. I'm going for 102. I've been there, done that. I don't need it. It would certainly help him a hell of a lot more than it's going to help me and give the perception that now I have on that." Accident or not, we heard a few comments like, "Figures. Busch would bump his own mother."
We had been told about, but failed to appreciate, what to expect when 40 high-performance cars, all sans mufflers, fire up and drive around the track at top speeds around 180-190 mph. The sound levels are just short of 120 decibels at the track. To put that in perspective, anything over 85 decibels is harmful, a chain saw operates at 105 decibels, and pain begins at 125 decibels. So, standing trackside and temporarily removing my ear plugs caused tears to start welling up in my eyes and my fillings to pop out. But more than "hearing" the sound, one "feels" it. The sound levels are so high that the air throbs and one's bones vibrate as the cars go by. Combine that with cars going so fast that they are just a blur, the the physical experience is unlike anything we've ever experienced short of the Oshkosh fighter-jet fly-bys.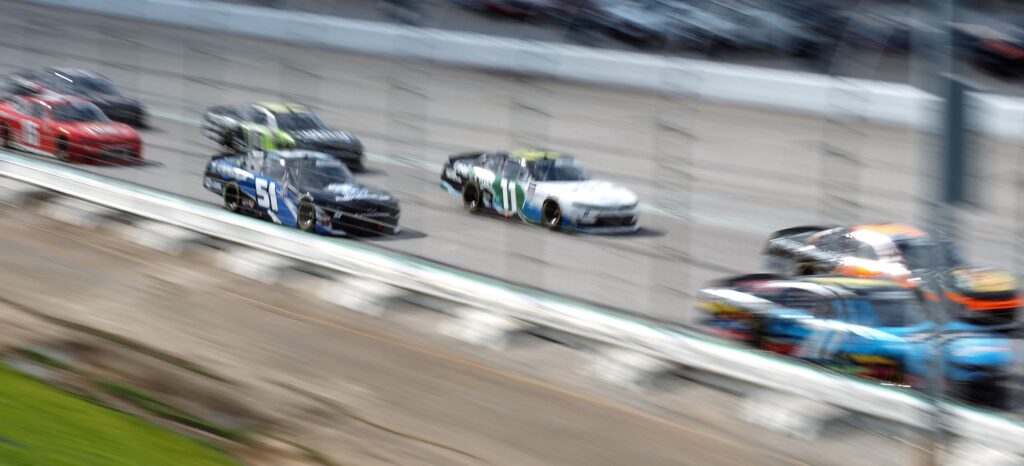 But Sunday was the big momma race, the Quaker State 400. And once again the race had an exciting finish, and once again it involved Kyle Busch. Only this time, he didn't bump anyone, and the race to the finish was against his older brother, Kurt. And Kurt won. What was amazing about this race, though, was that the cars were faster, and the noise louder, and the competition more fierce, than what we had seen the previous day. In part, that's because the drivers are mostly a step up from the Xfinity series drivers, and at this point in the season the stakes are greater. But there's also the difference in the cars. The cars, offered by Toyota, Ford, and Chevrolet, are supposedly look-alikes to their street-legal cousins. Maybe, or maybe not. In any event, even the "low" horsepower engines run at Atlanta Motor Speedway (550 HP), sitting in a 3200-pound car, provide enough juice to go airborne (which cars will do about 205 mph). NASCAR keeps mandating a variety of measures to try to keep speeds down to reasonably safe levels, including the mandatory use of restrictor plates (metal plates in the fuel system to restrict airflow to the engines) (now changed to a tapered spacer), mandatory front and rear spoilers to increase drag, mandatory front-end intakes, and so on, but even with these car-slowing requirements, speeds on the straightaways are still up around 200 mph. In fact, lap times were often less than 30 seconds, meaning the average speed around the entire track was north of 180 mph.
Bottom line: Perhaps the best indicator of how this trip worked out is this: Wendy had to leave half-way through the main race to get home because our stupid dog was being delivered from doggie day care. What did she do when she got home? Turn on the TV to watch the end of the race. Seriously? Wendy? NASCAR? That can only mean that our first (and maybe only) NASCAR experience was a total blast. While I doubt we'll ever be full-blown NASCAR devotees, if there were some other reason to take ACE to a track, with some NASCAR races added for good measure, we're in.