Oh no! Not another Walt Disney World / Fort Wilderness post?!? Yup. Well, sort of. It was indeed back to the Disney Fort Wilderness campground (for the seventh time in the past nine years, plus a boatload of times before that), but this trip was different. First, it was a full-blown family reunion, and second, it was done during the COVID clamp down.
Family Reunion. With the family spread out over 1000-plus miles of the eastern side of the U.S., getting everyone together takes effort. A lot of effort. Specifically, it required our driving ACE down 400 miles from Atlanta, Cliff hauling his RV 1000 miles down from New Jersey, Summer and the girls flying down from Philadelphia, getting Robert's RV 100 miles up from Tampa, putting Jennifer and the girls on a plane from Atlanta, and somehow timing arrivals and airport runs to get everyone and all of the RVs in the same place at roughly the same time. Actually, now that I write that, I have no idea how that happened. But, thanks to extraordinary effort by everyone, it did. Amazing.
And it was worth it.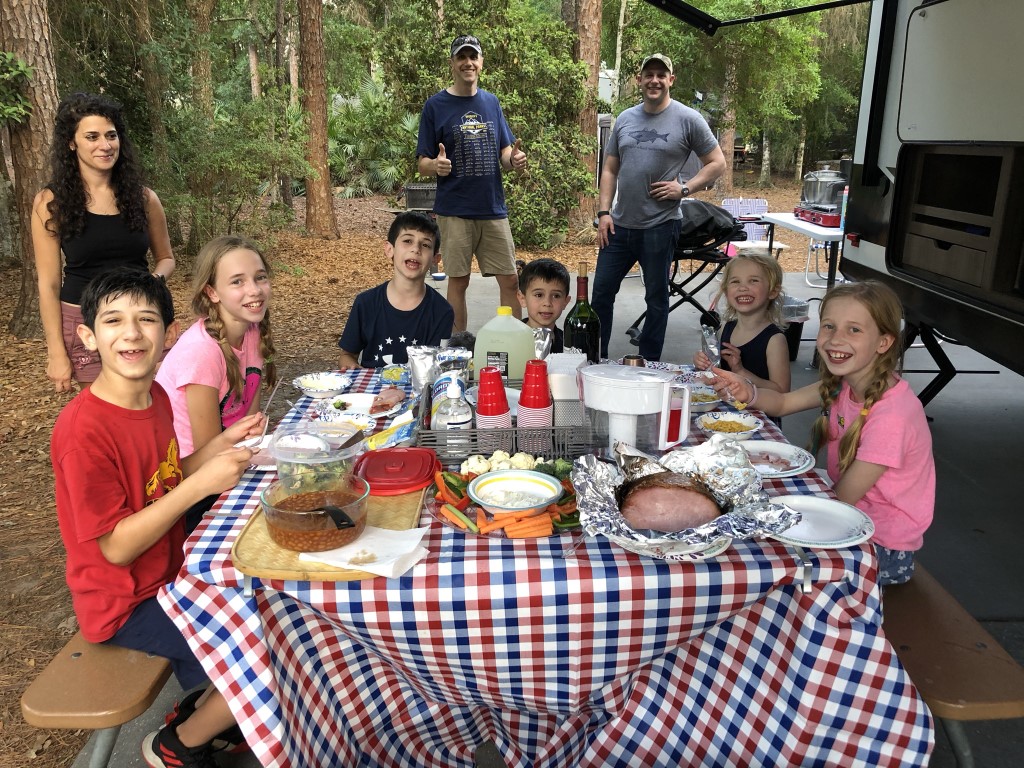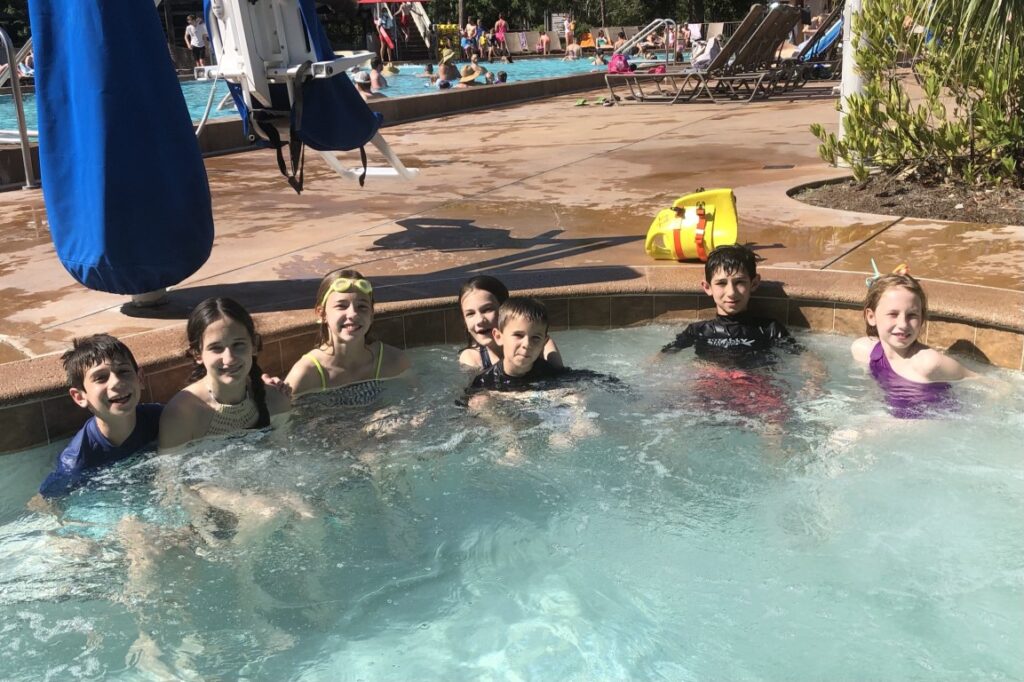 Jennifer and the girls, and Robert, Laura, and the boys, all left on Sunday, so the rest of the week was Cliff, Summer, and the girls, along with the two of us. That meant two days of the Magic Kingdom and EPCOT, plus a couple more days of pool time, fishing, horseback riding, some really incredible dinners, and continued lizard catching.
Anyway, I won't go on and on. The last time the whole family got together was back in the summer of 2019, so this gathering was long overdue. It was great for the grownups to spend time together, but it was even better for The Cousins.
The full family album is available here: https://photos.app.goo.gl/NdkzXPbqS4Zdg2zh8.
COVID. Obviously, a crowded theme park, with tens of thousands of people crammed within inches of each other, is a recipe for a super-spreader event of Biblical proportions. (Think of the angel of death hovering over Fantasyland, with the first-born son of each family dropping dead in the boats on It's a Small World.) (As opposed to the parents keeling over after they've heard the refrain for the 95th time.) To prevent such a thing, Disney implemented a large number of restrictions designed to limit the carnage: only a limited number of people were admitted to the park (although you couldn't prove it by me) and advance reservations were necessary to enter; masks were required everywhere, and there were warning posted that patrons failing to "properly wear" a "suitable mask" "would be asked to leave"; the lines were rerouted to prevent people from passing within inches of each other, along with signs posted reminding people to maintain a six-foot distance; crowd-producing activities (like the fireworks show) were cancelled; and several attractions were closed. And, for the most part, the guests seemed to abide by the restrictions and everyone seemed to take things in good spirits. As is evident from our pictures, we were fully masked up all the time and no one seemed to much mind.
I must say, though, that some of the restrictions seemed a bit much, more like they were drafted by lawyers, or bureaucrats suffering from the nail clipper syndrome, or by corporate PR types intent on corporate virtue signaling, than by sensible health professionals. Or maybe designed to limit the online complaining by the mask-Nazis who incite social media mobs whenever their sensibilities are offended. In any event, some measures seemed more than necessary. For example, we traveled to and from the Magic Kingdom in open-air boats where everyone, even if the boat was fully loaded, would be masked up, situated several feet apart anyway, in the open air, sitting in a 10-knot breeze as they traveled across the water. Even still, Disney chose to limit capacity on those boats to about one-third. Seriously? People were waiting in line under much riskier conditions, just to limit a situation that hard to imagine posing any realistic risk. Other examples abound: spraying down the seats and tables with disinfectant, plexiglass barriers everywhere, restaurant seating restricted to every-other-table, and so on. In a sense, I suppose, Disney should be commended for taking health measures seriously and trying to make everyone as safe as possible. Nevertheless, the experience could have been better under more sensible management.
After everyone had left, Wendy and I stayed one extra day to decompress and have a relaxing dinner at Narcoosie's, the waterfront restaurant at the Grand Floridian Resort. As we sat there, running through the events of the past ten days, we agreed it was one of the best RV trips we're ever had. We'll savor the memories forever …