For anyone not familiar with it, "AirVenture" is an annual gathering of aviation enthusiasts in Oshkosh, Wisconsin, but that doesn't begin to describe how over-the-top crazy this event is. Imagine an airshow with all of the usual aerobatics and stunt-flying, except that the airshow is attended by about 600,000 people, many of whom fly to the airshow in airplanes they built themselves, and who spend the week sleeping on the ground under the wings of their aircraft. And during the same show, the military takes advantage of the opportunity to show off its latest hardware. And all of this is held at "Whitman Regional Airport" in Oshkosh, Wisconsin, a dippy little two-bit airfield that, incredibly, for the week of the airshow actually becomes the busiest airport in the world. During the week of AirVenture, the airport will see 10,000 aircraft, 3,000 show planes, nearly 1000 journalists, and 900 commercial vendors. Besides gawking at airplanes, there are hundreds of seminars for the attendees, with topics ranging from the latest aviation technology to (no kidding) "How to hand prop your aircraft," which I think means starting the engine by grabbing the propeller and giving it a good yank, getting out of the way before the propeller slices you to ribbons.
Seeing as how I've basically been an aviation aficionado my whole life, AirVenture is a major bucket list item for me. So Wendy and I are here to spend a few days immersed in aviation excess.
But life is not so simple. Just before we arrived, a major weather system passed through, leaving our camping area at Whitman Field a soggy, impassable, mud bog. So, we're stuck in a nearby campground, waiting for things to dry out enough to get to Oshkosh.
So, we spent today, first, killing time at a different airport, sitting at the finish line for air races where guys take their own airplanes and, just for the fun of it, see how fast they will go.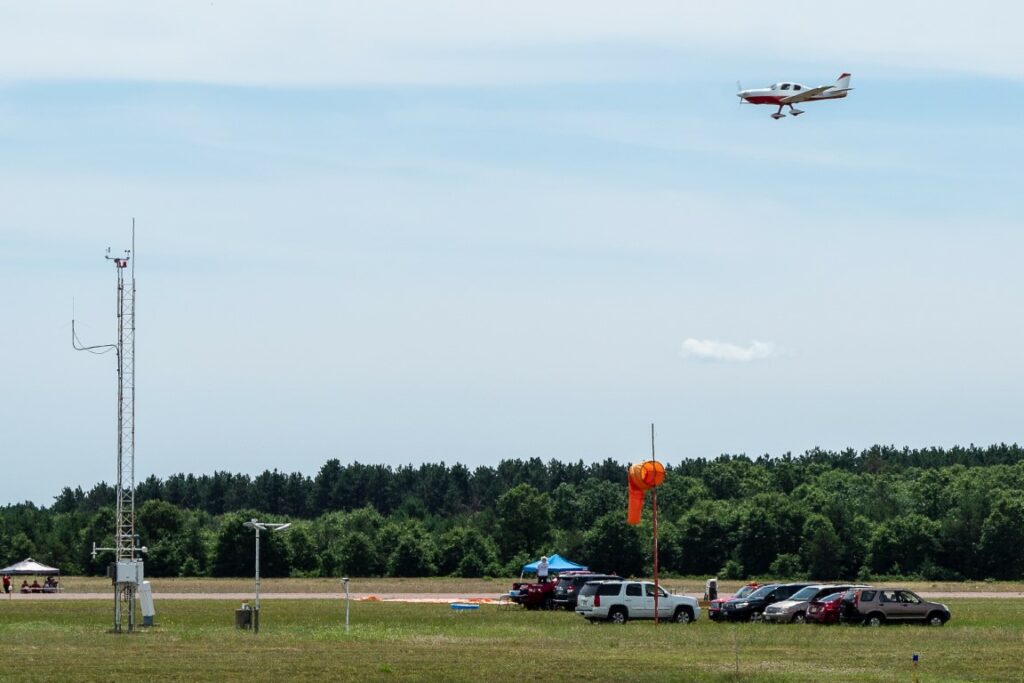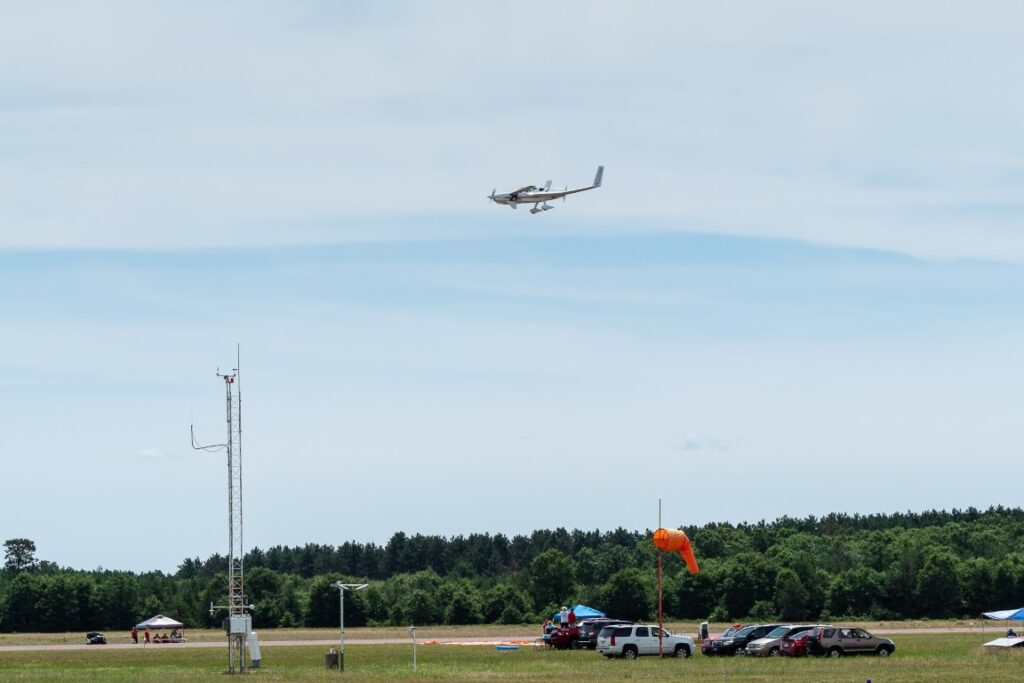 So, after a couple hours of watching planes (either fascinating or boring, depending), and with Oshkosh still closed, we decided to explore a bit of central Wisconsin. A friend had suggested the International Crane Foundation in Baraboo, but it's closed for renovations for the entire year. Wendy read a short blurb about the Dells of the Wisconsin River nature area, and we always enjoy hiking, so it's off we go!
A-a-a-a-a-r-g-h!!! Somehow we missed a turn and ended up in the town of Wisconsin Dells. Words cannot even begin to convey the vulgarity of that locale. Billing itself as the "water park capital of the world," the city has more water parks than any other city in America. The experience is so demoralizing that the only way to convey its full effect is to labor through the details of it all. In the span of a few blocks, one is confronted with:
The Mount Olympus Water and Theme Park (three hotels serving a 300-acre outdoor and 120,000-square-foot indoor water parks, with more than 40 waterslides, plus eight go-kart tracks, seven roller coasters, a large wave pool with 9-foot waves, lazy rivers, and hot tubs).
Noah's Ark Water Park (the Flamingo Hotel, serving what is billed as America's largest water park, 70 acres of waterslides, pools, rivers, bumper boats, surfing experiences, arcades, a 4D dive-in theater, a water coaster, slides, swings, water cannons, along with 12 eateries and bars).
Kalahari Resort (750-room hotel with indoor and outdoor water parks with multiple slides, lazy rivers, activity pools, wave pools, including a Ferris wheel, African-themed carousel, ropes course, climbing walls, go karts, bowling, mini-golf and arcade games).
Great Wolf Lodge (80,000-square-foot indoor water park, with 6 slides, rivers, activity pools, hot tubs, kiddie pools, a four-story water tree house, and the Howlin' Tornado, a water slide "thrill ride").
Wilderness Lodge (600-acre, also billed as America's largest water park resort, with four indoor water parks, three outdoor water parks, a large outdoor pool area, indoor go karts, a lazer maze, a ropes course, bumper boats, mini-golf, a kids' club, arcades, the Klondike Kavern, with its two, five-story tube slides, and the Wild WaterDome, America's largest indoor wave pool).
And so on and so on. It never ends. You get the point. Except you don't. As if this isn't enough, in and amongst all this are go-kart tracks, t-shirt shops, junk food dispensers, souvenir shops, and an unimaginable array of the most ghastly, grotesque, garish architectural nightmares on earth. The "Rome Hotel," for example, is an ersatz replica (or maybe caricature) of the Roman Coliseum.
That's enough. No, it's not. One more point. You might think such an area is so repulsive that it would be empty, devoid of people, like those creepy photos one sees of abandoned amusement parks. Wrong again. The area is packed, crammed, jammed with people standing in pools, elbow to elbow, in whatever microbial soup exists in these communal pools, which almost certainly includes E. coli, Ebola, and flesh-eating bacteria. Thousands of people, everywhere you look. It's like Manhattan, only wetter.
Somehow, we managed to maneuver our motor home through the traffic, and out of this little piece of hell on earth, and back to our campground. The Oshkosh campground is still closed, and unfortunately we didn't tow our car along with us, and all of the rental car agencies within 50 miles are sold out, so I'm not sure what's next. But it certainly doesn't involve Wisconsin Dells.