The description of our upcoming trip to the left half of the country (literally and politically) got short shrift in the last post because I distracted myself with the improbable story of Chang and Eng Bunker. Now that I have a few minutes, here's the plan: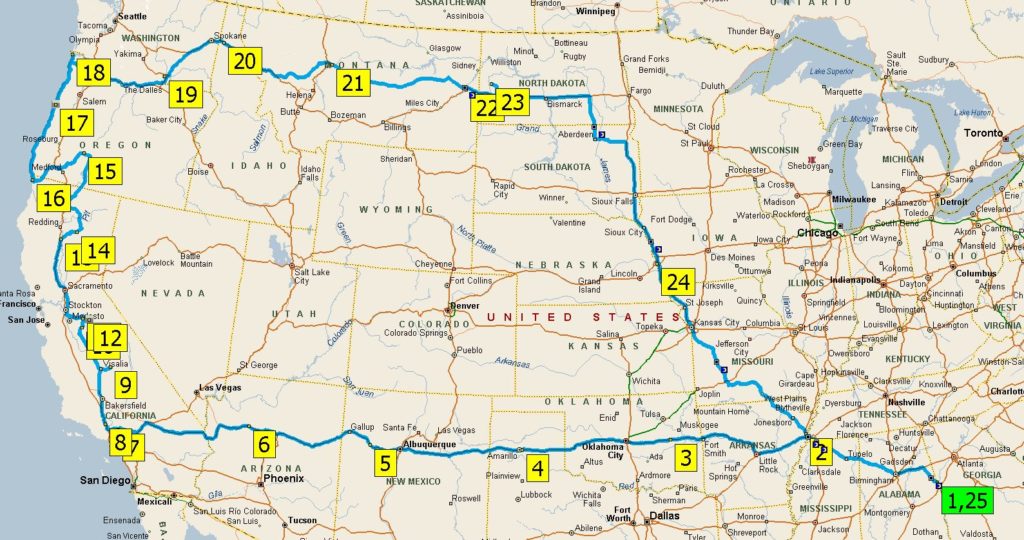 We leave Atlanta and make a beeline for Palmdale, California, for a couple days visiting my sister and her husband. That marks the beginning of almost two weeks in California, which raises a weird political thing about our travels. I noted previously that our trips around the country rarely bring us into contact with the leftish fraction the political spectrum. Part of that, of course, is because gauche cohort tends to congregate in cities, where there are obviously few scenic opportunities. But one might wonder, does California present an exception to the curiosity that we find only the red areas of the country are worth traveling to?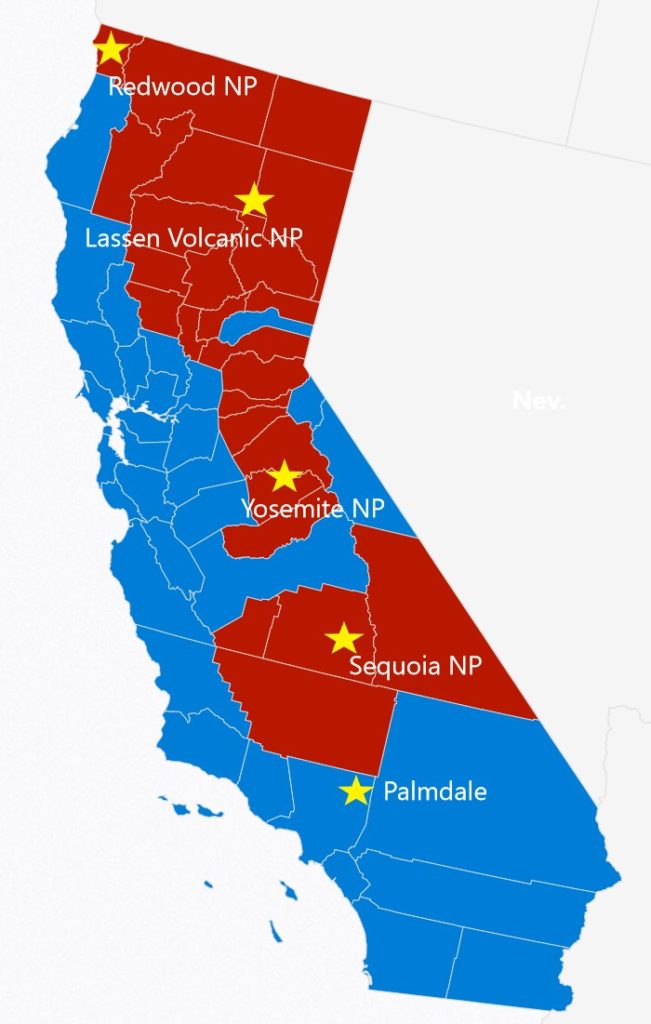 Nope. Even in a choke-hold-blue state like California, with blueness extending its grip even to the rural and agricultural areas, our particular destinations seem to be only of reddish persuasion. (And that includes Palmdale, which although technically in Los Angeles County, and which is a stop only for personal, not scenic, reasons, is politically and culturally part of Kern County, the massive red trapezoid to its north.) Surprisingly, the entire coastline of California, which is an uninterrupted string of blue bastions, has only one red exception, Del Norte County, which is where we happen to be staying. It looks like we'll be able to transit almost the entire length of California with nary a contact with any blue people.
Weird. I wonder if there's a point to all this?
Anyway, where was I? Oh yeah… trip plans.
We depart from Georgia on Wednesday, June 13, arriving in Palmdale on the following Monday. From there, it's off to Sequoia and Kings Canyon National Parks, Yosemite National Park, and Lassen Volcanic National Park.
Then, a quick blip up to Crater Lake National Park where we link up with Robert and his family in their brand new RV. I wrote previously of delivering Robert's pop-up camper to him. Given their affinity for camping, though, and more importantly given the inevitable nature of traveling with three little dirt-bag boys, they decided that it would be beneficial to have an RV with a bathroom where one can hose off the little rascals. So they are now the proud owners of an Aspen Trail 2340 travel trailer, which gives them not only the aforementioned hosing-off-chamber, but bunk beds and other creature comforts.
All of us will then caravan over to Redwood National Park for a couple days, then up the Oregon coast, stopping first in Newport and then Astoria, before we split off and they had back to Dupont and we head east, working our way over several days to Theodore Roosevelt National Park in North Dakota. That last stop holds special appeal: Teddy Roosevelt was, in many ways, the godfather of the conservation movement in America. The irony is that his conservation ethic was forged by the economic and environmental calamities his ranches suffered in the 1880s. The area of those ranches, and how they offer a special glimpse into Roosevelt's core values, is where we'll spend a few days. We are really looking forward to that stop.
Then, it's working our way back home, and we should be back mid-July. We'll clean up for a week or so, and then gird our loins for having five little granddaughters stay with us for a week.